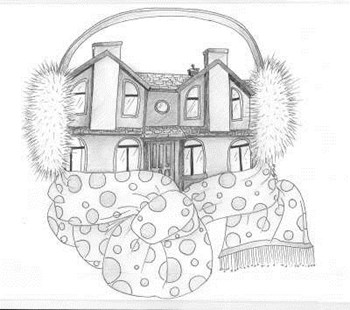 Some people say winters in the northeast are not as harsh as they used to be, due to global warming. But experience tells us that winters in New Jersey can still be dangerous, with freezing temperatures and precipitation. Such cold weather can give a homeowner association's property a beating. Landscaping can be devastated by harsh winter conditions, as can kids' playground structures and other amenities that are in the care of an association's board.
If the right precautions are taken to protect a homeowner association's property, barring any weather catastrophe, that property will make it through the winter in good shape. Ensuring that the necessary winterizing steps are taken with a community's assets will increase the lifespan of the HOA's grounds and amenities. When the proper care is taken to winterize pools, grounds, playgrounds and tennis courts, it will save board members the hassle and spare all members of the community the cost of repairing or replacing equipment damaged by winter conditions.
Checking Water Levels
Those unfamiliar with swimming pool maintenance might not know whether a pool is completely drained for winter, or just covered. In New Jersey, the answer is that both steps are often taken to protect a pool in the cold months. New Jersey pools tend to be drained a bit and also covered for the winter, says Steve Jannarone, co-owner of Candlewood Management Services, Inc. in Howell.
"Around here, you usually get around eighteen inches of precipitation during the winter. Most pools have their water level lowered eighteen inches, and then they are covered for winter. Doing that protects the pool's tile and coping," Jannarone says.
It's important to remember that pools that are covered for the winter generally have chemicals added to the water to limit the growth of algae, Jannarone adds.
"The biggest issue is making sure the water level stays below the tile level. You have to monitor the pool's water level during the winter to make sure it doesn't get too full again. Snow and ice accumulation can damage a pool," Jannarone says. "Most pool covers are mesh covers. You have to be careful with the mesh covers, and also solid pool covers, because the weight of snow and ice can damage them."
A pool's plumbing lines also must be "blown out," or emptied, to prepare the pool for the winter, Jannarone advises. Removing the water from the lines will ensure that they don't freeze during the winter.
The Frozen Green Thumb
Winterizing the grounds of a community tends to require more backbreaking effort than winterizing a pool, but the process is usually only done once in preparation for the chill.
The grounds of a community generally won't lose a lot of mulch during the winter, but throughout the year, mulch loss can add up enough to give the flowerbeds a tired, worn-out look. Fall is a good time to add mulch to the flowerbeds, since little of the mulch will be lost during the winter, and because the extra mulch adds another layer of "blanket" covering dormant plants and bulbs. Peter Amato, owner of Amato's Garden Center & Landscaping in Monmouth Junction, says it's smart to prepare flowerbeds in the fall for spring blooming.
"You want to prepare for spring by planting fall bulbs, such as tulips and hyacinths," Amato says. "You could also [plant] icicle pansies, which will give your garden color in the fall and in the spring. Planting flowering kale and cabbage also will give you fall color."
Some pruning should be done to perennials prior to the ground freezing. Generally speaking, perennial flowers should be cut back in the fall, and most ornamental grasses should also be cut back. Some people like the look of dried, dead ornamental grasses in their gardens during the winter, so this pruning is a question of preference. Others like to leave some dead perennial flowers in place during the winter so the local birds can forage from the dormant plants. However, let-it-be types, be forewarned: Tall, uncut ornamental grasses can become like leaf magnets in the winter, collecting not only leaves, but also other plant matter and even curbside trash.
For the very cautious, extra steps can be taken to protect plantings during the winter. Ornamental bushes that are susceptible to winter weather damage, such as azaleas and roses, can be covered in burlap for protection during the winter. Fall is also a good time to fertilize plants in the garden.
When it comes to landscaping in the fall, preparation is everything. Lawn care is a year-round concern, though. Amato recommends using a treatment plan in which you fertilize the lawn five times per year. "When you winterize a lawn, you can use a fertilizer with root-building feeder. That should be done by mid-October," Amato says.
Similar to a pool's plumbing lines, lawn sprinkler systems need to be emptied for the winter. Sprinkler system lines should be blown out and the system should be turned off for the winter to avoid weather-related damage. If this step isn't taken, there is a chance that the pipes could freeze and burst.
Your Playground Surface
Unlike swimming pools and lawn sprinkler systems, some community playgrounds can be used throughout the year. But not all playgrounds should stay open, because some aren't composed of materials that are safe enough for children to run around on in the cold.
Regarding winter care of playgrounds, safety is the most important thing to consider, says George Herberger, vice president of sales for Ben Shaffer & Associates, in Lake Hopatcong. The company sells and maintains playground equipment and is also a certified safety inspector.
"One of the biggest concerns is safety surfacing," Herberger says. "As the temperature drops, some [playground] surfaces tend to lose their resiliency."
Engineered wood fiber is very economical and very common, but you have to watch during the winter to make sure that it's not frozen, as you must do with some rubber surfaces, warns Herberger. "If you have a rain one day and it freezes pretty quick, that could make it a pretty hard surface. Since 70 percent of injuries on a playground occur from a fall to the surface, without a resilient material you're going to up the possibility [of injuries] more," he says.
If your community keeps its playgrounds open in the winter, the surface of those grounds must be checked daily, Herberger notes. "I wouldn't keep [the playground] open if the surface is frozen," he advises.
Maintain Tennis Court Surfaces
As with playgrounds, the surfaces of community tennis courts must be monitored for safety. While asphalt courts don't freeze during the winter, asphalt has a finite life span, and the surface wears out. Because of this, an asphalt court should be checked regularly for damage. A worn-out asphalt court can make playing tennis hazardous, which could result in an injury and lawsuit.
Dan Clapp, president of All Star Tennis Court Company in Farmingdale, advises that the first thing to do to prepare a tennis court for winter is to loosen the tension on the net. Over the winter, if the normal tension is in the net, it causes the posts to move, Clapp explains.
An asphalt tennis court is supposed to be painted once every six years, Clapp advises.
"Asphalt is rock, sand and oil. You seal-coat a driveway, and you paint a tennis court to keep [the oil in the asphalt] from evaporating out," Clapp says. "The paint also keeps the court cooler and allows it to play better."
If your tennis court isn't painted regularly it will lead to problems with the court. The biggest problem with asphalt courts is cracks, Clapp points out. "A hairline crack, by year three, is half-an-inch wide… One of the regular maintenance things that should be done to a tennis court is sealing all of the cracks in it before winter."
Many community tennis courts also have windscreens on the fencing that surrounds them. Those windscreens should be removed from the fences in the fall to avoid damage to the fence that can result from heavy winds if the windscreens are left intact.
Prior to winter, a tennis court should also be cleaned of all debris, such as leaves that have accumulated in the corners of the court. A final cleaning of the court should be done after the leaves have finished falling. If leaves are not removed in a timely fashion, they could stain the court, Clapp warns.
It can be said then that winterizing can easily prevent cold-weather damage to HOA grounds. Plants can be kept in good order with a little extra care. With the right amount of persistence and frequent checks to the equipment, playgrounds, tennis courts and pools can all be safeguarded against the rain, snow and the threat of an unwanted lawsuit.
Jonathan Barnes is a Pittsburgh writer, who regularly contributes to The New Jersey Cooperator and other publications.