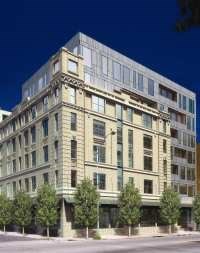 It seems that suddenly, everyone's talking about green buildings and green construction. But it's really not a new concept. Back in the 1970s and '80s, after the energy crisis made us all aware of the high cost of electricity, energy-efficient building technology, such as compact fluorescent lights, energy-efficient lighting ballasts and air conditioners that cycled on and off, came into being. Still, the original focus was on office buildings and institutions such as universities and hospitals, not homes.
Then, in the early 1990s, the federal government started the Energy Star program, rating household appliances such as air conditioners and refrigerators for energy efficiency. Around the same time, people became more aware of global warming, and a concern for the environment joined energy efficiency to begin the "green building" movement. Soon, the United States Green Building Council created the Leadership in Energy and Environmental Design (LEED) rating system.
As with green buildings in general, the initial focus of LEED was on commercial and institutional buildings. An online list of LEED-certified project in New Jersey reveals that about half are bank branches. But now, a separate LEED rating system for homes - including, of course, condos, co-ops and HOAs—is in the pilot phase.
Currently, Garden Street Lofts at 1425 Garden Street in Hoboken is seeking a LEED silver certification. "This will be the first green high rise residential building in the state," says Larry Bijou, managing partner at Bijou Properties, LLC, located in Hoboken.
This heritage building is being transformed into a 7 story, 30 unit condo with 83,000 square feet of retail and is expected to be completed by next summer. The units are being constructed with products that are all sustainable and recyclable.
"For example, the insulation is made from denim jeans and the wall board is 99 percent recycled," says Bijou. "The windows are heavily glazed allowing for a more efficient internal climate control. The lighting is engineered for lower consumption. There will be an extensive green roof, which is a planted roof, and is used to prevent storm water runoff and will serve as an additional insulating factor to the building."
In terms of water usage, all fixtures are low flow fixtures. The floors are made from a high grade of bamboo. There is also a fresh air filtration system in the building. "It will have high performance HVAC systems that are smaller, use less energy, but create a higher output. It allows the building to run more efficiently and at less cost," says Bijou.
The building is also enrolled in New Jersey's Smart Energy Program that allows the building to be powered with wind energy. According to LEED, a silver-certified building is 25-30 percent more efficient than a normal building.
If you look at the total energy consumption within the U.S., buildings in general make up a fairly large percentage. "Basically half of energy consumption comes from buildings," says David Barclay, executive director of the Massachusetts-based Northeast Sustainable Energy Association. "It depends on how you calculate it."
"My understanding," says another expert, Andrew Topinka, chair of the U.S. Green Building Council of New Jersey, "is that [buildings] use as much as 70 percent of all electricity."
If enough green buildings are built, the percentage of energy consumed by them would decline considerably, say "green" advocates. Among the features that can bring energy consumption down are:
• Tinted windows (that allow less heat inside, thus lessening the amount of cooling needed);
• A tighter building "envelope," or walls and roof, that keeps the building insulated from hot and cold temperatures outside, similarly lessening heating and cooling bills;
• More efficient mechanical systems, usually meaning HVAC (heating, ventilating and air-conditioning); and
• Use of the aforementioned Energy Star-rated appliances, such as window air conditioners, washing machines and lighting fixtures.
"There's a myth," says Barclay, "that it costs more to build green buildings that substantially reduce energy. In fact, it is possible to dramatically reduce energy consumption with existing knowledge at no additional cost.
"For example, a New York City architect, Chris Benedict, and a building engineer, Henry Gifford, have designed four apartment buildings that consume 15 percent of the energy of typical New York City apartment buildings of the same size," says Barclay. "They do it with a combination of tight envelopes and innovative mechanical systems."
While energy efficiency is a very important part of the green building concept, nowadays, with the heightened awareness of global warming and the necessity to reduce CO2, more goes into the idea.
For example, LEED rates buildings on whether their materials come from nearby or from far away, the underlying thought being that if the materials come from nearby you don't have to expend as much energy and create as many emissions by transporting them. Another category is whether paints or carpets are low in volatile organic compounds (VOCs) so that people living or working in the building are healthy.
"There are many components in a green building," says Robert Wisniewski of MaGrann Associates in Moo
restown, the designated provider of LEED homes in New Jersey. "It's a home integrated with, and cognizant of, the site during construction and during completion. There are a lot of exterior and landscaping issues that are addressed."
In addition to being energy-efficient, he says, the building should be water-efficient, with washing machines, toilets and showerheads all designed to conserve water. In some buildings, waste water from sinks, dishwashers, showers or laundries, known as "gray water," is recycled for use in heating or cooling (you probably wouldn't want to know what "black water" is). Air quality and health are also high on the list.
LEED Rating System
The LEED rating system was first developed around 1994 by the U.S. Green Building Council, with input from the National Resources Defense Council and a wide spectrum of construction-industry professionals. Among them were architects, engineers, developers, non-profit organizations, government agencies, equipment manufacturers and others.
Of course, not everyone agrees with the standards. For example, Barclay believes that energy efficiency, which he says is the most critical factor in reducing greenhouse gases in the atmosphere, should be "more highly weighted" among the various considerations that LEED takes into account.
Be that as it may, there are four levels of LEED certification. They are, in ascending order of "green-ness," certified, silver, gold and platinum. A builder who wants his or her building to be rated would have to apply to the Green Buildings Council, sit down with an advisor, have the plans inspected and so forth.
As we've mentioned, buildings are rated on a point system, with higher levels of certification corresponding to more points. Among the points, or rated items, are percentage of renewable energy used, amount of reduction in water use, access to public transportation, percentage of recycled materials used, carbon dioxide monitoring and the amount of daylight in the structure.
Now, the Green Building Council is testing a new set of LEED standards for homes. The group began the pilot test of LEED for Homes in August 2005, and as of this past May, about 375 builders representing 6,000 homes across the U.S. are participating in the program. The pilot test will end this fall, when LEED for Homes will be rolled out officially.
Retrofitting—Pros and Cons
Most existing LEED-certified buildings were built as such. If you want to convert your current building to a LEED-certified one, it's not easy, most of the experts interviewed for this article agree.
To convert an existing home to a LEED home, says Wisniewski, "you'd have to gut the home down to the studs. The reason for that is so that we can ensure the proper envelope." As an alternate way, he says, you can use infrared photography to find out where extra air is coming into the structure, but chances are that rebuilding is in order.
If you're still interested in doing this, he adds, "The cost would depend on what shape it's in. If it's an old home, it can be completely gutted without any cost. However, if it's an existing home built in the '60s or later, you may need to remove your drywall, which could prove costly.
If you're willing to forego immediate LEED certification and try to go green gradually, then it's feasible, says Liz Semple, manager of the Office of Planning and Sustainable Communities for the state's Department of Environmental Protection (DEP).
"With an existing building," she says, "you look in terms of a time frame. For example, you may have an existing building that has an HVAC system working perfectly fine, but if it stops operating, that's the moment that you consider a more energy-efficient model. It's the same with water fixtures or upgrading recycling."
The Cost Factor
Many managers and buildings may shy away from green building techniques because of the price factor. Environmentalists will come back, however, and contend that if you look at all the long-range costs, green buildings actually save money.
In some circumstances, the fact that a home uses green construction can actually be a draw for potential buyers. "People will pay more for a 'green' co-op or condo when they have children with asthma or who have trouble breathing," says Topinka. "It depends on the market—it may not go over in Arizona, but it will in New Jersey or New York."
A number of financial institutions, adds Wisniewski, offer mortgages that will allow the upgraded costs for an energy-efficient building to be "rolled into" the mortgage with no down payment—they assume that the upgrades will produce energy savings.
On the federal level, the Energy Policy Act of 2005 does offer tax credits for some improvements, such as energy-efficient windows, insulation, doors and heating/cooling equipment. On a statewide level, the New Jersey Board of Public Utilities, through its Clean Energy program, gives incentives for energy-efficient cooling equipment and solar panels in homes.
On the flip side of incentives, many municipalities and counties in the state mandate energy efficiency in construction. For example, says Adam Zellner, deputy commissioner for policy and legislative affairs for DEP, Jersey City has adopted an ordinance that all new buildings must meet the LEED silver standards. The town of Cranford also has a rule that new buildings constructed or funded by the municipality must also meet LEED silver standards, at a minimum. Some towns or counties mandate reusing waste water for heating or cooling; others require every building to get an energy audit.
No matter how you look at it, green buildings still save money, especially those that are LEED-certified. According to the Environmental Protection Agency, the average LEED-certified building uses 30 percent less energy, 30 to 50 percent less water, and diverts up to 97 percent of its waste from the landfill, compared with a conventional building.
To bring these figures closer to home, one LEED platinum-rated demonstration home in Paterson, the BASF Near-Zero Energy Home (built by MaGrann), sees 70 to 75 percent in savings, says Topinka. The home is slated to serve as a prototype for 3,000 units of affordable housing in the city.
Additional Benefits
In addition to energy conservation, LEED buildings can produce other benefits. Among them, say "green" advocates, are better air quality, fewer pockets of hot or cold air and a healthier atmosphere in general.
"If you work in one, you have less sick days. If you're a student in one, your school scores are higher. If you're a patient in a green hospital, you get out of the hospital sooner," says Semple of the DEP.
If you're interested in green homes, the Northeast Sustainable Energy Association holds an open house program during the first week in October. Owners who have homes or other buildings that are green or energy-efficient, or that include innovative technology such as solar panels or solar hot-water heaters, open their doors to the public.
Last year, over 30 buildings were included on the tour; this year, more are expected, says Barclay. For more information, log on to http://www.nesea.org/ buildings/openhouse/.
Raanan Geberer is a freelance writer and editor living in New York City.