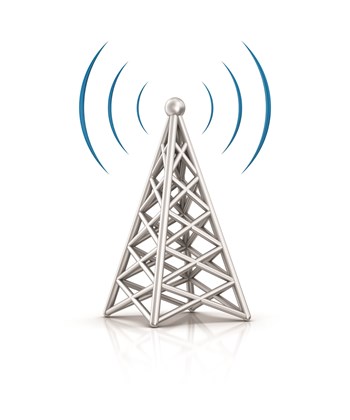 Last July, the corporate office of The Gale Company, a property management company handling buildings in 49 states and 32 countries, received a startling phone call. At the peak of London's rush hour, bombs were detonated in three subway cars, killing 52 passengers and injuring hundreds. Ian Marlow, Gale's executive vice president, chief operating officer and chief information officer, worried about Gale's 75 London employees.
"We were blocked from calling in," says Marlow, "but by using their Blackberry devices, we knew within the hour that all 75 employees were accounted for."
Although this example is a little extreme, the advent of new technology, such as cell phones, Blackberry devices and other personal digital assistants (PDAs), the Internet and e-mail, management companies and their employees are now truly accessible 24/7. While one might think that the constant flood of communication could be a chronic hindrance to the manager's personal or business life, you might be surprised to find out that they have embraced this technology and agree that it has improved their working lives, making them more efficient and reliable than ever before.
Leaps and Bounds
"Twenty years ago, we thought a pager was an amazing thing, then a cell phone, and now we look at those as being second nature," says Edward Frank, president and owner of Arthur Edwards, Inc., in River Vale. "Now we trying to access and deliver information instantly to all of our clients. Their expectations today are even more demanding than they were 20 years ago. We have to be on the edge to deliver customer service."
To deliver that quality customer service, Frank explains that all Arthur Edwards managers have PDAs and wireless laptops, and that both management and residents have access to the company's interactive website.
"The managers don't find this access to be a burden," says Frank. "I think they find that it allows them to become more productive. They are now in the position to respond to something important when it happens."
Cutting Down Phone Trees
In the past, a tenant complaint would start with a phone call to the management office. The receptionist would give the manager the message whenever he or she was in the office next, and the manager might then go to the tenant's unit, take some notes and a Polaroid picture of the complaint, and head back to the office. A work order would be written, filed and possibly faxed to the repairman or superintendent. Once the work was completed, the manager would return to the site, take more notes and another picture, return to the office, update the work order, and make copies for the tenant and the board.
Today, this process is much, much quicker. In the same scenario, an owner can still call their manager, or they can send an e-mail. Management may go to the site, take a digital picture with a camera or through a cell phone, and e-mail the image back to the office where it is put onto the company website. Or management may just go onto the Web, review their virtual tour of the property, zoom in on the area in question, and forward that picture to the superintendent. Management can then use their cell phones, PDAs, or laptops to complete a paperless work order and send it to the resident, superintendent and board simultaneously. They can update all parties the same way when necessary.
"It's all about communication," says Michael Mendillo, chief executive officer and president of Wentworth Property Management in West Long Branch. "There's more burden on everyone to be accountable. You know everyone has the information."
To connect its communities' residents, staff, management, and boards, Wentworth has created a specialized software program called WentworthConnectfor their company.
The Wentworth Group services nearly 700 residential properties comprised of 160,000 homes, and operates 15 offices in six states and in the District of Columbia. According to president Jonathan Klein, in the company's Brooklyn office, Wentworth had its own computer software analyst from Simplikate Systems develop this proprietary technology, which effectively links up all its managers with the properties, boards and homeowner associations that they manage.
Armed with Palm Pilots (or PDAs), property managers can go to one of their communities, click on their PDA, and log into the WentworthConnect database for that building's street and address. If they're investigating a violation—say for a bicycle out front or an illegally parked car—their PDA has a built-in digital camera with which the agent can take a picture of the violation. "And," says Klein, "it will automatically generate a letter to be mailed out, with one copy going directly to the board and another to the homeowner. We're trying to take every last part of it and make it easy. People can say 'it wasn't my house,' 'it wasn't my bike,' but now we have a digital picture of whatever the infraction is."
Another benefit to lightning-quick communication between management, building staff, and residents is enhanced security for shareholder/ unit owners, their family, and their property. For example, says Klein, the doorman/concierge module of the software is set up to control building access and keep tabs on the comings-and-goings of the people that live and work within the building community. Residents can also be sent real-time alerts as to when work is commencing at the property or when a weather emergency is imminent.
"We'll have all the information on any given apartment—all the residents, all the allowable guests, when they're allowed in, as well as when a guest comes to that apartment; we have a little camera right there. [We can generate] work or visitor passes to go into a building—they're good for a specific date, and have [the visitor's] picture on them. There will no longer just be workmen wandering around the building. You'll know exactly what floor they'll belong on. It's definitely real time stuff, what we're doing."
The program will eventually enable all their employees to communicate with each other, with residents, and with management—but not everyone is wired. There are approximately 400 managers, but not all are utilizing the technology just yet. "We are working to get the rest of them aboard," says Mendillo.
At What Price Speed?
Although instant communication has allowed managers to complete work orders and answer tenant complaints much faster than in the past, technology has removed some of the personal, face-to-face contact.
Kathleen Winch, president and owner of Hearthstone Central Management in West Long Branch, admits that technology has reduced the personal connection with the tenants, but says, "I think people are still happier to have a quicker response. I'll still pick up the phone from time to time, but it's quicker and easier for me to shoot one e-mail to everyone than make all of those phone calls."
After her workday is over, Winch will still review e-mails late in the evening. "I can either answer it or know that I don't have to worry about it until the next day, and then I get a jump on my day," she says.
Unfortunately, while technology has made management more proficient and efficient, it's not without its own occasional glitches. "When the Web connection goes down, you're beat," says Winch. "You really feel that you've lost the connection with your residents, and you don't know many e-mails are you missing."
Although technology is paperless, having a jammed e-mail box can be overwhelming. "The only major negative impact is that the managers get copied on all the e-mails," says Marlow.
The Gale Company actually provides technology training for its employees, especially for emergency situations. "You never know what kind of communication may get shut down in different situations," says Marlow. "You have to know what kind of technology will be available in what situation."
For example, Marlow explains that during a terrorist strike, like the one in London, cell phones may not be usable, but e-mail or a landline may. In a tornado, the landlines may be affected, but depending on where you are, wireless technology may still work. He also reminds his employees to keep additional batteries on them.
Tech Support
For those associations and management companies who aren't up-to-date on the latest technology, companies like Integrated Business Systems, Inc. in Fairfield, New Jersey, can install entire Web-based real estate computer management systems for owners, developers and property managers that can address all issues of property management - including accounting, task- related issues and databases.
"The costs vary, depending on the size of the association or management company," says Scott Donnelly, IBS' director of sales and marketing. "We license our software based on the number of users. We can host the site, or the client can put it in their own office and host it themselves."
Technology changes rapidly and just keeping on top of the ever-changing industry can be overwhelming. "Already we've had several versions," says Arthur Bartikofsky, Wentworth's executive vice president. "When the PDA technology changes, we'll change along with it."
Bartikofsky explains that Wentworth is looking to install a system where messages can be relayed to tenants, management, etc., within minutes simultaneously via e-mail, PDA, cell phone and telephone. This technology will come in handy when an urgent message needs to be distributed, such as a snow emergency. "This will also allow us to track whom we've reached and who we didn't," he says.
Winch says that another technology she may be considering is installing a global positioning system, or GPS systems, into managers' cars to allow them to find their destinations in an easier and safer manner, saving precious time from getting lost.
"When you're providing a service like this, there could always be an emergency, and you have to be ready to react to it," says Bartikofsky. "You know at any given time you can be reacting. The better the service you are, the more your people can stay with you."
Lisa Iannucci is a freelance writer based in Poughkeepsie, New York.