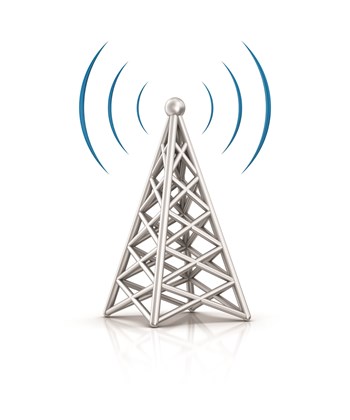 Not so long ago, when people wanted to communicate or do business with each other, doing so usually involved a piece of paper and a pen, or the use of a land-line telephone plugged into a wall. Today of course, it's a whole new ballgame. The grinding "ping" of a dial-up modem sounds almost quaint, and we take our ability to access the Web wirelessly from remote locations for granted.
To address the new standards and expectations, today's high-rise residential buildings and HOAs are being built from the ground up with advanced telecommunications technology, and established communities are looking to expand the services they offer their residents and potential buyers through satellite and wireless Internet capabilities.
The Wi-Fi Revolution
A few years ago, the notion of being able to use your laptop on the beach or in your backyard with no wires connecting you to anything sounded like science fiction. Now, wireless Internet access is ubiquitous. It's called Wi-Fi—the "Wi" standing for "wireless" and the "Fi" for "fidelity"—and it's been such a hit that some cities around the country are working on turning entire metropolitan areas into wireless "hotspots."
Like Kleenex to tissues, Wi-Fi is actually a brand name that refers to the umbrella technology of wireless local area networks, or WLANs. Generally, there are several access points, which broadcasts the name of its network at a frequency near 2.4 GHz—a frequency that, unlike those of radio or television, is not owned by anyone (at least, not yet). These short-duration transmissions are called beacons.
Computers that are rigged for wireless these beacons and use them to connect to the proper frequency, explains Tim Hunter, CEO of New York-based Sensible Telecom. The laptop will automatically scan for available networks. You select the one with the strongest frequency, and voila, you're online.
"It's easy," says Dror Schuchman, president of Natural Wireless in River Vale. "You just turn on the computer and that's it."
In the case of a home or residential building, the access points are placed throughout the premises, to ensure that connectivity is possible everywhere—or as close to everywhere as possible.
"It's separate from cable," Schuchman says. "The entire building is covered, so there is a managed, secure wireless network everywhere in the building, including common areas, the roof deck, etc."
Wi-Fi is also really fast—a big plus. But it has its limitations.
Possible Drawbacks
Even with the increasing availability and speed of Wi-Fi, it's not in every condo building or townhome association just yet. Some people cling to dial-up because they don't want to change a system that fits their needs, or don't see the value in upgrading, or are simply intimidated by technology.
"Most people are not technically minded," Schuchman says, "and don't want to set up an access point themselves." This is where an enterprising co-op or condo board could potentially help, continues Schuchman—by turning their whole building into what's referred to in the industry as a "hotzone."
According to Brian Dolan, editor of FierceWireless, a daily trade publication for the wireless industry. "Unlike hotspots, hotzones are not limited to one or two access points and often use wider-area Wi-Fi solutions. Many hotzones are subsidized by the municipalities where they are located—meaning that access can be either free, or cheaper than commercial hotspots."
For others, resistance to Wi-Fi is more a matter of security and reliability. For example, your wireless connection can be broken by anything using the same frequency. If the guy down the hall microwaves a baked potato, and his microwave is at 2.4 GHz, you may lose connectivity.
Also, there is always a security risk. Online banking, for example, is much more susceptible to hackers when done wirelessly, because wireless security encryption is not as advanced as it is for broadband Internet, you have to have a good firewall."
Increasing Value
Even if some residents are hesitant to embrace wireless services at first, establishing a wireless network in a building or association provides a service amenity, and can increase the value of each individual property.
"Forwarding-thinking condominium boards, property managers and owners are now looking at Wi-Fi/wireless communications to bring advanced high quality Internet connectivity to their properties," says Schuchman.
Schuchman also points out that Wi-Fi networks are often easier to install than cable or phone lines, and cause less disruption to residents. "The benefits of this flexibility and accessibility are not limited to convenience, [A wireless company] will work with the property manager and the board to deploy the network," Schuchman say. "We set up access points in the building, and make the entire building wireless-enabled."
And those access points are not to be confused with the large, sometimes conspicuous cell phone towers that grace the tops of buildings, either. They are easily concealed.
Natural Wireless does not charge for installation, making its money instead by either charging the users directly, on a monthly basis, or indirectly, as part of the maintenance fees.
According to Schuchman, some New Jersey associations are doing just that. "One property that recently moved to furnish Wi-Fi Internet access to its residents is the Rustic Ridge Apartments community in Dover," says Schuchman. "Early in 2005, Wi-Fi high speed Internet access was installed on select buildings. Since installation, subscriber usage has been strong and residents have embraced the new amenity. And Wi-Fi high-speed access has made the community on a whole more attractive to prospective buyers."
Sleeping with the Dishes
Alongside the telecommunications applications of wireless service comes delivery of news and entertainment. Cable has long been the status quo for residential and commercial developments, but even with improved cable delivery, another option—satellite television—is gaining ground among co-op and condo residents as well.
Like Wi-Fi, satellite service does away with cables and cords, and offers yet another means of delivering television and Internet services. It accomplishes this either by way of a satellite dish on the roof or a programmed box on top of the television console, as is the case with service provided by DIRECTV and Dish Network, the two main purveyors of satellite TV technology in the region.
According to Helen Chee, director of marketing for Totowa-based MDU Communications, a company specializing in communication and information services for multi-unit buildings, "We can install a single satellite dish on the roof that receives a digital signal from two satellites, offering viewers access to more than 200 channels from DIRECTV. Our systems also include local channels, so residents now really have more viewing choices available to them than ever before."
According to Chee, there is no up-front installation fee for most satellite receivers, and the monthly subscription price is comparable to other competitors' cable rates. Like cable television users, satellite TV users are equipped with a small receiver box in their apartments. While local stations are not transmitted via satellite, viewers still control all programming and can access all channels—including local stations—with their remote controls.
But is satellite delivery truly superior to cable? In reality, each technology has its pros and cons. According to Victor Cruz of Time-Warner Cable, the main advantage of cable TV over satellite is that cable—particularly digital cable—often delivers better reception in urban areas because weather, tall buildings, and line of sight have no effect on the picture. Cable can also deliver stable broadband Internet access with the same subscription.
Cable TV's drawbacks hinge mostly on cost and availability. These days, cable providers don't offer any free basic cable service, and subscribers are limited to whatever channels are provided by their area's cable operator.
Like cable, satellite TV also offers excellent picture quality, but unlike cable, satellite can connect people living outside cable service areas to all the channels cable subscribers get, and usually many more.
Like terrestrial TV, however, having a clear line of sight for the mini-dish is important, which can sometimes make good reception a challenge for residents surrounded by towering buildings. As long as the dish has a clear view of the sky where the satellite is located, however, subscribers should have no trouble getting the signal.
The other drawback of satellite systems is the equipment needed to set them up. A separate coaxial line must be brought to each dish, and most satellite providers charge extra subscription fees for each additional receiver. Also, many co-op/condo buildings and homeowner associations may object strongly on aesthetic grounds to having their facades or rooftops bristling with satellite dishes, and some may not even grant residents roof rights at all—making it tough for the person on the second floor to get a signal.
To solve the issues of unsightly individual dishes and lack of a clear line of sight, many buildings and associations desiring satellite service have opted to invest in one main system that will serve a number of subscribers throughout the co-op or condo. There's really no limit to the technologies available to co-op and condo owners, and certainly few restrictions because of high-rise living.
Death to Wires
"Ultimately, I think everything will be wireless," Hunter says. "Everything from medical devices to office equipment. It will be helpful to retailers. They'll be able to track who you are, what your tendencies are, and can market to you as you're shopping."
These somewhat Orwellian applications are years away, however. For now, wireless is a convenience, a triumph of technology, and an amenity more and more co-op and condo buildings are implementing to increase value and enhance their residents' quality of life.
Residents are adopting new technologies at a faster pace than ever before," says Schuchman. "Today, it's a minimum expectation—a fully assimilated and vital part of people's everyday routine. Every day, new developments in both personal and professional concerns assume…that access is something almost any building can do to boost its appeal and increase value for its residents."
For association boards, installing the latest in high technology pays off not only with happy longtime residents, but with happy new residents as well.
Greg Olear is a freelance writer and a frequent contributor to The New Jersey Cooperator. Associate Editor Hannah Fons also contributed to this article.