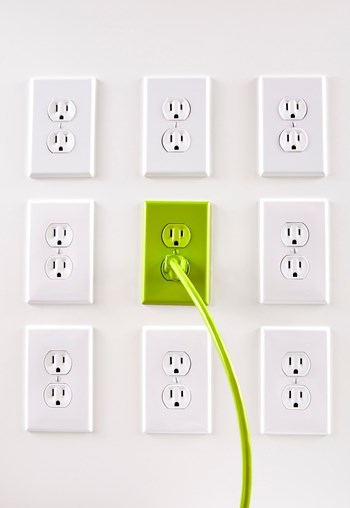 In the ever-changing world of technology, people are constantly offered new products and updated devices to improve their living conditions and help save money in the process.
The same is true when it comes to energy. It's important for boards and managers to keep track of the latest energy-saving trends and implement them into their co-ops and condos as they will save money and help the environment.
While there are some simple solutions for cutting down on energy costs—such as turning down thermostats, keeping air conditioners running sporadically and making sure that lights are off in unoccupied rooms—today's homeowner has a plethora of more advanced options for saving money on energy. There is a new generation of equipment that is designed to use less energy and save you money on your monthly bill.
Construction for the Future
In today's construction, buildings are often designed with materials that retain heat or cooling in the buildings, and with windows that reduce glare and reflect heat.
With energy costs reaching ever higher, it seems like utilizing any means available to reduce waste and improve efficiency would be a no-brainer - yet according to John Cymbalsky of the Energy Information Administration in Washington, DC, often builders are very slow to adopt to new building methods and energy-saving devices.
"It is very costly and time consuming to train the labor market, change supply methods," says Cymbalsky, "especially with the large-scale tract builders. However, some of the more innovative and energy-conscious builders have been implementing solar photovoltaic panels, 2-x-6 construction for added insulation, EnergyStar windows, and condensing furnaces. More efficient central air conditioners [of 15 SEER or more] are also common."
The term "SEER" is an acronym for "Seasonal Energy Efficiency Ratio," and is a measure of the relative efficiency of air conditioning units. The higher the SEER rating, the more efficient the unit. A unit's SEER rating is the ratio of the number of BTUs used for cooling in normal annual use to the total amount of watts over the same period.
Some of the other important things that progressive builders are considering in regards to energy when designing a new co-op or condo are location, site design, building design and building materials. Adding high-efficiency heating and cooling systems are usually tops on the list.
"HVAC equipment can account for over 50 percent of a home's total energy use," says Eric Hartsfield, spokesperson for the New Jersey Board of Public Utilities. "Installing a high-efficiency system consumes less energy than a standard system and can significantly reduce utility costs."
Looking for Solutions
For boards and managers of existing buildings who are looking for new methods to save their associations money, there are a number of things that can be done.
"Condensing furnaces and air conditioners with SEER ratings over 15 are good examples of HVAC technologies," says Cymbalsky. "Ground-source heat pumps are also very efficient, and might work well with many units sharing a common ground loop as the heat source. Compact fluorescent lighting can save a lot of electricity in high use fixtures."
Although he says the biggest savings can be gained by using photovoltaics, George Hawkins, executive director of the statewide research and policy group New Jersey Future in Trenton, offers up some less high-tech ways to save as well.
"Make sure standard insulation and heating cooling timing systems are used," he says. "Outdoor lighting that is triggered by motion—and possibly recharged by sunlight—is also popular. Energy saving light bulbs are popular, specifically the small fluorescent bulbs. These save considerable energy, particularly for those lights that are on for many hours of the day."
Efficiency Rating
Products are more efficient simply by providing a greater output of energy for the input of energy. For example, efficient compressors in air conditioners and refrigerators use much less electricity to provide the same level of service.
"The efficiency story varies greatly depending upon the product," says Cymbalsky. "H-axis washing machines, for example, gain efficiency by allowing for much less water use and better extraction of water, allowing for less drying time."
Solutions Made Easy
"There are numerous things boards can look at to save money when it comes to energy," says Hawkins. "There are high efficiency compact fluorescent bulbs and fixtures. Dimmers, timers, motion detectors, and daylight sensors all make lighting more efficient."
Hartsfield says the NJ BPU offers the following tips for saving energy by installing the following:
High-efficiency water heating systems:Much like your HVAC equipment, a high-efficiency water heating system will perform better and use less energy than a standard system to help save you money.
Higher insulation levels: Improved, properly installed insulation keeps out excessive heat or cold and helps to even out temperatures between and across rooms.
High-performance, low-E windows: Advanced windows prevent heat from escaping your home when the temperature drops outside, and keeps heat from coming in when outdoor temperatures soar.
Tightly sealed ductwork:In a typical New Jersey home, ducts leak 20 to 30 percent of the air forced through them. Duct systems that are sealed and verified by a field test can substantially eliminate these leaks, improving the efficiency of your heating and air conditioning systems.
Reduced Air Infiltration: Outdoor air that leaks indoors makes it difficult to maintain comfort and energy efficiency. House wrap, sealant, foam and tape reduce air infiltration by sealing off cracks and gaps in the framing and holes for plumbing, mechanical equipment and electrical wiring.
Energy in Dollars and Cents
Although installing energy-saving devices can be costly, any higher prices are offset by the incentive provided by such programs as the EnergyStar program, which provides rebates for consumers who purchase EnergyStar certified products. Even those who do not participate in this program will still receive benefits by reducing energy usage and costs.
The amount of the incremental investment, energy prices, and utilization of the device determines how long it will take to pay back but savings should start immediately according to Hartsfield. Low payback periods are realized by using CFL bulbs. They are higher for windows and other big-ticket items.
"People should begin seeing the effects right away," says Hartsfield. "More efficient technology means less energy consumed, so the savings should be reflected immediately on energy bills."
Therefore board members and residents don't need to wait to see the positive effects that come from switching over to these devices. In fact, once the light bulbs, photovoltaics and insulation are in, the savings are immediate.
"Most of the photovoltaic systems have a fairly quick pay-off rate, and then start generating positive cash flow," Hawkins says. "Many of the companies doing the PV systems help with up front cost."
Most economic models suggest these programs pay for themselves and then earn money over several years, which is a faster payback then most capital investments that businesses make.
Energetic Government
There are tax credits that exist on both the federal and state level when dealing with energy-saving in co-ops and condos. A Google search should point you to some information on this and the IRS website will have the federal credits listed.
At the state level, New Jersey's Clean Energy Program offers its Combined Heat & Power (CHP) program. The goal of CHP is to "enhance energy efficiency though on-site power generation with recovery and productive use of waste heat, and to reduce existing and new demands to the electric power grid by providing financial incentives for CHP installations."
The CHP Program provides incentives for combined heat and power projects. CHP projects will reduce emissions, help businesses lower their electric costs, and improve electric reliability.
"The CEP sponsors various incentive programs to encourage association communities to adopt or install energy-efficient appliances and building systems," says Hartsfield.
New Jersey SmartStart Buildings, a commercial and industrial construction program, was designed to address key barriers to efficient construction on the part of developers, designers, engineers, and contractors in the commercial sector. It is available to schools, commercial, industrial, governmental, institutional, and agricultural customers.
"The program offers a wider variety of incentives," he says. "Rebates for measures such as high-efficiency lighting, heating and cooling equipment and motors are offered to help offset the incremental cost of high efficiency equipment. Design incentives and support are available to cover a portion of the cost for additional energy efficiency design services, and technical support is provided to help customers evaluate energy efficiency options."
All programs can be found on New Jersey's Clean Energy Program website at www.njcleanenergy.com.
Final Thoughts
It's up to everyone to do their part to help conserve energy and co-ops and condos need to get on board with the latest technologies and advancements to improve their energy efficiency.
"There are numerous options out there that are easy to find," Hartsfield says. "Energy-saving methods should be important to everyone and will help you out economically as well."
Helping the environment and making money in the process—and everybody can get energetic about that.
Keith Loria is a freelance writer and a frequent contributor to The New Jersey Cooperator.