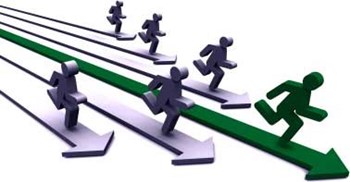 Real estate professionals, developers and builders are all reporting the same thing: today's homebuyers who are looking for maximum value are asking for more than granite countertops and hardwood floors. They want energy savings and green buildings.
LEED [Leadership in Energy & Environmental Design], a certification program of the U.S. Green Building Council (USGBC), has become the leading benchmark for the design, construction and operation of high-performance residential buildings.
Compared to conventional construction, a "green" home applying LEED standards and technology uses less energy, water and fewer natural resources. LEED certified constructions create less waste, are good fit for the terrain, and the standards ensure these new constructions are built with as little impact on the land as possible. It's also believed to be healthier for the people living inside.
The LEED Lowdown
Originally only applied to commercial buildings, LEED standards and practices have expanded to all types of construction. And LEED certification aspirations aren't limited to new construction, either. The USGBC also offers LEED for Existing Buildings, which allows buildings over two years old to get certified by making changes that will make them healthier and friendlier to the environment. Data compiled by the USGBC shows that as of April 2009, almost 2,000 homes nationwide have received the "LEED for Homes" certification. Another 10,000 are in the process of seeking certification—including many co-op and condo buildings.
"A green building is a high-performance building that is more environmentally responsible, healthier and more profitable," explains Ashley Katz, the USGBC's communications coordinator. "Green buildings use less energy, less water and fewer resources. They also have less of an impact on the environment and are healthier places for their occupants."
LEED certification works on a point system. If you earn the minimum 26 out of the total 69 points, your building will certify at the basic 'certification' level. Buildings that earn more points than this will enter into the Silver, Gold or Platinum levels.
LEED points—called credits—may be earned in the five main LEED categories: Sustainable Sites (points earned for the conservation of habitats); Water Efficiency (low-flow showers and faucets); Energy and Atmosphere (reducing energy use); Materials and Resources (using recycled goods and materials); and Indoor Air Quality, (protection of the ozone and increased ventilation). Credits are also earned for such things as proximity to public transportation.
LEED in the Garden State
More and more developers in New Jersey are incorporating LEED-approved elements and materials into both condo and rental residential projects.
For example, the 30-unit Garden Street Lofts in Hoboken live up to their name by repurposing and adding onto an early 20th century industrial building (a former coconut processing plant), turning what was once disused commercial space into highly desired residential condo units. Sales began in the winter of 2008, and units sold quickly.
According to Hudson Place Realty, the Garden Street Lofts' sales and marketing firm, developer Lawrence Bijou partnered with New York City-based ShoP Architects to design the project with a LEED silver certification objective in mind, from the start, a first for a New Jersey condo. Elements such as low-VOC paint, high-efficiency HVAC equipment, and even sustainably harvested hardwoods for floors and trim all contributed to reduce the project's environmental impact. Builders even re-paved the street out front with reclaimed cobblestones to preserve the block's historic flavor.
"By now, we should all know that green is the future of building," said Bijou, in an article that appeared in the New York Daily News in February of 2008. "My goal was to actually do it. This is my first project of this magnitude, and I wanted the best."
In the same article, Loft resident Caroline Russo expressed her attraction to both the building's green elements and its luxurious features. "Green wasn't a consideration before we saw this," said Russo. "Now, it's part of our lives…We can't protect our son from everything bad that's in the air, but here we created a safe haven that is a cutting-edge, non-toxic environment."
Other residential developments have gotten on board the LEED bandwagon as well. In 2006, ground was broken on Wesmont Station, a 70-acre mixed-use community in Wood-Ridge. The project was selected as a pilot participant in the LEED neighborhood development initiative, and plans for the project won the 2006 New Jersey Smart Growth Award. When construction is completed in 2010, it will include nearly 800 residential units, retail and office space, and a new commuter rail station connecting the development to New York City and other points east.
According to urban design firm Duany Plater-Zyberk & Company, which participated in the planning of the Wesmont Station project, "Wesmont Station is a transit-oriented development that will occupy the site of the former Curtiss-Wright factory in Wood-Ridge. The site, which was used for plane construction in World War II, had been largely abandoned since the 1980s, prior to the development initiative."
The completed Wesmont development will incorporate a number of earth-friendly features and functions, not least of which is that of its location adjacent to a busy mass transit hub, the community's 2,500 projected residents will be less reliant on their cars. "This pilot will help develop LEED standards for neighborhood development initiative projects," said Ron Ladell, vice president of the New Jersey division of AvalonBay, developers of Wesmont Station's 400-unit luxury rental residence in a press release.
LEED features are also spurring leasing at the 544-unit Alexan CityView rental community on the waterfront in Bayonne, which aims to be the largest LEED-certified multifamily community in the country, according to project developers Trammell Crow Residential.
According to Trammel Crow, the project "[was] conceived as a sustainable structure, in accordance with requirements of the LEED for Homes Silver certification and features a number of significant 'green' features. For example, each residence is equipped with green para-air filtration systems to remove humidity, dust and other airborne particles on a continuous basis. Other environmentally friendly highlights include a resident recycling program, increased water management practices to contribute to water conservation, Energy Star-rated appliances, windows, lights and efficient heating and cooling systems."
Spurring Sales in a Messy Market
For new construction, LEED certification is a major selling point—and for existing buildings, becoming LEED-certified can not only save residents money, but it can translate into increased marketability in a very tough market; some brokers estimate that LEED-certified homes can fetch as much as 10 percent more in the market than non-green units.
"AvalonBay believes strongly in the driving principles behind Wesmont Station," said Ladell, "and actively pursues transit-oriented, mixed-use development opportunities of this caliber because we know that this type of design will ensure the long-term value of the residences we build, regardless of market cycle."
Leland DiMeco, co-owner of Boston Green Realty in Boston, MA, is also finding that while homebuyers are concerned about sustainability and reducing carbon footprints, they're also serious about saving money on utilities and maintenance. "Above and beyond the selling price, consumers are looking at operating costs," DiMeco says. They want to know, what's the monthly price tag?"
His company is involved with updating urban properties in Boston-area communities such as Cambridge, Medford and Dorchester. He points out that in the past, the cost of utilities could put condo buyers over-budget, and that "banks didn't look at the whole picture" in figuring monthly payments. Energy efficient design, he says, "may bring back the condo market—even lenders want to go green."
"Sustainable real estate properties lease more rapidly than conventional buildings," Katz agrees. "And they command higher occupancy and rental rates."
Additionally, LEED certified buildings may qualify for tax rebates, zoning allowances and other incentives. These incentives differ by state and city; you can check out the USGBC website (www.usgbc.org) to view a listing of them.
Low Operating Costs—and Other Benefits
One person who can testify about how these incentives are helpful is Russell Albanese, president of Albanese Development, the Garden City, Long Island-based firm responsible for developing the first green residential building in North America—the LEED Gold-rated Solaire in Manhattan's Battery Park City.
His firm later developed other LEED-certified residential projects. According to Albanese, LEED-qualifying features of his buildings include solar panels, "green" roofs and windows that reduce susceptibility to heat and lower energy bills, cutting-edge plumbing that yields a 25-percent reduction in water-sewer rates, and recycling of waste water for cooling and irrigation. Albanese says his company's buildings also make maximum use of natural light, incorporate Energy Star fixtures and appliances, and use motion sensors to limit electrical waste in low-traffic areas.
DiMeco notes that the implementation of green building techniques can vary considerably from one property to another. Some might concentrate on the energy efficiency of the building and interior air quality, while another might focus more on water conservation. "Sometimes it's a matter of balancing health issues with cost-cutting during construction," says DiMeco. "It's the developer's responsibility to [build systems that] need less maintenance. Are contractors recycling [construction waste]? Are they using the best insulation and mechanicals? It's all related to the budget. It doesn't have to cost more to 'go green'—it's done more through exceptional design, before you start doing the work. It's worth it, to budget in green solutions for common areas, and help reduce costs and keep condo fees down. That's the compromise—getting the most green solutions within the available budget."
Low-Impact from the Ground Up
Real estate professionals, too, have been responding to the "green" trend in response to customer demand. Michelle Wardlaw, public affairs associate for the National Association of Realtors (NAR), reports, "The NAR recently published a survey that found 90 percent of recent homebuyers thought energy efficiency was a very important consideration when searching for a home. More and more clients are inquiring about saving energy. To educate clients on what to look for, we're part of the Green Resource Council… It's kind of a movement with entire real estate firms getting involved, or individual realtors. Over 2,000 realtors have signed up for 'Green Designation.'"
To obtain the new designation, realtors must complete a 12-hour core course and six-hour elective course in either residential, commercial, or property management. Nearly 300 courses are scheduled across the United States and Canada for 2009.
The costs to apply are $100, and the exam fees are $300 for USGBC National members; $450 for non-members. There is a credentialing maintenance renewal fee of $50 every two years.
Boards and managers wishing to work toward LEED certification of their building can find everything they need to get started on the USGBC's website. According to Katz, the initial registration fee for the LEED certification program is $450, which gives the project team access to a variety of project management resources. The average certification fee is about $2,000, depending on the size of the project.
"The confidence that comes with LEED certification really makes it worth it," says Katz. "Independent third-party verification means you know your building is saving energy and water just like it was designed to do." Katz reports that the average payback of a green building over its lifetime is 20 percent.
"Once your building is operational, you start saving money," she says. "Add in the health and productivity benefits for the building's occupants and the benefits for the environment, and it's clear that green building makes both economic and environmental sense."
Marie N. Auger is a freelance writer living in Westminster, Massachusetts. Additional research by Hannah Fons and Melissa Swinea.