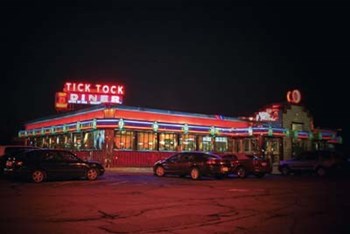 Situated a mere 10 miles from the "Big Apple," Clifton is a delightfully diverse community that does not fit the mold of the average commuter town. While a sizable number of residents do commute to "the city," a majority of residents work within driving distance of their homes. Some residents hardly ever go to New York, and in fact there are even some who've lived in Clifton all their lives and have never even set foot in the metropolis only 35 minutes away. That may sound incredulous, but trust me as a former resident of Clifton, it's true.
A Little History
Clifton, New Jersey was incorporated as a city by an act of the New Jersey State Legislature on April 26, 1917. Previously the city had been known as Acquackanonk Township, but two days before the act was passed, a referendum was held and the residents voted to give the city the name we know today.
Due to its proximity to New York City, Clifton has always benefited economically due to its location. The Morris Canal, which helped to deliver coal from Pennsylvania to the Port of New York winds its way through the city. Thanks in part to its neighbor to the west, the city of Paterson, known in the 19th and early 20th century as "Silk City" due to the number of silk and textile mills, Clifton became a major transportation and manufacturing hub. Raw materials were imported from the Port of New York to Paterson for manufacturing. The final products were then sent back to the port to be exported all over the world. During this time period the majority of Clifton's residents were involved with the manufacture of textiles, opting to live in the park-like setting of Clifton as opposed to the urban industrial center that Paterson was.
As northern New Jersey grew the Morris Canal and freight railroad lines, that were responsible for Clifton's growth, were replaced by a network of highways. With this evolution Clifton remained a convenient location between New York City and points west. Today, several major highways either surround or dissect Clifton. Clifton is easily accessible by Routes 3, 19, 21 and 46 as well as U.S. Interstate 80. The Garden State Parkway also serves Clifton providing a direct link to the Jersey Shore in the summertime for residents.
Though Clifton is surrounded by urban centers, and many parts of the city feel urban, most of Clifton is reminiscent of a sleepy suburban community. The city's park and recreation department oversees more than 36 parks and facilities, providing residents a full range of amenities ranging from sports fields and ball courts to fitness facilities and barbecue grills. The largest park, Main Memorial Park, located in the Park Slope neighborhood of the city, even has and old U.S. Army tank for kids to climb on.
Being at the center of so many thoroughfares Clifton has emerged as a dining and shopping hub.
The recently built Clifton Commons is home to Target, Sports Authority, Barnes and Noble and a 16 screen AMC movie theater. The Promenade Shops at Clifton is home to many fine apparel shops as well as Joe's Crab Shack. The retail landmark Styretown Shopping Center, in the Allwood section, offers shoppers more than 30 specialty shops.
Famous Eateries Abound
Some of the dining options in Clifton have become a part of American culture. The most notable is Rutt's Hut which opened in 1928 and became famous for serving deep fried hot dogs known affectionately as "Rippers," since the hot dogs split open as they fry. These famous dogs are topped by a special homemade mustard-based relish made with cabbage, carrots and onions. Rutt's Hut has been featured in numerous documentaries presented on PBS, The Food Network and The Travel Channel. Most notably, Rutt's Hut is listed in The New York Times best-selling book "1,000 Places to See in the USA and Canada Before You Die."
Other famous places to eat include The Hot Grill, another famous hot dog location where you can enjoy a "Hot Dog All-the-Way," my personal favorite, which is a deep fried hot dog, smeared with spicy mustard, raw onions and then topped with their special chili sauce. If you'd prefer a hamburger then The Hearth is a great choice, serving freshly-ground char-grilled hamburgers and soda fountain root beer. Finally, if you're not quite sure what you'd like to eat, spend some time at The Tick Tock Diner, one of America's most iconic and original art deco diners, where you can dine 24 hours a day. The landmark diner's menu reads like a book and diners should note that on the bottom of each page there's a note which says, "If you don't see it on the menu, just ask and we'll make it for you."
Many of the locations mentioned in this article may be quite familiar since much of The Sopranos was filmed in and around Clifton. Additionally, much of the Johnny Depp film Donnie Brasco was also filmed in Clifton. In the Martin Scorsese film The King of Comedy, Robert DeNiro's character Rupert Pupkin still lived with his mother in Clifton.
These celebrities were transient visitors but two Hall of Fame sports legends Yogi Berra and Phil Rizzuto invested their money in Clifton and opened the "Rizzuto-Berra Bowling Lanes" in the Styretown Shopping Center. Legend has it that Yogi came up with the "imaginative" name.
One landmark that most people will never see is the abandoned sewerage system known to locals as the "Gates of Hell," where upon reaching a certain depth in the sewer, it becomes so dark that it is impossible to see anything, including shadows. Adventurers wander in with video cameras to admire the graffiti artwork. Many of these adventurers video their exploration and upload their experiences on YouTube.
All in all, Clifton is a dynamic city that has something for everyone. Stop by sometime for a hot dog, after that first bite you may just decide to make Clifton your hometown.
Liam P. Cusack is the associate editor of The New Jersey Cooperator.