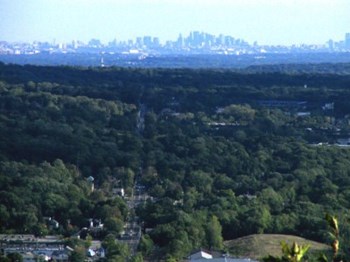 While some people may only know the town of Mahwah because of a glancing mention in the Bruce Springsteen song "Johnny 99," the city has had a long and distinguished history.
Some know it for its parklands, some for the historic Ford plant, and sports fans remember it for 25 years of great tennis matches at the A&P Classic, which served as a warm-up for the U.S. Open.
The Leni Lenape Indians called it Mawewi, but the name Mahwah is said to refer to the place where fields and streams meet. The area was originally formed as Hohokus Township on April 9, 1849 and was incorporated in 1944.
The Township of Mahwah is a 26.7-square-mile suburban community situated to take advantage of the natural beauty of the Ramapo Mountains and the Ramapo River on its northwestern border. Mahwah is a natural route northward from New York City (a mere 30 miles away), has easy access to air and rail transportation, and is bordered by the towns of Upper Saddle River, Ramsey, Allendale, Wyckoff, Franklin Lakes, Oakland and Ringwood, New Jersey, and Suffern in New York.
"Mahwah is unique in that it is quite spacious," says Mayor Richard J. Martel. "The tax rate is excellent, the schools are very good. The Ramapo Montains give you a lot of opportunities for hiking, biking, skiing in the winters. It's everything you could want."
Nicknamed "Bergen County's Parkland," the city is home to many state and county parks and reservations, occupying almost 5,000 acres of county and state parkland. As the largest municipality in Bergen County, Mahwah has more open space than any other town in Bergen County. Mahwah also has the luxury of being equidistant from two mega-shopping centers, which draw thousands of visitors each year.
A History Lesson
The origins of Mahwah go way back to the 1700s when Europeans came to America looking to find spices and riches.
"The Muncie Tribe was in this area at that time - they were the first people here as far as we know," says John Bristow, who served as president of the Historical Society in Mahwah for over 20 years. "Then the Europeans arrived, and [settler] Blandina Bayard bought some land from the Indians and established a trading port in August of 1700."
According to Bristow, in 1713 a group from Germany came to the area and established the first churches as they took advantage of the nearby rading posts. The Dutch soon followed and added a Lutheran church in 1798. Two catholic churches were built a few years later.
"They stayed a few years, and the first big industry in the area was farming," says Bristow, who has lived in the area since 1953. "Then came a factory that manufactured locks and hinges for doors, and that was big."
The biggest push toward industrial development came when the Snow family, which had taken over the Ramapo Factory in 1901, began making iron products.
"Initially Mr. Snow was one of the first to invent the brake shoe, which made it possible for streetcars to stop," Bristow says. "They were making 10,000 of these a week and everyone needed them because every freight car and every passenger car needed them. This brought some major manufacturing to the area."
After World War II, the Woolworth Company built the largest assembly line in the United States in Mahwah, and they stayed in town for 35 years, offering many jobs to the locals.
"[The Woolworth factory] helped bring in many other factories and workers," Bristow says. "That was a big thing for this town."
Ford Motors also had a plant in Mahwah for many years before closing down in the mid-80s, but compared to other industrial concerns, its impact was less pronounced.
Visitors and history buffs can learn all about Mahwah's industrial legacy at the town museum, which is housed in the first railroad station, which was built in 1871 and later moved to Old Station Lane.
People are People
Although the closing of the Ford plant in 1980 eliminated 5,000 jobs, the township has doubled in population since.
"Mahwah has a diverse population," says Ellen Stein, a realtor and the president of the Community Associations of Mahwah. "Mahwah consists of approximately 26 square miles and 10,000 homes, and we are a very diverse community along ethnic cultural and economic levels."
The town offers a wide range of housing options, including charming Cape Cods, stately historic homes, townhouse and condominium communities and million-dollar mansions. According to Stein, Mahwah residents take pride in having been able to keep their community's small town character while attracting commercial enterprises. Many large corporations such as Datascope, Jaguar, Konica, Seiko, and UPS have chosen Mahwah as their corporate home, and the campus of Ramapo College makes its home there as well.
"The versatility of the town is excellent," says the mayor. "We have some fantastic areas of housing and some great businesses coming in. We have a lot of great companies in the area because our corporate world offers a great deal and the Mahwah Regional Chamber [of Commerce] does a lot for the town."
The mayor says that the chamber's largest commercial venture, the 22-story, $66 million International Crossroads complex, which includes a Sheraton Hotel, offices, and a convention center, was built where the Ford plant used to stand.
The Condo Market
Currently there are over 5,000 condominiums in Mahwah, spread throughout both brand-new and older buildings and developments.
"There's a broad spectrum of housing," said Fern Lambert, a realtor with Mahwah's Burgdorff Realtors. "With the condo market, lately you are seeing some nice prices in terms of sales. People like the area and enjoy the surroundings."
According to realtors, sales in 2007 are up over last year for the first quarter and realtors are optimistic about the rest of the year.
"One bedroom condos start at around $250,000 and two bedrooms can cost from approximately $355,000 to $600,000 or more," Stein says. "Three bedrooms can cost from $550,000 to over $1,000,000. Mahwah's taxes are lower than the surrounding areas, therefore real estate prices tend to be a little higher, but the monthly costs for both is very enticing."
According to Lambert, the largest condominium community is the 1,300-unit Society Hill off Ridge Road. Among the more expensive condominium communities is the 250-unit Apple Ridge off East Crescent Avenue, opposite the Apple Ridge Country Club, one of two 18-hole golf courses in town.
"There are several factors that lure new residents to Mahwah," says Stein. "First is easy access to the New Jersey Transit trains that allow commuters the comfort of riding the train to New York City. Second, Mahwah's municipal government has done a very prudent job managing the municipal finances, keeping real estate taxes low. This has especially been beneficial to young families who are perhaps buying their first home and for senior citizens who are on a fixed income."
On the Horizon
New development and talks of improvements always abound in Mahwah.
"There have been talks of developing in the crossroads area for a Main Street type of retail, and there have been several continuing efforts to modernize and make the downtown area more of a downtown area," says Martel, who has lived in the area since 1959 and is serving his 12th year as mayor. "It's a continuing effort, but right now there is no earth shattering news on projects."
Plus the population keeps growing in terms of people and businesses.
"In terms of population, through the '80s and '90s, Mahwah experienced its greatest population growth," Stein said. "Now growth is limited to the remaining few buildable lots."
"Some of Mahwah's residents have been here for over 70 years," Stein continues. "In recent years, the town has had a influx of younger families, especially in the condominium communities. Our Senior Center is very active and has just reached the 1,000- member mark. Our younger families are active in sports and recreation, and we have many single residents as well. It's just a wonderful place to live, work and play."
Keith Loria is a freelance writer and sports reporter living in Larchmont, New York.