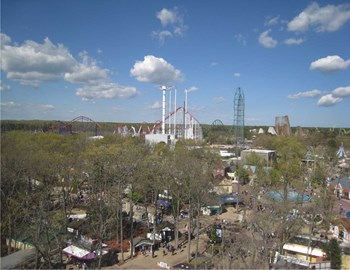 About one hour and a half from New York City, Jackson Township, located in Ocean County, New Jersey, is the ideal place for a mini-vacation.
The town, known by many as the "Gateway to the Jersey Shore," and centered between New York City and Philadelphia, is home to many attractions, including Six Flags Great Adventure, Six Flags Wild Safari, Hurricane Harbor, and the Jackson Premium Outlets. Attractions include a variety of golf courses, parks and campgrounds, and museums; as well as a skating center and a paintball field.
The Early Days
Created in March of 1844, by an Act of the State Legislature, the township was created from portions of Freehold and Upper Freehold. Although, over the years since its establishment, boundary changes have either taken away or added to the area, the last change occurred in 1928, leaving Jackson at its current area of 100.4 square miles.
The township of Jackson, which has a population of approximately 54,856 residents was named for then ex-president, Andrew Jackson. In honor of General Lewis Cass, President of Jackson's Secretary of War, the largest town in Jackson, formerly known as Goshen, was renamed Cassville. Also, when creation of the township was being approved, it was approved by a State Legislative with a majority of the members, being those of what was left of the Jacksonian Democratic Party.
Although Jackson Township has a population nearing 55,000, it is still a close-knit community. There are many different organizations in the Jackson area, some of which provide volunteer services to the public. One such organization is the Jackson Women of Today, which distributes food on a monthly basis and also grants scholarships to students at Jackson Memorial High School. Another organization is the Jackson Knights of Columbus, which is a Catholic fraternal service organization, made up of more than 500 members, providing members and their families with volunteer opportunities in service to the Catholic Church and their community. The Jackson Township also has a Kiwanis club, an Italian-American Club, a Rotary Club and an Optimist Club. Clubs such as the Jackson Little League, the Holbrook Little League, Girl Scouts and Boy Scouts cater to the children of Jackson.
During the mid-1800's, Jackson was initially dominated by both Protestant and Methodist-Episcopal churches but the religious spectrum of the Jackson Township today includes eleven different faiths, which add to the community's diversity. Among these are the African Methodist Episcopal, Independent Fundamental, Jehovah's Witnesses, Jewish, Immanuel Lutheran Church, Lutheran-Missouri Synod, Lutheran, Ministries, Presbyterian, Roman Catholic, Russian Orthodox and United Methodist.
Many Attractions
A suburban enclave for families, Jackson Township's unemployment rate is 4.2%, which is below the national average. The township also has a very low crime rate with both the violent crime risk index and property crime risk index being one, the lowest point on the scale.
The weather varies as it is a temperate climate, giving residents a chance to enjoy the hottest summers at Six Flags Hurricane Harbor, as well as the winters with holiday shopping at the Jackson Premium Outlets. Other attractions include the Ocean County Mall and Freehold Raceway Mall, a Walmart and many other shopping centers. Tip Tam Camping Resort is an excellent place for camp lovers. Not only do they offer cabin rentals and RV rentals, they even have an on-site camp store that provides cable modem connections for laptops.
The Garden State Philharmonic gives several concerts a year providing cultural and educational value to the community, encouraging an interest and appreciation of music. Restaurants such as the Lighthouse Restaurant, which serves fresh seafood as well as steaks, filet mignon, lamb chops, chicken entrees and pasta dishes in a warm and cozy dining environment is an ideal place for families to eat. Other popular eateries include Dante's Ristorante & Pizzeria, Java Moon Café, Jersey Mike's Subs, Solo Bella, Stewart's Rootbeer and Vinci's Bar & Grill & Pizzeria.
Play Ball!
Jackson's own minor league baseball team, The Lakewood BlueClaws, who play at First Energy Ballpark, located at 2 Stadium Way, isn't your average ballpark. Outside of baseball games, the park offers a miniature golf area, arcade, an expanded Kid's Zone and three large picnic areas. There's even lawn seating and entertainment between innings. A golf club academy with a complete practice facility, the Eagle Ridge Golf Club offers breathtaking views, a grand 25,000-square-foot clubhouse, 18 holes of championship golf, the modish View Restaurant, men's and women's locker rooms, a banquet hall and a fully stocked golf shop. Its waterways and natural preserves also offer abundant recreational opportunities. Professional bowlers Parker Bohn III and Johnny Petraglia, soccer player Rob Johnson and Zakk Wylde, a guitarist from Ozzy Osborne, are among those who were born or have resided in the township.
With a great quality of life, Jackson is a safe place to live, raise a family, or run a business, rated by Money magazine as the third best place to live in the country. Pay a visit the next time you're in this area of Monmouth and Ocean counties. You'll be glad you did.
Liam P. Cusack is associate editor of The New Jersey Cooperator.