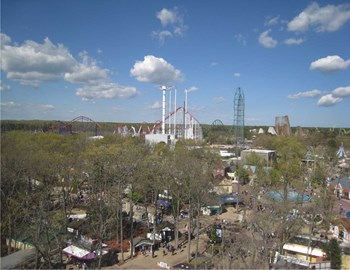 About one hour and a half from New York City, Jackson Township, located in Ocean County, New Jersey, is the ideal place for a mini-vacation.
The town, known by many as the "Gateway to the Jersey Shore," and centered between New York City and Philadelphia, is home to many attractions, including Six Flags Great Adventure, Six Flags Wild Safari, Hurricane Harbor, and the Jackson Premium Outlets. Attractions include a variety of golf courses, parks and campgrounds, and museums; as well as a skating center and a paintball field.
The Early Days
Created in March of 1844, by an Act of the State Legislature, the township was created from portions of Freehold and Upper Freehold. Although, over the years since its establishment, boundary changes have either taken away or added to the area, the last change occurred in 1928, leaving Jackson at its current area of 100.4 square miles.
The township of Jackson, which has a population of approximately 54,856 residents was named for then ex-president, Andrew Jackson. In honor of General Lewis Cass, President of Jackson's Secretary of War, the largest town in Jackson, formerly known as Goshen, was renamed Cassville. Also, when creation of the township was being approved, it was approved by a State Legislative with a majority of the members, being those of what was left of the Jacksonian Democratic Party.
Although Jackson Township has a population nearing 55,000, it is still a close-knit community. There are many different organizations in the Jackson area, some of which provide volunteer services to the public. One such organization is the Jackson Women of Today, which distributes food on a monthly basis and also grants scholarships to students at Jackson Memorial High School. Another organization is the Jackson Knights of Columbus, which is a Catholic fraternal service organization, made up of more than 500 members, providing members and their families with volunteer opportunities in service to the Catholic Church and their community. The Jackson Township also has a Kiwanis club, an Italian-American Club, a Rotary Club and an Optimist Club. Clubs such as the Jackson Little League, the Holbrook Little League, Girl Scouts and Boy Scouts cater to the children of Jackson.