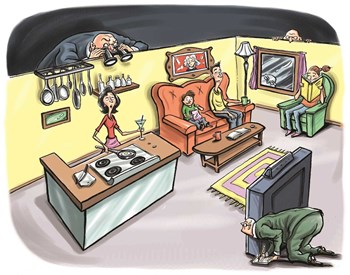 Condo and HOA residents often complain that their board doesn't do enough, or that the board members aren't involved as much as residents would like in the administration and maintenance of their community. While a disinterested or apathetic board is certainly a problem, going to the other extreme—becoming an overbearing, Big Brotherish cabal—can be just as bad, or worse.
Board members who overstep their bounds and intrude on the privacy and agency of individual residents are inviting trouble—so it's important to understand the boundaries of board power, and know when something crosses them.
Knowledge is Power
To carry out their duties, condo and co-op boards need a certain amount of latitude, says Andrew McDonald, an attorney with the law firm of Lomurro Davison Eastman & Munoz PA in Freehold, and balancing what is right and what is expected can sometimes be tricky.
"Rules are needed in order to protect owners' investments," says McDonald. "After all, each individual owner agreed to the bylaws and governing documents when they bought their unit. Boards are given broad power to put people on notice, to fine them for the non-payment of common charges, assessments, and the like. At the end of the day, I think these boards are given a wealth of power because they have a responsibility to keep the [community] in good repair so that homeowners don't lose their investment."
Given all that, it's important for board members to understand what being on the board means, and how to avoid overstepping their bounds. Sometimes, a board comprised of seemingly level-headed people can jump the tracks and head off in a direction that is neither productive nor healthy for their association.