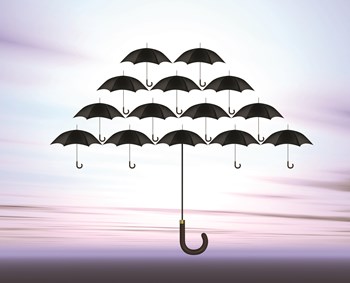 In today's uncertain world, insurance costs can pose a hefty burden for homeowner's associations and co-op and condo boards trying to keep budgets balanced and costs lows. One potential solution to that burden may be a risk purchasing group—or RPG—which can make insurance easier to afford while offering even more coverage than some homeowner's associations might have thought they could afford.
The Origins of RPGs
Risk purchasing groups first became an option for associations with the passage of the 1986 Liability Risk Retention Act, a federal law that helped U.S. businesses, professionals and municipalities obtain liability insurance that had become either unaffordable or unavailable due to the skyrocketing costs at that time. The law allowed for the creation of organizations that would allow co-ops, condos and hundreds of other groups with similar liability needs to join together and purchase insurance, maximizing their bargaining power enabling them to secure quality insurance at more reasonable prices.
The 1986 act overrode other existing state legislation that might have prohibited such groupings, says Ken Hager, chief operating officer of Preferred Property Risk Purchasing Group Inc., in Holmdel.
According to Hager, "When you deal with a risk purchasing group, you have the buying power that individual homeowner's associations don't have. If you were to buy a $15 million umbrella policy [on your own], it might cost $10,000 to $15,000 a year. If you qualify for a risk purchasing group, you'll get it for $3,000 or $4,000."
When it comes to price and amount of coverage, it would seem tough to beat the bargaining power of an RPG. Since their inception, RPGs have become a valued alternative to traditional means of insurance. Hager says his company, which was founded in 1996, has doubled its number of policies nearly every year, with more than 10,000 associations and 1.2 million units currently in the group nationwide. "During the 1990s, it was a soft insurance market," says Hager, "but risk purchasing groups have still grown, and should continue to grow."
Creating A Group
RPGs are formed when any number of persons or organizations with a shared business that puts them in the same league in terms of insurance and liability risks comes together to secure liability coverage. These groups are in no way limited by type of business. For example, in addition to co-ops, condos and HOAs, there are thousands of other risk purchasing groups across the country supplying coverage for auto dealers, electricians, and innumerable other businesses.
In fact, New Jersey law states that there are no specific legal requirements regarding the structure of a purchasing group. According to the state's website, it is simply "any group of insurance buyers who come together for the purpose of purchasing liability insurance on a group basis." The purchasing group does, however, need to register its intentions with the state of New Jersey and provide a substantial amount of paperwork to prove those intentions.
To join a risk purchasing group, a homeowner's association needs to pass an audition of sorts where the group examines the potential liabilities and needs of the applicant. Some groups have different exclusions, limiting the type and scope of associations eligible for coverage. "Some associations have swimming pools, but of those, some may not allow diving boards," Hager explains. "Or some associations serve alcohol while others do not." Everyone has different needs and pluses or minuses that they will bring to the table.
The group also will look at the association's insurance track record. "You may see a lot of small claims—maybe 15 or 20—over the past few years," says Hager. "That association may be restricted because of those excessive claims. The risk is that one day those small claims may become one huge claim. If that's the case, they may be admitted [to the RPG], but if the excessive number of claims continues, they might not be renewed."
Especially if that high number of claims turns out to be the result of maintenance problems or other acts of neglect on the part of the association. "We look for places with preferred property, places that do the right things in terms of property management," Hager says.
Other issues may make one association a poor fit for the group, meaning they might not get as much out of joining as another association would. It could be something as random as building height. If a building is drastically taller than the others in the group, it might not fall within the parameters for agreed-upon liabilities. "We put a lot of thought into accepting members," Hager says.
Options Offered
Risk purchasing groups only offer general liability protection, an umbrella policy that is "the primary defense in things like slips and falls," Hager says.
Liability insurance can prove invaluable to a co-op or condo. Hager cites the cases of several clients, including one association that had just bought $50 million in coverage from the group. Tragedy struck when two teenagers drowned in the association's pool. As traumatic as the incident was for the entire community, the board at least had peace of mind knowing that should a question of liability arise, they had sufficient coverage. "The board said, 'thank God we had this coverage,' in case there was any chance they could have been found negligent," Hager says. Thankfully, the question of negligence never arose.
In another instance, a homeowner's association was found guilty of negligence after it was determined that the cause of a fatal car accident on the property was poor visibility due to decorative plantings that blocked the driver's sight. The $17 million claim was covered under the association's liability policy.
In short, boards need to plan for everything. "If it couldn't happen, you wouldn't need insurance," Hager says.
Especially for smaller associations, the ability to purchase $10 million or $15 million liability policies for the same amount they may have paid for policies half or one-third that size is a large incentive for joining an RPG. The stress of spending days or weeks negotiating insurance needs vanishes. The risk purchasing group takes care of negotiations and uses its collective bargaining power to find a comprehensive plan with the highest yield for the dollar. "Obviously, the biggest benefit of a risk purchasing group is that you do get high limits for a reasonable price," Hager says. "We're very competitive, especially for high-rise associations where we can get $50 million in coverage [and still fall well within their budgets]."
Using Your Security Blanket
Obviously, no matter how good the rates or coverage sound, no one ever knows how good their insurance will be until it comes time to submit a claim. Making that claim through a risk purchasing group involves no more work than it would with a standard insurance company. The association simply goes to their regular insurance agent, who negotiated their entry into the risk purchasing group in the first place, and states their claim. That agent then goes to the group, which handles the intricacies of the claim with the insurers. Procedurally speaking, there is no difference for the association or board when it comes to taking advantage of their coverage.
And despite the fact that RPGs by their very nature imply a connection between all the parties involved, the liabilities of one association generally do not adversely affect that of another.
According to Gary Harker, an attorney for 3H Corporate Services, LLC, an insurance firm based in Brooklyn, New York, "Whether the purchasing group's insurance carrier would increase insurance premiums [because of a large claim pay-out] depends on a number of factors, including the group's loss history as a whole and the amount of premium paid in relation to claims paid."
For example, Harker explains that if an RPG had a collective premium of $15 million, a single large loss would not likely have any significant impact on individual premiums. It's important, however, to keep in mind that every policy and carrier is different and a co-op or condominium management board should investigate all angles of coverage before joining an RPG.
"Members of an efficiently managed purchasing group will pay premiums based upon their overall loss experience," Harker continues. "A member with a poor loss history will typically not be subsidized by the group, but rather that member's premium will reflect their loss history and vice versa." Every case is looked at on an individual basis, says Harker—the only thing that binds the group together is the good rates achieved through the collective bargaining.
Jumping On the Bandwagon
While it may seem like a risk purchasing group could provide the answer for just about every insurance need—especially in a time when boards are struggling to keep costs low without reducing necessities—Hager encourages boards to do a bit of research before jumping into anything. "Not all risk purchasing groups are equal," he says. "You have to make sure that you're getting the same amount of coverage that you're expecting, or that you need."
Especially for very large co-ops or condos, a risk purchasing group might not even be necessary. "When you get to the very large associations, they may have enough 'pull' with the number of units they have to demand that better price themselves." This is why, no matter what the situation, thorough analysis is a must for boards and associations. The more information available, the better the final decision.
Ultimately, boards and associations may find the bargaining power of an RPG very much to their liking, providing them with coverage opportunities that previously may have been out of reach. And when it comes to negotiating, it's always nice to have someone covering your back.
Liz Lent is a freelance writer and frequent contributor to The Cooperator.