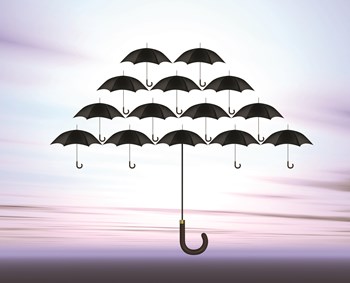 Imagine you sit on a board of directors that makes a mistake or error in judgment that results in a lawsuit. Imagine the case goes to trial, and the judge awards the plaintiff hundreds of thousands of dollars in damages. Now imagine that each member of that board of directors—including you—is held personally liable for their portion of those damages.
What's Covered?
In our overly litigious society, the best way for volunteer board members to protect themselves against financial ruin in the event of a lawsuit is to purchase directors and officers—or "D&O"—insurance, which indemnifies board members from claims made while acting in their individual capacity on behalf of their homeowners association (HOA).
Unlike general liability insurance, which merely covers liability against third party bodily injury and property damage, D&O insurance protects directors against claims made for what are perceived wrongful acts or omissions by said directors while they are conducting HOA business.
"When you agree to serve on a community association board of directors, you become part of a growing number of volunteers who take on liabilities they never considered," says Kevin Davis, president of Kevin Davis Insurance Services, one of the major D&O carriers in the condominium association marketplace. "Board members are required to perform such duties as interpreting, revising, and enforcing the association documents. They also enter into contracts, hire and fire people and expend association funds. Any of these actions could result in a lawsuit alleging such things as breach of contract, waste of corporate assets, discrimination, or acts in bad faith, just to name a few."
According to Joel Meskin, a senior vice president for IHG Insurance, Aon Community Association Services, some of the most common D&O claims include the board's failure to adhere to by-laws, properly notice elections, maintain common areas, or properly count votes and proxies; challenges by members regarding power granted by the board by by-laws; improper removal of board members; decisions by the board resulting in physical damage to the association's property; breach of fiduciary duty; questions or challenges regarding easements; financial mismanagement; or defamation by the board of a member.
Quite an intimidating list—and a run-down of why D&O coverage is so vital for association boards to carry.
D&O Basics
According to Meskin, a D&O policy is generally written in conjunction with a fidelity/crime policy, which indemnifies the community for loss of money, securities, or any property because of acts of fraud, dishonesty, forgery, theft, larceny, embezzlement, misappropriation, or any criminal act on the part of directors, officers, committee members, association employees, board members, and volunteers."
There are typically two types of D&O policies: the bare-bones coverage and the stand-alone policy. The basic policy covers board members while they are on the board for wrongful acts resulting in monetary damages, and doesn't usually cover personal injury coverages like defamation, non-monetary claims, discrimination, or employment practices. This basic policy also doesn't protect property managers.
The stand-alone policy is broader, though not much more expensive. It protects past, present and future board members and covers both monetary and non-monetary claims.
The Limits of Coverage
Although the idea of having to lose your life savings (and more) over a single legal judgment may sound outlandish, it could very easily happen to you, as it did in the case of Biondi vs. Beekman Hill House Apartment Corp. (1997), a case in which a federal court jury awarded $640,000 in damages to a racially-mixed couple who sued the board of directors of the co-op at 425 East 51st Street in New York City on the grounds that they had been unfairly discriminated against. The couple—both attorneys—believed that their application for a sublet in the building was rejected for racial reasons.
The judge in the case found in the couple's favor and leveled steep judgments against the co-op—both compensatory and punitive. Nicholas Biondi, the building's board president, was ordered to pay $230,000 in compensatory damages and $125,000 in punitive damages from his own pocket, while his fellow board members were ordered to pay $25,000 apiece.
The Biondi case confirmed that board members can be held personally liable for discrimination suits, and that even the most extensive insurance could not save them from what the courts call "bad faith." Biondi reinforced an earlier court decision, Levandusky vs. One 5th Avenue Corp. (1990), which dealt with what's referred to as the "business judgment rule." The business judgment rule states that courts have no right to look over the shoulder of any board—as long as it members are acting ethically and in the best interests of their shareholders. However, if any director—individually or as a part of their board—is acting unethically, or is determined to have broken the law or acted with malice, then the courts can get involved, and level devastating judgments against directors.
In many areas, most package policies don't generally provide for punitive damages. "The reality is that most states do not allow the insurability of punitive damages asserting that it is against public policy and obviates the punitive impact," says Meskin.
Pay Your Premium: Better Safe than Sorry
Okay, so now you're starting to feel like you're safe from any one of a number of disasters that could befall you. But how much does all this "better safe than sorry" mentality cost you?
"A typical D&O premium is about $1,000 for a condominium and $1,500 for a cooperative," reports Davis. "Most co-ops and condos have a minimum D&O limit of $1,000,000 and have an umbrella policy that will go in excess over the D&O, which can give them limits in the tens of millions."
Typically an association purchases the policy that provides coverage for all board members and other volunteers (some policies even extend to the management company). However, if you sit on a board that doesn't have coverage, beware.
"I can't imagine why any board member would want to be on that board if it's unwilling to buy D&O insurance," says Dennis Estis, partner in the Woodbridge law firm of Greenbaum Rowe Smith Ravin Davis & Himmel LLP. "I would be extremely concerned if I was a member of that board."
Estis warns that members who do sit on a board that refuses to purchase a policy should protect themselves individually, because "otherwise they are in a situation where they could be subjecting themselves to thousands if not hundreds of thousands of dollars of exposure."
"D&O insurance is relatively inexpensive compared to other community association insurances," says Meskin. "The cost is generally based on the number of units and various other factors such as commercial components, employees, and extraordinary recreational facilities such as golf courses, boat slips, piers or horse trails."
Coverage costs also might depend on claims history. As the administrator of a D&O program—the largest in the United States offering a stand-alone policy—Meskin sees about 50 claims per month. What surprises him most is that associations always seem to shy away from the larger deductibles, even though a larger one might save them money in the long run.
"Most associations have only $1,000 to $2,500 deductibles," he comments. "Many of the homeowners have larger deductibles on their auto policies. Why associations don't choose to have larger deductibles to reduce costs and to handle the minor issues and claims is a mystery to me. We mostly sell $1,000 deductibles—although I personally think $10,000 deductibles would be more appropriate," he advises.
No matter how much you think you won't need directors and officers coverage, remember Biondi and think again. It's nearly impossible to protect yourself from every possible lawsuit that could come your way without this type of insurance.
"The legal costs alone of defending against charges can be staggering, warns Davis. "With the average defense costs for such claims over a three-year period in excess of $100,000, directors and officers should take the time to review all association insurance coverages with their insurance representative. This is the time to find out whether the association carries D&O insurance and if the scope of the coverage is sufficient."
Domini Hedderman is a freelance writer living in Pennsylvania.