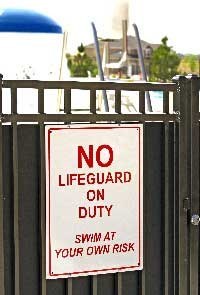 Few amenities are as valued and beloved by residents as a private homeowners association's swimming pool. But pools probably represent the single biggest insurance liability and maintenance expense for associations that have them.
In 2009, there is a new wrinkle to pool safety—it's the Virginia Graeme Baker Act, which puts an additional onus on HOAs to upgrade swimming facilities to keep pools safe.
Properly managing and insuring one's pool is absolutely crucial to preventing accidents—including serious injury or even death—and protecting your association from harm, both physical and financial.
Pool Management
As lovely as it can be on a hot summer day, a pool is a labor-intensive amenity to maintain. The water and the surrounding area must be properly cared for—a costly enough proposition. Then, the swimmers have to be monitored; someone has to make sure that glass bottles and the like aren't brought in, which more often then not means that lifeguards have to be hired and managed. How to go about handling all these responsibilities?
An association has two options, says Thomas Heist of Thomas H. Heist Insurance Agency in Ocean City. "One is to manage their own pool—to hire the lifeguards as employees and care for the pool themselves. The second option is to hire a pool company, and those companies offer lifeguard services and cleaning."
As George F. Babbitt opines in Sinclair Lewis's novel, the best cars are always the most expensive ones, because over time, they cost less to maintain. The same logic can be applied to the maintenance of pools, as Heist explains.
"Sometimes, associations and condos think they can do it themselves more cheaply," he says, "but sometimes when you do it on the cheap, you're not doing as good a job."
The job of pool management is twofold, says Heist. There's the actual maintenance of the pool, and then the management of the staff that services and guards the swimming area. "Those are two different things. Who is making sure the lifeguards are showing up and doing their job? And the second is chemicals in the pool."
It seems simple enough, managing lifeguards. Hire some kids and pay them to get tan and flash the occasional whistle at unruly teens. Not necessarily.
"You might not even know if a kid can swim," Heist says. "He might be a good-looking guy with muscles, but he might not be able to swim."
Then there is the matter of performance management, which is a fancy way of saying making sure the pool is staffed with lifeguards when it's open. Again, this can be a problem when a board takes it into their own hands.
"Normally, you're hiring kids—teenagers, or people their early twenties," Heist says. "If you hire Jimmy down the street, you can't just not open the pool if he doesn't show up for work." Then you have a 90-degree Fourth of July scorcher and no lifeguard. Not good times. "If you have a company, and a lifeguard doesn't show up for work, they have a pool of kids—if you'll pardon the pun—to replace him."
There are pools without lifeguards, but most condominiums, especially larger ones, do employ them, for obvious reasons.
"I have never had a pool where we didn't have a lifeguard," says Jennifer Nestor, property manager at Society Hill at Kilmer Woods Village II in Mahwah. "If anything, we err on the side of caution. On some shifts, there are two lifeguards. When it's busy, four eyes are better than two." And, she adds, "They're all CRP certified. Make sure they have certification."
Even with a pool company, managing a pool is a lot of work. What do property managers need to know about pool maintenance?
"Everything," Nestor says with a chuckle. "We have to be at least somewhat versed in the mechanics of the pool—the pumps, the chlorinator. We have to be up on the contracts of it all. We have to be aware of management issues. And we have to make sure we're in compliance with the Board of Health."
This in itself can be a taxing job—and that's without being responsible for the day-to-day operations. "We outsource everything to the pool company," she says, "and we manage the pool company."
Managing vendors has its own hassles, but it comes with advantages, too.
What About Liability?
The less tangible but perhaps most compelling reason to outsource pool management to a pool management company is liability.
"If they decide they're going to hire a pool management company for lifeguard service and maintenance," Heist says, speaking of homeowners association boards, "essentially they are shifting the liability burden to the company."
This may not keep premiums low in the short term, or at all—that depends on the insurance carrier—but it certainly minimizes the risk.
"Personally, I'm a believer in shifting liability to others when at all possible," Heist says. "If there's an accident, that burden shifts to the pool company. If the lifeguard is in the pool house kissing his girlfriend and a kid drowns in the pool, the association would be defended by the pool management company."
This doesn't mean your homeowners association shouldn't carry liability insurance. In fact, Heist recommends, "Make sure the association is added to that policy."
It may be that nothing ever happens at the pool. But slip-and-falls are more likely to occur on wet surfaces, even on concrete. And any time water and children are combined, tragedy can strike. Drowning is the number-two killer of children under the age of fourteen in the United States.
Again, it's a matter of balancing risk with initial cost layout.
"If you have a big liability claim," Heist says, "your future premiums will cost more money. That's why I'm a believer in shifting the burden of liability."
One way to reduce the likelihood of accidents by the pool is to enforce rules. Some of them are standard issue for condominium pools across the country, and contrary to popular belief, exist to create a safe environment, and not to put a proverbial wet blanket on poolside fun.
"No alcohol. No glass bottles. No jumping, no diving," Nestor says, rattling off rules at her condo's pool. "The medical aspect—no eye, ear, or nasal discharge into the pool. No diapers—toddlers have to wear the rubber pants. Children must be accompanied by an adult at all times."
The children/adult ratio is one of the rules broken most often.
"Homeowners often assume that lifeguards are there to baby-sit," Nestor says, "but ultimately, it's the homeowner's responsibility to make sure children are safe."
The New Law
And that safety took on another layer late last year. On December 19, 2007, President George W. Bush signed the Virginia Graeme Baker Act, which took effect in December 2008. Named for the granddaughter of former Secretary of State Jim Baker who drowned after she became trapped in the drainage system of a hot tub at a friend's party, the law requires pools to have both covers on their drains and automatic shut-off valves.
Enforcement of the act is the purview of the federal Consumer Product Safety Commission. Scott Wolfson, a spokesman for the commission, lays out a strategy for enforcement. "We set out three key areas on which we focus the most: in-ground spas, wading pools, and other pools that are designed for children."
So condos that have kiddie pools and/or spas should take note.
"We need help from those that are close to pools," Wolfson says. "What we are seeking to do is create partnerships. We're hoping to work with as many states and communities as we can. Health professionals do sanitation checks of pools. We're hopeful that when they check for sanitation, they check and see that the right drain covers are in place."
Public pools and spas, including those that are in apartment buildings, HOAs and condos, were required under the act to become compliant by December 17, 2008. This means that if your condo's pool is not compliant by this Memorial Day, legally, it shouldn't be open—and the liability issues if an accident happened at a non-compliant pool would be staggering (and probably criminal).
Fortunately, pool management companies have known about the act for over a year—it was a hot topic at the annual convention of the Association of Pool and Spa Professionals this winter—and that means most New Jersey pools are already in compliance.
"Our pool company—American Pool—will not open a pool if that law is not adhered to," Nestor says.
If your condo's pool is serviced by a pool management company, chances are, you are in compliance. But it's best to make sure. Nothing could ruin poolside fun this summer—and the coffers of the negligent homeowners association—more than a tragic accident due to noncompliance.
Greg Olear is a freelance writer and a frequent contributor to The New Jersey Cooperator.