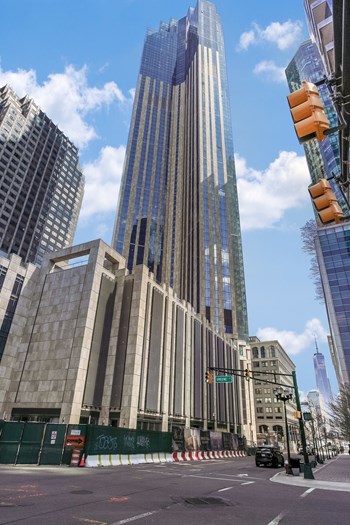 In the fourth lawsuit filed this year against China Overseas Holdings over its 99 Hudson Street condo project, Jersey Digs reports that a former employee of the developer alleges that she experienced sexism and threat of deportation while working for the company.
Deportation Threats
Mengxun Han, a Columbia University graduate who identifies as a "resident alien" of the U.S., worked for China Overseas Holdings as an architectural planner on 99 Hudson, currently New Jersey's tallest building at 79 stories. She says the company agreed to sponsor her as an H-1B nonimmigrant worker on a temporary basis when she was hired, according to Jersey Digs.
In February, she filed a lawsuit against her employer alleging that it "manipulat[ed] job titles and employee responsibilities when submitting petitions in support of visa applications" and allowed several senior employees to work without proper documentation. Workers who were not U.S. citizens could face deportation in as little as 60 days if their visa became expired, Han asserts—a threat which China Overseas used to downgrade worker salaries and "otherwise use the application process as a tool of workplace repression," according to the complaint.
Sexual Harassment
Additionally, Han's lawsuit alleges discriminatory and harassing behavior on the part of China Overseas executives. Jersey Digs reports that former VP of Design and Marketing Yirui Huang allegedly invited Han and another female worker to join him in the Hamptons for the weekend and told them they "should wear bikinis so he could take sexy pictures of them."
Deputy CFO Howard Li is alleged to have made inappropriate remarks about Han's body and her romantic relationships, and to have told her he "fantasized" about her. He also allegedly told another female coworker that her "personality is boring" and that "the longer you wait, the harder for you to find a boyfriend. So, it's better for you to go back to China now and get married."