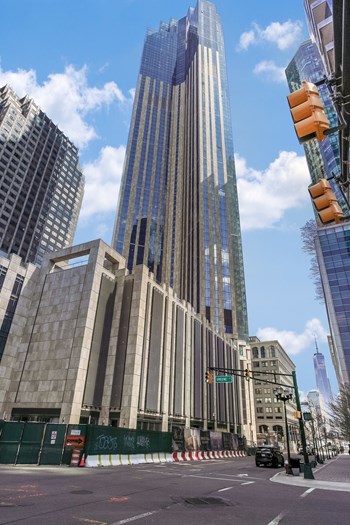 In the fourth lawsuit filed this year against China Overseas Holdings over its 99 Hudson Street condo project, Jersey Digs reports that a former employee of the developer alleges that she experienced sexism and threat of deportation while working for the company.
Deportation Threats
Mengxun Han, a Columbia University graduate who identifies as a "resident alien" of the U.S., worked for China Overseas Holdings as an architectural planner on 99 Hudson, currently New Jersey's tallest building at 79 stories. She says the company agreed to sponsor her as an H-1B nonimmigrant worker on a temporary basis when she was hired, according to Jersey Digs.
In February, she filed a lawsuit against her employer alleging that it "manipulat[ed] job titles and employee responsibilities when submitting petitions in support of visa applications" and allowed several senior employees to work without proper documentation. Workers who were not U.S. citizens could face deportation in as little as 60 days if their visa became expired, Han asserts—a threat which China Overseas used to downgrade worker salaries and "otherwise use the application process as a tool of workplace repression," according to the complaint.
Sexual Harassment
Additionally, Han's lawsuit alleges discriminatory and harassing behavior on the part of China Overseas executives. Jersey Digs reports that former VP of Design and Marketing Yirui Huang allegedly invited Han and another female worker to join him in the Hamptons for the weekend and told them they "should wear bikinis so he could take sexy pictures of them."
Deputy CFO Howard Li is alleged to have made inappropriate remarks about Han's body and her romantic relationships, and to have told her he "fantasized" about her. He also allegedly told another female coworker that her "personality is boring" and that "the longer you wait, the harder for you to find a boyfriend. So, it's better for you to go back to China now and get married."
VP of Human Resources Hongxi Liu allegedly told Han that women "should talk about how to keep up the household and raise children instead of arguing over company policies." Jiang Xia, the company's VP of Project Development and Contract Management Department, purportedly played love songs and touched Han's hands while they were alone in an office together.
Jersey Digs also reports that Han claims that when she raised the concerns to China Overseas President Xiaocheng Zhou, he told her in a "joking" manner that she would be fired if she kept raising problems. Chairman Wendong Xu was also allegedly dismissive of her concerns during a meeting on the issues.
Han says she was fired last September over the complaints and received a separation letter from the company offering a return ticket to China "given the cancellation of her H1-B visa status." She is suing the company for $1 million, according to the report.
Construction Defects & Overstated Measurements
The February lawsuit follows two others in January: One alleges 19 separate construction defects, including cracks in the building's parking garage, water leakage, broken skirting boards, poor wood flooring installation, and unsafe windows, according to Jersey Digs. Another filed by two condo purchasers alleges that the ceiling heights in a 75th floor penthouse unit were much lower than advertised. (No word on whether it is the same 75th floor penthouse that sold for a record $3.9 million last week.)
At the beginning of this month, 18 eventual purchasers filed a complaint that square footages at the 781-unit building are about 14% to 21% smaller than China Overseas stated. When contacted by Jersey Digs regarding this most recent litigation, China Overseas shared a brief statement through Boston-based PR firm ML Strategies: "The company denies the allegations contained in the Complaint and it intends to vigorously defend the case." The company has yet to file a legal response to any of the complaints in Hudson County Court.
Labor Strike
All of this follows a rally at the site last September when building service employees of property management firm Planned Companies, based in Parsippany, walked off the job to demand an end to what they claimed were "untenable" working conditions in the midst of the coronavirus pandemic.
As CooperatorNews reported at the time, 99 Hudson is among the eight buildings operated by Planned where property staff conducted a strike to bring attention to the company's rejection of their petition for hazard pay of an additional $2 an hour, as well as 14 extra paid sick days to be used for quarantine purposes during the pandemic. The petitioners also alleged that Planned intimidated and harassed them when they attempted to join the 32BJ Service Employees International Union.
Kevin Brown, Vice President and New Jersey State Director of 32BJ said during the rally—in front of 99 Hudson—"We're taking the streets because Planned has yet again failed to respect the workers' right to organize free from retaliation. This is unconscionable at any time. During a pandemic, it's downright despicable."