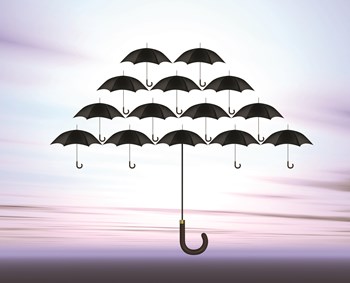 Imagine that your condominium association calls in a general contractor to do some renovation work on one of the buildings in your development. Or one of the unit owners calls in a contractor of his own to do some work on his kitchen or bathroom.
More than nine times out of 10, there won't be any problems. But what happens if something should happen, and one of the contractor's employees trips, falls and injures himself? Or if one of those employees has some sort of accident—and instead of suing the contractor, sues the condo/co-op board or homeowner's association?
These hypothetical situations show why just having a licensed contractor isn't enough. Experts generally agree that at the very least, contractors should have general liability insurance. They also need workers' compensation insurance for their employees, appropriate auto insurance for any cars or trucks they have, and property coverage for their equipment. to avoid lawsuits and other unpleasant situations, both for themselves and for the communities they work for.
While all licensed contractors are required by law to carry those various types of coverage, associations must do their due diligence to make sure that all contractors hired to work on their property adhere to the law.
This requirement can also affect individual shareholders and unit owners. In many condos and co-ops, when residents have work done in their own apartments, they have to notify the association, because the co-op or condo's insurance company has set a minimum insurance coverage that owner/shareholders' contractors must have. According to Doreen Benevento, vice president of the commercial insurance firm of Parks and Associates of Woodbridge, "What happens if an individual is working for a contractor, and he gets hurt, and he decides to sue not his employer, but the building? When these claims happen, they're usually six-figure claims."
"If you're dealing with a condo, in the common areas, the board of trustees is ultimately responsible [for ensuring that contractor carry the proper insurance]. They may delegate that responsibility, of obtaining the contract and making sure the contractor follows up, to their manager or attorney. But ultimately, it's always the board," says Samuel J. McNulty, a partner in the law firm of Hueston McNulty Mueller & De Gonge in Florham Park, which represents about 70 associations.
Benevento adds that building management should review the relevant documents with the co-op or condo's attorney because of the wide scope of information that could be put into a contract. "What we've done in the past," she says, "is sent out simple guidelines as to what kind of wording would help the building, and the insurance requirements that should be covered."
Changes in the Law
According to Genene Morris, a spokeswoman for the New Jersey Division of Consumer Affairs in Newark, "In New Jersey, under the current scheme, regulations [for home contractors] do not speak to the issue of insurance."
But, adds Morris, that is changing. A new law that will take effect in November 2004 requires home repair contractors to register with the agency and to carry a minimum of $500,000 in general liability insurance, she says. The process will be monitored by the Consumer Affairs, which is part of the state Attorney General's Office.
Although $500,000 will be the state-mandated minimum for coverage, many in the insurance business recommend a higher amount, to be on the safe side. "Any contractor should have general liability insurance of at least $1 million," says Graham Blundell, a partner in Boyarin Hourigan Blundell in Toms River, a general insurance firm that specializes in condo associations.
Benevento adds, "What we really suggest is a $5 million limit. What people are concerned about is the Safe Workplace Law."
Insurance professionals also say that a condo association or co-op building should not only have minimum requirements for the amount of liability coverage, but for other types of insurance as well, like workers' comp and auto insurance.
Insisting on a good level of insurance coverage for a contractor is one way of minimizing the possibility of suffering a loss or becoming exposed to excessive litigation, but there are others as well. McNulty recommends that everything pertaining to a job be put in writing: what materials are to be used, what type of work is to be done, when the work will begin, and the estimated time the job will take. That way there's a paper trail in place, not just in case of litigation, but also for good record-keeping and institutional memory from one year to the next.
A "Hold Harmless" Clause
Benevento adds that the board or manager has to make sure that the contractor's insurance company is a financially secure firm, and that the indemnification clause—or "hold harmless" clause—in the contract is in the board or association's favor.
The idea of a "hold harmless" clause may sound exotic to laypersons, but all it is an agreement that protects the owner from losses caused by the contractor, subcontractors or vendors.
An example provided by Benevento reads in part, "To the fullest extent permitted by law, Contractor agrees to indemnify, defend and hold harmless Owner and/or Managing Agent from any and all claims, suits, damages, liabilities, professional fees, including attorneys' fees, costs, court costs, expenses and reimbursements related to death, personal injuries or property damage, arising out of or in connection with the performance of the work of the Contractor, its agents, servants, subcontractors or employees."
On Down the Chain
Now that we've covered the contractors, what about the subcontractors—like a lighting specialist brought in by the contractor, or a company that puts in new window glass? After all, subcontractors can cause or be liable for the same types of problems as the contractors themselves. Blundell recommends a clause in the agreement with the general contractor specifying that any subcontractor that the contractor hires must meet the association's insurance requirements.
McNulty says that just as in the case of contractors, asking the subcontractors for their insurance certificates to make sure the association's requirements are met is the type of task the board might typically delegate to the property manager. And according to Benevento, "the contractor will end up being responsible if the subcontractor does not carry the correct insurance."
In any case, when the new state law takes effect in November, any type of agent doing work for a condo or co-op—whether the main contractor or the subcontractor—will have to submit proof of general liability insurance for themselves. Finally, what of the issue of protecting the co-op or condo's property against theft by employees of the contractor or subcontractor?
"A lot of the time," says McNulty, "there will be some component [to this effect] in a general liability coverage or a package coverage being offered by an association." He recommends that associations that are concerned about this speak with their insurance provider.
The issue of insurance is important for boards and associations that constantly have "outside" people working on the grounds. The best thing to do, of course, is to develop a long-term relationship with a contractor whom you trust and whose work constantly meets or exceeds expectations so as to avoid any future problems.
Raanan Geberer is a freelance writer living in New York City.