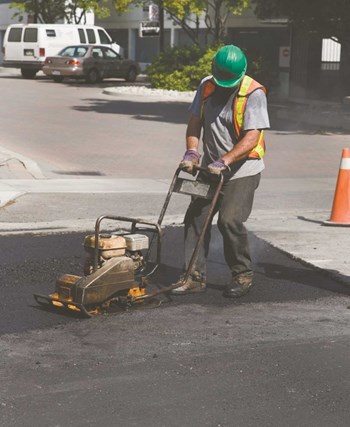 We all know that parking lots, roads and driveways take a beating day in and day out. Some hazards, like cracked sidewalks, crumbling masonry, and potholes are obvious to even an untrained eye, making it easy to conduct repairs and prevent further deterioration and potential liability. To safeguard your investment, it is important that every community association or HOA have a quality maintenance program in place to preserve and protect, as well as slow the degradation of their paved surfaces.
By implementing a preventative maintenance program today, an association can increase the life span of their asphalt and concrete surfaces at a fraction of the cost of replacement. Preventative maintenance will significantly reduce your association's exposure to trip-and-fall and vehicle damage liability suits.
Present Conditional State
One of the first principles of pavement management is to know "the present conditional state" of the pavement. We advise property managers to walk their sites and follow the steps below to make that determination about their asphalt and concrete surfaces.
A wide range of defects may develop in the surfaces of concrete or asphalt pavement over time. The cause of these defects can be highly informative when evaluating a future plan of action for the surfaces. Safety and operational surveys are assessed and can be documented for review. One should conduct a risk assessment that includes trip hazards, structural condition, surface drainage and concrete/pavement defects.
Over time, asphalt will break down and show signs of cracks and raveling. An asphalt overlay/restructuring will often do the trick of bringing back a healthy, solid and smooth surface. Asphalt overlays do not only promote a new surface look, but greatly increase overall pavement strength. Overlays will vary in thickness depending on drainage and existing curb exposures.
Look Out for Cracks
Sometimes there are isolated areas where asphalt failure occurs. Generally, an area that is alligator-cracked will need to be removed, the substrate re-compacted (usually via a steel drum roller and/or vibratory plate compactor) and the surface replaced. Upon a satisfactory proof roll of the substrate, new asphalt is installed to the proper line and grade.
Without ongoing maintenance efforts in place, even small alligator cracks can evolve into major water entryways undermining your pavement's substrate. Once that happens, it becomes necessary to saw-cut and remove the damaged section of pavement. Failed areas are then marked and either saw cut or milled to remove the failed pavement sections. Once removed areas are prepped and tack coated, followed by an asphalt re-installation process.
Milling is a great fix for gutters, curbs and drainage inlets that need repair and require matching to preset grades. Not only is milling ecologically friendly, it's also recyclable. Milling is also a great time saver for large areas. After all, as any contractor will tell you, time is indeed money.
Eventually all pavement fails. Large areas of potholes, cracks and water ponding are things to watch for as they are indicators of pavement failure. The percentage of failed pavement area will determine if just an area needs to be reconstructed, of if you can get away with just replacing a section or area.
To provide better traffic flow, many parking lots have so-called "bumper blocks" installed. Often, these blocks become damaged, crumble and cause hazards on the lot. Sometimes damaged or crumbling blocks can be repaired—sometimes not. New blocks must be installed and properly pinned into place.
Concrete sidewalks are the walking paths of your residents and visitors. Trip hazards are the number one cause of slip and fall accidents. As a board member or management professional, you can eliminate potentially costly liabilities by just identifying potential liability areas.
Curbing is used to differentiate parking areas from roadways, sidewalks, and landscaping and to control the flow of water from the parking area to the storm drain system. Often curbing issues arise from poor drainage, large vehicles driving over the curbing, and freeze/thaw cycles. These all can have an adverse effect on the longevity of your curbing. Height, or "curb reveal" considerations are another issue.
As the cost of hot mix asphalt and concrete mixes continue to rise, property managers and public agencies must look more and more at extending the life of their existing asphalt and concrete surfaces.
Do Your Due Diligence
As a board member, property manager or managing agent, it's your job to be mindful not only of the hazards you see, but also the potential hazards you don't see. By attending seminars and presentations, including ones offered by my company, you can learn about a variety of pavement and concrete preservation strategies. These strategies will allow you to not only extend surface life, but also reap tremendous benefits from your maintenance dollars. In these difficult economic times it makes sense to be smarter.
Jason E. Ciavarro is the president of Glen Gardner-based Supreme-Metro Corp., which provides asphalt, concrete, installation and maintenance services to HOA, commercial and industrial properties throughout New Jersey.