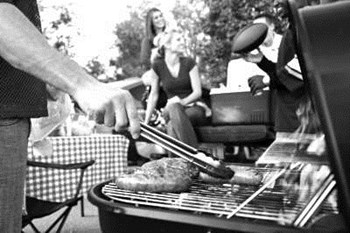 One irony of modern life is that being in close proximity to your neighbors doesn't necessarily make you closer to your neighbors. At best, people might know just a handful of neighbors in their community. Many of us lead hectic lives, and justify our lack of community involvement by saying we just have too little time. Time is an issue, no doubt about it, but there are good reasons to add a little involvement to your "to-do" list. Indeed, connecting and socializing with your neighbors can be much more useful than it appears.
Good Communication = Good Neighbors
We might assume that the ability to recognize neighbors and understand community rules is a given among homeowners. That's not always the case. In fact, it is often lack of communication that leads to unnecessary neighbor-vs.-neighbor conflicts.
Experts in the real estate management industry say that gatherings such as barbecues and poolside parties can be helpful in bringing community members together. It allows them to get to know each other, which often facilitates a more peaceful coexistence. Building a sense of community in a building or development is important because it creates a network of support among association members. Ultimately, that closer communication improves the quality of life in the community, and lessens the number of misunderstandings and conflicts.
Enticing residents to volunteer time and energy to work for the community is a hard sell. Some say that part of an association's burden is to make community involvement more attractive to all residents. Accomplishing that goal takes more than one kind of approach.
Community Building Benefits Everyone
Too often, members of a community don't see a reason to get involved with their association. When things appear to be running smoothly, most don't think their help is needed.
"In homeowners associations, it's a microcosm of society," says Gary Wilkin of Wilkin Management in Mahwah. "In many cases, people don't want to be involved in the process. Fewer and fewer people want to go to the meetings because somebody else is taking care of it, and they don't have to."
Members feel that the overall community is not their concern, agrees John Masso, a property manager with Richardson Management Group in Hamilton.
"People are too busy to care. Unless they are directly affected, they don't want to be involved," Masso says.
Marie Oliva, managing director of the Solomon Organization in Summit, suggests the importance of enlisting new members. "A lot of times the board of directors stays the same year after year, and some residents don't bother getting involved because they don't think they'll be listened to," she says.
They don't realize that their opinions could be helpful. People who've been involved for years have already been to the pool parties and other events, Oliva adds. "New people come on board and have new ideas."
However, an association with less-than-vibrant involvement by its members is not necessarily a sign of a dysfunctional community, says Al Pellegrino, owner of P & A Management in Hamilton. "I've found that if homeowners are generally happy, they really don't care, and stay more or less uninvolved. When you start seeing people become more involved, sometimes it's an issue that got them involved," he says.
Poor Involvement Causes Problems
According to Wilkin, associations that aren't effective in communicating the rules of community living are bound to have trouble. "You start to have conflicts and questions. Residents start to cause administrative and policy issues for the association to govern," he says.
An effective association encourages its members to know and understand the rules of the community. The successful operation of a community depends upon residents following the rules, Wilkin adds.
When members become involved in the association due to an issue or problem they are facing, tempers can get hot quickly, Pellegrino notes. "You're always finding in that situation that it's an 'us against them' attitude," he says. "If you have people already involved in an association, there's a better understanding of how the community operates."
"One of the most important things a homeowner can do is understand what they purchased. They need to understand what they own, and what is considered common, and the community's rules and regulations," Wilkin says.
The focus of a good association should be spreading the word, Wilkin continues. "Any time that you build community, you're dispersing knowledge. The more homeowners know about the process, the easier the process becomes," he says. "It's important for residents sharing common resources to know how things are to be shared."
"The more that you know who's around you, the more that you're aware of what's going on around you. You never know when you might need somebody," Oliva says.
Creating a Neighborhood Network
Enlisting community members to become involved is half the battle for homeowners associations, property managers say. Many communities have welcoming committees that bring new owners a small gift and a homeowners' guide. This is a way for at least a few neighbors to quickly meet the new resident and also politely share the ground rules for living in the community.
Timing is everything in the recruitment process. Gaining a new resident's involvement is sometimes easiest to do when the resident has just moved into the community, Oliva advises. "The first six months after someone's closed on a unit is the best time to get them involved," she says, noting that the resident is more apt to be excited about living in the community.
Managers and boards can cultivate closer ties between members of a community by hosting trips, barbecues, wine and cheese parties, pool parties, movie nights at the clubhouse and other events. Some communities have contests for the best holiday decorations. For communities that lack common areas, hosting a community walk or a flower planting session are two ways to bring neighbors together, Oliva says.
The best way to cultivate closer ties between neighbors is to constantly communicate with them through a newsletter or website that lists upcoming events and informs people of regulations, Wilkin says. "If the complex has a recreation facility, bridge nights or casino nights are good ways to bring people together," he adds. "In some cases, the guys in a community will get together for golf outings."
Residents with children sometimes find it tough to make time to get to know the neighbors. Sports events can be one way to bring families and neighbors together, Pellegrino says.
"Community soccer tournaments or basketball tournaments are a good idea. Pitting one association team against another makes sense, as would a community association sports league," Pellegrino says.
However, creating a tighter-knit community isn't all about picnics and games. Fostering greater involvement often means getting neighbors to take a hands-on approach to managing the community. It might take some creativity on the part of the association, but the outcome is well worth the effort.
"Once they get involved, they start turning things around," Pellegrino says. "They see what's needed to run a community organization."
Jonathan Barnes is a freelance writer living in Pittsburgh and a frequent contributor to The New Jersey Cooperator.