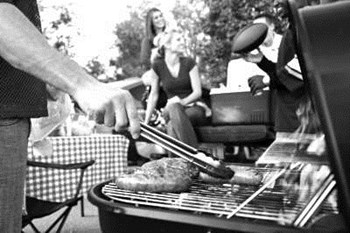 One irony of modern life is that being in close proximity to your neighbors doesn't necessarily make you closer to your neighbors. At best, people might know just a handful of neighbors in their community. Many of us lead hectic lives, and justify our lack of community involvement by saying we just have too little time. Time is an issue, no doubt about it, but there are good reasons to add a little involvement to your "to-do" list. Indeed, connecting and socializing with your neighbors can be much more useful than it appears.
Good Communication = Good Neighbors
We might assume that the ability to recognize neighbors and understand community rules is a given among homeowners. That's not always the case. In fact, it is often lack of communication that leads to unnecessary neighbor-vs.-neighbor conflicts.
Experts in the real estate management industry say that gatherings such as barbecues and poolside parties can be helpful in bringing community members together. It allows them to get to know each other, which often facilitates a more peaceful coexistence. Building a sense of community in a building or development is important because it creates a network of support among association members. Ultimately, that closer communication improves the quality of life in the community, and lessens the number of misunderstandings and conflicts.
Enticing residents to volunteer time and energy to work for the community is a hard sell. Some say that part of an association's burden is to make community involvement more attractive to all residents. Accomplishing that goal takes more than one kind of approach.
Community Building Benefits Everyone
Too often, members of a community don't see a reason to get involved with their association. When things appear to be running smoothly, most don't think their help is needed.