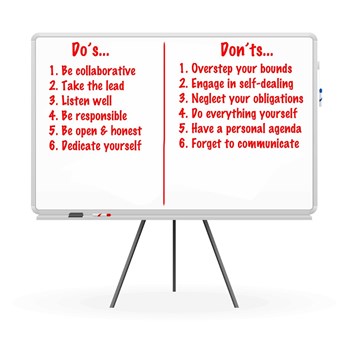 It only takes a few minutes of Googling to uncover the traits that make a successful person or business owner. For example, Entrepreneur magazine's Steven Key wrote the article, "5 Qualities of Successful Persons," which included such traits as open-mindedness, unwavering passion, and a forward-looking approach. But what makes an HOA's board, which is made up of individuals volunteering their time, a successful one? While each board and community is different, there are a few hallmark traits that characterize the most effective, functional boards.
Be Collaborative
Helen Keller once said, "Alone we can do so little; together we can do so much."
The definition of collaboration is the act of working with another or others on a joint project. "Members of an effective and successful board are all on the same page," says Dale Young, director of portfolio management at FirstService Residential, one of the largest property management companies in the country. "They are seeking improvements and infrastructure that is in the best interest of the community. In a successful board there are no personal agendas. The board should be serving in the best interest of the association as a whole."
Listen Well
"Most people do not listen with the intent to understand; they listen with the intent to reply." —Stephen R. Covey, The 7 Habits of Highly Effective People: Powerful Lessons in Personal Change.
When you ask attorneys who might make the best board member, a lot of answers are not surprising: former accountants, business executives, engineers. "I love when a board's involved—but not to the point of micromanagement," says Jaime Fraser, an attorney at McGovern Legal Services in North Brunswick. "They're paying a management company to manage. When a board's not involved at all, then it's hard for the manager to get the numbers for votes to make decisions, and it becomes hard to handle. Great board members are members that are active, and care and are in it for the right reasons. They respond promptly to emails from management and attorneys when things need to be addressed. There's so many issues they have to deal with."