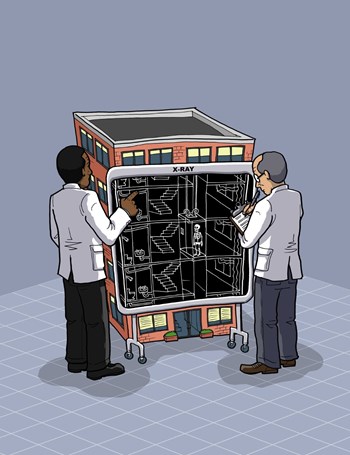 From the outside, the structure of a condo or co-op building may appear to be monolithic; just one big piece of brick and steel, punctuated with some glass here and there. That's an oversimplification, however. A multifamily building is perhaps more like a human body, with a multitude of organs and moving parts working together to keep the building healthy and vibrant. From the roof to the boiler and all points between, ensuring that systems are operating efficiently is a continual challenge.
The primary operating systems in a multifamily building include roofing, the building envelope, waterproofing, electrical, mechanical, heating, ventilation and air conditioning (HVAC), plumbing, and in some cases, elevator systems. In high-rise or multi-unit buildings especially, the association is responsible for providing many of these basic utilities to unit owners.
RAND Engineering & Architecture Senior Engineer Jamey Ehrman explains that while there are other key systems such as electrical, refuse disposal and intercom, those systems are relatively maintenance-free.
Climate Control
When it comes to HVAC, the problems likely to beset a building are largely dependent upon the type of system installed. "For instance, a single-pipe steam system will require much less maintenance than a building that uses fan coil units with a steam-to-hot water heating plant, absorption chiller, cooling tower and roof level exhaust fans," says Ehrman, whose office is in New York City. "However, both buildings can have significant unanticipated malfunctions and system downtime if any part of the maintenance regime is deferred or overlooked."
And while the size of a building might matter in terms of scale and expense, the actual approach to maintaining systems is similar regardless of how many units they serve. For his part, Ehrman considers a small building to be one of six stories or less. "Small buildings tend to need substantially less maintenance, and can often operate with a staff of just one full-time and sometimes just part-time building superintendent. Larger buildings will have more complex systems, require more maintenance personnel, and when problems occur, they can occur on a grand scale."