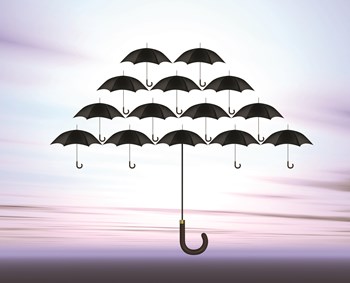 One of the most confusing aspects of owning a condo or co-op is understanding the ins-and-outs of your community's insurance coverage. The fine print of an association's insurance policy is often complicated, but for association boards, management companies, shareholders, and unit owners, it's important that everyone is aware of the coverage that is needed and provided on their properties.
Main Components
Sometimes it may seem like the details of the insurance coverage were written to be deliberately confusing. That's why it's necessary to break down the various parts so you can truly understand the important nuances of the policy. It's up to the board or property manager to take the time to go over the policy with the insurance agent.
"Each policy is written individually depending on the association," said Thomas Heist of Heist Insurance Agency in Ocean City. "A lot of companies have standard packages. Agents that specialize in condominiums have coverage especially geared towards condos."
There are typically two policies involved for protection: the master policy provided by the condo association or co-op board, and a homeowner's individual policy, which is typically written on a standard form HO-6.
Every condo or co-op will have a package insurance, which consists of the property and liability insurance. Property insurance will cover all the property (the buildings, the contents, etc.) and the liability will cover all the liability of the association or the corporation.
"When an account comes in, let's assume it's a brick veneer condo in the middle of New Jersey. The first thing that you determine is what the values are; what should the building be insured for, or what we call replacement cost basis. It's the 'bricks-and-sticks' approach," says Ronald Diskin of Ronald Diskin Association Corp. in East Hanover. "You take the square footage of the complex—let's say hypothetically that it's 100,000 square feet—and they might want $100 per square-foot to offer a replacement cost policy. Therefore you have to insure the building for $10 million."
You will also need boiler coverage, which protects all the machinery such as boilers, central air, condensers and things of that nature. Then there's director's and officer's liability insurance, which is specifically there to protect the board of a co-op or condo. Environmental coverage covers things such as a leaking oil tank. And worker's comp and disability for injuries that occur on the job for the former and for sicknesses and injuries that are not job-related for the latter.
"You need an umbrella liability contract, which is more liability," says Robert Mackoul of Mackoul & Associates, Inc. based in Long Beach, New York. "Your basic liability comes with $1 million in coverage. Directors and officers comes with $1 million. In southern New Jersey, you don't need the $25 million-plus policy that is typical in New York. That would be huge. In Northern New Jersey, $50 million is more the norm. What that means is that if a whole bunch of people sue, your basic liability will be $1 million, and your umbrella will extend that."
Determining the Price
The process of determining how much a given building pays in premiums is up to the discretion of its insurance company. Although there are guidelines they follow, there is no exact formula for figuring out a rate.
According to Diskin, "When an account comes in, the criteria that starts for co-ops and condos includes what the building [or development] is constructed of, where is it located, how many stories it is, and how old it is," he said. "That will then give you an idea of how it will be priced. Different companies have different thresholds. Some will not write a policy for a brick veneer building. Some will only write for brick. Some won't write by the shore. These factors and considerations will give you the criteria of determining property values."
Once the property value is factored, maintenance fees are then added to the equation. Adding these two numbers together will create what is known in the insurance field as "a total insured value."
According to the industry professionals, when a building or development submits an application for coverage, the policy is usually done over four or five years, depending on claims experience and how aggressively they are willing to price it. Rates will vary from insurance company to insurance company.
There is an application process in which anywhere from 50 to 75 questions could be asked about the property concerning things such as age, loss history, location, amenities, and just about everything associated with the property.
"Quality of risk determines how well priced it is," says Heist. "Smaller properties will always have more options."
Other things that affect insurance pricing are how well a building is run, how financially stable it is, and how much attention is paid to safety in and around the building or buildings themselves. All this will help buildings have more of a market to shop around to find companies who are willing to write their business.
"There is no black-and-white answer on rates," says Mackoul. "There's a bunch of insurance companies that tend to write policies for frame homes in New Jersey—or garden apartments—but they have no interest in competing in the suburbs or in New York on high- or low-rise brick buildings."
Policy Shifts
There are several factors that can force a building's insurance costs to fluctuate in one direction or another.
"Condition of property is one major consideration," Heist says. "Keep your losses down. Updating and maintaining your roof and electrical system, plumbing, things like that are all important."
Depending on a building's loss experience or how they maintain their property over the course of a policy can also help lower a premium in the future.
"Obviously, someone with good loss experience in a building that is well maintained is going to be entitled to different pricing than someone with poor loss experience," says Diskin. "What drives a market is reinsurance carriers."
So, while it's not the norm for insurance premiums to go down, by following these things, you can create a better profile and therefore more insurance carriers may be interested in you the next time your contract comes up, and more competition is always better for pricing.
"I think if you are going to concentrate on what buildings can do to improve their profile, they need to concentrate on life safety," says Mackoul. "What that means is how people in and around the building get out of the building [in case of emergency] and how safe they are in the building. Is there emergency lighting? How is security? Are sidewalks taken care of? If they maintain their building, there is less likelihood of property or liability claims."
Sealing the Deal
Once you are presented with the different insurance quotes, typically the board makes the decision on choosing an insurance agent with the guidance of the property manager.
"I recommend that boards interview two or three insurance agents and see who has experience and is knowledgeable," says community association specialist Debbie Pasquariello of Boyarin Hourigan Blundell Insurance in Toms River. "They need to ask questions about how long the broker has been in the business and how many associations they represent—and they should always ask for references."
When insuring a condo or co-op be sure that you use an agent who specializes in writing condo and co-op policies. If you know what is covered by the master policy, and purchase individual coverage for the rest, then you should have the protection you need. Just be sure that you insure for adequate value, in case the worst-case scenario does happen and your association has major repairs and replacements to make.
Final Thoughts
Of course, it's important for board members or managers to understand as much of their insurance policy as best they can, but even if they don't have every nuance down 100 percent, it's paramount that they know the types of coverage their association has, and what it provides them.
"I think what is picked up under the master policy and what they need to convey to the unit owners and what is their responsibility is the most important thing to understand," says Heist. "Remember, the master isn't including the whole thing. Unit owners are sometimes not aware of their responsibilities to insure whatever the master deed says they need to insure. Things such as sheetrock, the cabinets, the flooring—unit owners need to understand that and property managers need to understand that as well."
Keith Loria is a freelance writer and a frequent contributor to The New Jersey Cooperator.