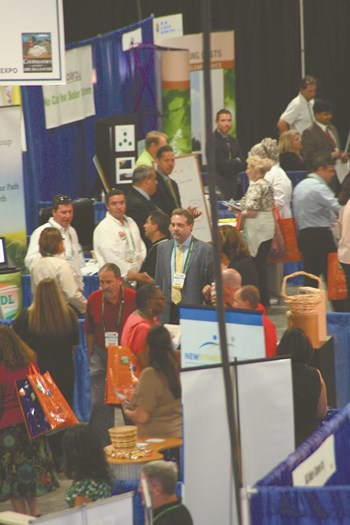 On Wednesday, May 5th, 2010, The New Jersey Cooperator and its parent company Yale Robbins, Inc. hosted the third annual New Jersey Condo, HOA & Co-op Expo at the Meadowlands Exposition Center in Secaucus.
The New York version of the show has been going strong for over two decades, and after its third outing, the New Jersey Expo has proved itself as an annual destination for the Garden State's residential real estate industry professionals, HOA board members, and unit owners.
Opportunities Abound
With well over 200 exhibitor booths lining the aisles of the Meadowlands Expo Center and nearly 2,000 attendees, The New Jersey Cooperator's 2010 Condo, HOA & Co-op Expo surpassed both its predecessors and demonstrated that the third time is indeed a charm.
"This year's Expo really built on the success of the 2008 and 2009 events, and I think both exhibitors and attendees were very pleased overall with the day's offerings and opportunities," says Yale Robbins, president of Yale Robbins, Inc. and publisher of The New Jersey Cooperator. "A show like this that is tailored specifically to the needs of New Jersey communities provides managers and board members a gathering place where they can meet with vendors and service providers, network with a whole array of industry professionals, and gain information and insights that really help them manage their communities better."
Expo attendees included both HOA board members and non-board residents, as well as a broad cross-section of the Garden State's multifamily residential industry. All took advantage of the opportunity to interact face-to-face with a wide array of vendors and service providers and gather information and advice on everything from property management services to gutter cleaning systems. Whether their goal was to find a new landscape contractor, to attend the day's educational seminars, or just take in the show, the day offered something for everybody.
Super Seminars
Once again, the New Jersey Expo presented a roster of useful, informative seminars that added depth and nuance to board members' and residents' understanding of how the most successful HOAs are run.
Kicking off the day, National Condo Advisors, LLC presented "New Rules, New Headaches: Cutting Through Bureaucratic Red Tape," with company president Orest Tomaselli discussing the new rules and processes for condominium project approval and financing through both the Federal Housing Administration and Fannie Mae. Seminar attendees learned how companies like National Condo Advisors can help builders, developers, lenders, investors and HOAs streamline the process to insure both financing for condo unit purchasers and the continued success of HOAs and condo developments.
A standing room only crowd greeted Lawrenceville-based law firm Stark & Stark's presentation of "Legal & Legislative Update: Important Decisions, New Laws, and How They Impact Your HOA." Attorney David Byrne led the seminar panel – which also included attorneys A. Christopher Florio and Donald Brenner – through an in-depth discussion of recent precedent-setting legal decisions, as well as recent and pending legislation impacting the state's HOAs.
The day's third seminar came courtesy of the New Jersey Cooperator itself, which assembled a panel of landscaping professionals to present "Landscaping for Year-Round Beauty." Alan Milstein of Live Oak Landscaping, Aaron Kurdyla of HighTech Landscapes, and Steven Jomides of Lawns by Yorkshire discussed landscaping methods and measures to spruce up and enhance any property, regardless of the season.
The afternoon lineup concluded with another New Jersey Cooperator-sponsored seminar titled "Manager Performance: Evaluating, Cooperating, Improving." Moderator J. David Ramsey of Greenbaum Rowe Smith & Davis, LLP led panelists Michael Cervelli of Cervelli Management, Bonnie Bertan of Association Advisors, and Paul Santoriello of Taylor Management in a discussion of what skills, character traits, and real-world experience makes for a good property manager. Seminar attendees learned how boards and residents can evaluate their manager's performance, and get the most out of the board/manager/resident relationship.
According to Bertan, "The Expo was a great experience. We're really happy with the turnout and really happy to meet so many board members. The seminar attendees were very, very well-prepared with questions and answers. Overall we had a really great experience there. It was nice to be helpful to people who were in need of assistance."
Larry Sauer of Taylor Management echoed Bertan's assessment. "It was a very positive experience. I thought it was very well organized and [a] very well run show. I thought there were even more vendors there this year, which I thought was helpful and a positive feature for our boards. We had about 20 association boards of directors represented at the show, and we were really pleased with that. They felt that was a real benefit, and naturally I got to see many of my colleagues and associates at the show as well."
In addition to the formal seminars, exhibitors themselves added to the day's educational lineup with a pair of demo seminars. Eosso Bros. Paving also had a celebrity guest sharing time in their booth. Former New York Yankees pitcher John "The Count" Montefusco signed autographs for attendees and fielded questions about his career, which included the throwing of a no-hitter, when he was with the San Francisco Giants.
Extra Extra
In addition to all the booths, seminars, and demos, the Expo offered visitors everything from free advice—generously provided by volunteer professionals from a broad cross-section of disciplines—to a free cyber café that did brisk business throughout the day.
Of course, no trade show worth its salt goes without door prizes and giveaways, and this year's Expo was no exception. Throughout the day, attendees had the chance to win valuable goodies from many of the day's exhibitors, including iPod products, flat-screen TVs, event tickets, free services from vendors, and much more. The day's grand prize was a $2,500 contribution to the winner's HOA reserve fund.
A Full House
Despite continuing tough economic times for many associations, turnout for the 2010 Expo was robust, with the floor bustling with activity throughout the day. Henry Robbins, vice president and director of sales for Yale Robbins, Inc., was impressed with the crowds thronging the Meadowlands Expo Center exhibit space.
"Obviously, the economic situation is impacting everybody," says Robbins, "but we were really impressed with the commitment of our exhibitors and seminar sponsors to getting their information out there and offering such a fantastic opportunity. For people in the New Jersey condo and HOA market to meet face-to-face with their colleagues and expand their knowledge and resources is just outstanding."
Bertan agrees. This is the first show that we've ever done as a company, and we had an amazing time. I think there is a benefit to our company for everyone to get to know us, and get to know some of our personnel. I think it was great for the board members and [community] members to have a venue to come and meet so many professionals and have that face-to- face time so that can help them in making future decisions for their vendors. I would encourage every board member and...even a resident living in an HOA community to absolutely attend. It's one-stop shopping all in one place."
Yale Robbins, Inc. and The New Jersey Cooperator are already mapping out plans for next year's big event, signing up exhibitors, formulating plans for expanded educational seminars, and preparing promotional materials and registration information for attendees. The 2011 Expo will build on the success of this year's event, making improvements, adding new attractions and opportunities, and giving New Jersey's HOAs and condo communities more of the resources and information that has made the first three Expos such a success. Next year's event will be held on Wednesday, May 11th 2011—so save the date, and we'll see you there!
Hannah Fons is associate editor of The New Jersey Cooperator.