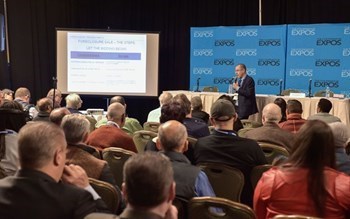 On Tuesday, October 26, 2021, thousands of board members, managers, building owners, and condo, HOA, and co-op residents will gather at the Meadowlands Exposition Center in Secaucus from 10:00 a.m. to 4:00 p.m. for the return of the in-person CooperatorEvents Expo New Jersey. You can be a part of it as well - register for free at nj-expo.com!

Since its launch over a decade ago, the CooperatorEvents Expo New Jersey has been drawing hundreds of vendors, service providers, industry professionals, and crowds of multifamily community residents and administrators from all over the region for a day full of networking, service-shopping, free advice, and information-rich educational seminars—all at no cost to attendees.
The New Jersey Expo is an annual prestige event hosted by Yale Robbins Infomedia, parent company of CooperatorEvents and CooperatorNews, and is a golden opportunity for anyone involved—or just interested —in their building's or association's day-to-day operations. Attendees can take advantage of having hundreds of vendors and service providers, attorneys, management professionals, and a huge array of other condo, HOA, and co-op-related resources assembled under one roof. The Expo is an indispensable opportunity for attendees to learn about the latest in building services, attend valuable seminars, get free advice from legal and management experts, and more. (Did we mention that it's free to register? Just visit nj-expo.com—it's that easy.)
Come Learn With Us
Exhibitor booths, information, and demos are the heart of the Expo, but they're certainly not the only reason to swing by the Meadowlands Expo Center. A full slate of relevant, well curated educational seminars and expert panels will be running all day long, giving attendees the opportunity to take master classes on a broad array of timely topics. This year's roster of enlightening, informative presentations includes:
10:15 - 11:15 - Protect & Prolong - Maintaining Your Association's Mechanical and Related Equipment
Come learn about basic preventive maintenance, inspection criteria and testing schedules, and best practices for keeping the air and water in your building safe and healthy through regular inspection and upkeep of mechanical equipment, cooling towers, filtration systems, pumps and more.

11:15 - 12:15 - Straight Outta Trenton - Legal & Legislative Changes Impacting Boards & Residents
This panel of management and industry pros will discuss what bills have been proposed, what's been passed, and how both may affect how your board does business - making it a must-attend for boards and managers alike.
12:15 - 1:15 - The Way Forward - Managing Amenities & Staff Through COVID & Beyond

This panel of management pros will tackle the issues around staff and shared amenities in the pandemic context, and offer boards and managers alike insight on activating amenities, hiring and employee retention, and how to navigate this difficult landscape successfully.

1:15 - 2:15 - Balance of Power - Protecting Owners' Rights & Meeting the Needs of Disabled Residents
This panel of legal experts will address the ADA and other accessibility laws in depth, as well as what disabled residents can demand, what a board can lawfully allow or reject, and how to make your building or HOA work for everyone.

2:15 - 3:15 - Lessons from Surfside - High-Rise Structural Safety & Building Assessments
This presentation will explore and explain the importance of conducting a Structural Building Assessment (SBA), discuss the latest innovations in structural monitoring tech, and answer your questions about what your building should be doing to stay safe and structurally sound.

For more information and FREE registration, visit www.nj-expo.com. See you—in person—at the show!