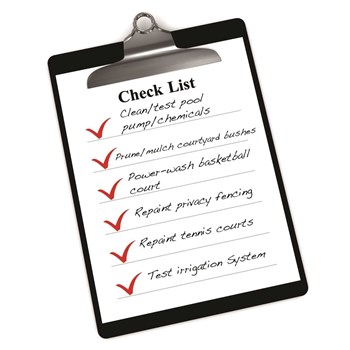 After the long, cold, unpleasant winter, denizens of the tri-state area want nothing more than to bask in the long-dormant sun. Co-op, condo and HOA boards cannot, however, in good faith ignore the legwork that follows a seasonal transition. Certain amenities—from barbecues and outdoor common areas to tennis courts and swimming pools—must be prepared for use in the warmer months. Ignoring these leisurely accoutrements can lead to irate residents come Memorial Day.
Given that outdoor amenities in New Jersey are not exclusive to any particular areas or neighborhoods, as Gary Wilkin, president of The Wilkin Group, a management firm with offices throughout the state, explains, associations statewide need to be primed for seasonal shifts. Even those communities that don't have pools or tennis courts to worry about are still likely to have landscaping to be done, entrance-ways to clean and pet walking areas to concern themselves with, according to Wilkin. Regardless of a community's specifics, high winds, snow, ice and general cold can take a toll on outdoor amenities. With careful planning and light work year-round, an association can avoid a painful overhaul when preparing for spring.
Weather Report
If there's an underlying truth about New Jersey winters, it's that after the snow melts, everything will be filthy, and some equipment may even need repairing. "With the winter that we just had here in the Northeast, discussions should have already begun for landscaping and/or property damage from the snow and ice," says Wilkin. Because of the long winter, there will be a late start to some spring cleaning, and thus identifying landscape damage will occur later than normal. "It is a good idea to put landscapers on notice as soon as the weather and grounds permit."
In general, says Charles Incandela, executive director of management and client services with Alexander Wolf & Company—with offices in Manhattan and Plainview, New York-—spring cleaning falls to either contractors or on-site staff, depending on the nature of the property and the job at hand. Incandela recommends that management work with at least a four-month lead time in regard to lining up vendors when outside help is required. Contracts need to be in place and timetables need to be set to chart performance well in advance so everything can be open by May.
Jay Cohen manages a vast array of properties for his company A. Michael Tyler Realty Corp., and as director of operations, he advocates a spring cleaning that involves washing windows and any other glass surfaces, readying any sprinkler systems to ensure that greenery is properly watered as the weather turns, and pruning or gardening where necessary to make sure that everything is aesthetically pleasing. "At the end of March or early April, we know that we have to start up the sprinkler system, so we ensure that the heads are working, and that there are no leaks," says Cohen.