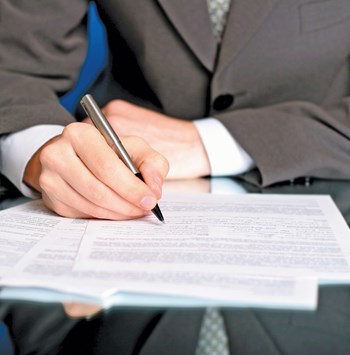 Drawing up a contract for management services looks at first glance like a simple task. Such contracts usually follow a particular format and outline services for condos, townhomes and co-ops regardless of size. But what about contract areas where there's room for negotiation? How can an association board and a management company arrive at a contract that helps foster a cooperative relationship?
Tough Times, High Expectations
Even in a turbulent economic situation, the job of a property manager comes down to a set of key functions: collecting maintenance and other income, and paying bills on behalf of the HOA. Everything else is usually some variation on those two jobs, with other, extra services to be outlined in the management contract (and probably paid extra for as well.)
Negotiating those variations is where—as with so many things, communication is the key to success. The discussions that take place before anyone signs on the dotted line can help fill in the gaps on boilerplate management contracts. This is where it's crucial for each side to understand the expectations of the other.
"The board of directors has to speak with one voice," says Herb Rose, president of Herb Rose Consulting, a management consulting firm in Manhattan. "Otherwise, you'll have somebody from the board saying, 'We want this,' and somebody else from the same board saying the exact opposite. Beyond that, there should be an understanding as to what the fees would be for special projects. Will they be paid by time, or will they be paid by project? Because there are all kinds of miscellaneous projects that have come up that are not part of regular work. The list is endless, but I still come back to the first thing, which is that the board has to speak with one voice and work with their management contact."
A Lengthy Process
With so much at stake, choosing a management company can be a lengthy and detailed process. Prospective management companies are often called back for multiple interviews, and boards frequently go beyond the basic checklist of services and delve into specific line items in contracts before signing with a particular management firm.
Boards usually begin with a basic contract provided by either the board or association attorney or the management company and customize it to meet their circumstances. The contract, which can be as few as three pages or more than 30, covers the following areas:
• Compensation– spells out what routine services the company provides for a base rate, and delineates non-routine or extra services that require additional payment, often calculated.
• Manager's availability– explains how often the management company's representative will be on the property, what meetings he or she will attend, and how emergencies will be handled. "A qualified management company focused on customer service will provide information regarding their company," says Marilyn Curtis, executive vice president of Homestead Management Services Inc. in Hillsborough. "Once an emergency call is taken, it is immediately sent out to the covering manager with a return call within minutes. This should be stated in the contract and also discussed at the time of the interview with the company."
• Authorization– determines what the management company is allowed to do and under whose authority (and whose signature is required).
• Indemnification– involves the co-op or condo association's responsibility to cover a management company in the course of doing its job. This is the most negotiated area of management contracts.
• Termination– provides guidance for canceling the contract based on state law.
Routine vs. Special Services
Most management companies offer similar routine services, including bookkeeping, community mailings, and other administrative work. They expect to spend a certain amount of time on-site doing paperwork, overseeing staff, and attending meetings with the association board and homeowners.
"Rates are based on services required, number of meetings, number of inspections, on-site vs. off-site staff, size of property, number of amenities, budget development, rules enforcement, maintenance supervision, invoice processing, related travel time, emergency calls and administrative assistance required," according to Joanne Granozio, CMCA, PCAM, executive vice president of K.A. Diehl & Associates in Mount Laurel. "All this translates into the development of a base rate."
Before engaging a property, "A good management company will perform an inspection of the property," says Curtis. "This would include looking at the building conditions, roads, walkways, stairs etc. Once identified this would be presented to the board at the time of interview. The management company would ask questions as to when was the last time [the HOA] had a reserve study completed. This would provide details of the life of each common element—i.e. roofing, fence replacement, roadway sealing, and so forth."
"We request from the board their current budget, documents, financials, and their most recent audit and reserve study," says Granozio. "Those items, combined with a meeting with the board and a tour of the property really shows us a complete picture of the community's financial health and physical condition. Although board members are sometimes reluctant to turn over the information, it is in their best interests so that the new management company has a thorough understanding of the scope of work."
Some management companies won't give a price for management until their representatives have walked the property and had an initial meeting with a potential client to discuss what projects they might have coming up over the next four or five years. A long pattern of delayed or deferred projects might cause a management firm to reassess whether it wants to take the association on as a client.
Other Extras
Construction management on larger projects is typically provided by the approved contractor, with the CM reporting back to the property manager as work progresses. However, with large projects (such as roof replacement, to name one example) "The association may retain an engineer to oversee some of the work to make certain the proper specifications are followed," says Curtis. "Project management is performed by the management company by communicating with the contractor or engineer who is performing the repairs or installation."
Along with overseeing major projects, insurance claim resolution and court appearances in lawsuits involving the condominium are two of the biggest black holes of time for property managers. Contracts should delineate exactly how much extra the manager expects to be compensated for his or her time. For example, an appearance in claims court might be billed at $75 to $100 an hour.
In cases in which the manager is coordinating the resolution of an insurance claim, the management company may charge an additional 10 to 20 percent of the adjusted claim, which is billed directly to the insurer. Co-op boards and condo associations should be aware of these situations and decide in advance how they will handle them.
The contract should also make clear a property manager's role when contractors do work on the premises. Usually, he or she is involved in the administrative aspects, such as searching out contractors for bids, helping the board facilitate financing paperwork, or collecting extra fees. Other duties may involve coordinating access to the construction site and fielding complaints from unit owners. But this is project management, not a hands-on role. If the co-op or condo board wants a more direct supervisory role of contractors, it would pay extra for that individual to serve as construction manager.
Authorization
Contracts should also spell out the limits of a manager's authority. The client building should have in writing what management can do without board approval, and under what circumstances, say the professionals. Requiring dual signatures on checks or purchase orders—the manager's plus a designated board member's—is a good idea but it can also be a pain to chase people down. But if dual signatures aren't required, the board needs some other financial oversight mechanism.
Management companies will also ask that one person from the board be appointed as their contact, so information is funneled efficiently through that one individual.
Once the routine services and authorization have been sorted out, a condo association will want to look carefully at indemnifying their management company. Insurance companies are increasing the number of exclusions in their liability policies (especially around hard-to-pin-down issues such as discrimination or even mold). Some will pay a claim but not the judgment. In most cases, when unit owners bring suits, they include everyone as defendants—including property managers and board members. Most firms recommend that, at minimum, the policy name the manager along with the individual board members of the association. The gold standard of coverage is insurance that covers not just negligence but "errors and omissions," but this can carry a high premium.
Termination
Generally, the length of a contract is negotiated differently by each HOA. Most contracts are good for one year and are usually in place for about three years. Some management companies build a rollover into their contracts. This means their contract is automatically renewed each year, which protects them from being caught short if an association board stalls on renewing the contract and then cancels it at the last minute.
If a relationship between an HOA and its management firm deteriorates so far that termination is being discussed, it's usually too late to fix things. That doesn't mean the switch to a new firm has to be a grueling experience, however. According to Curtis, the contract's termination clause should stipulate how financial and other records will be handed over, if any confidentiality agreements need to be signed, and how to conclude business with the management company. "The termination clause will state that at any given time either party may terminate the contract with or without cause and should be at least 30 to 90 day notice," she says.
According to Ramon A. Cuevas, vice president of business development with Association Advisors in Freehold, "Upon notice of termination, the departing managing agent should make all relevant books and records available to the association for inspection, [then] for turnover to the association on the agreed-upon termination date. The managing agent should then prepare for an orderly transition of responsibility and records in accordance with the instructions of the association as outlined in the contract. The managing agent should turn over all books and records belonging to the association to the incumbent management company within15 days after receiving the notice of termination. The timeliness of the transfer of the financial and management records helps ensure that the residents of the association are not negatively affected by the transition."
Good Counsel
Like a prenuptial agreement, it's always a good idea to lay out every possible situation—and then have a lawyer sign off on the final wording. "Every association should have their legal counsel perform an attorney review so that all the I's are dotted and T's crossed," says Curtis. "It is a protection for both parties and should be a top priority. Failure to have legal review could be a problem with both sides' responsibilities."
According to Cuevas, "Once the association enters into contract review, the association's attorney will ensure the contract contains language that is fair and favorable to the HOA with regards to term of contract, indemnification clause, document turnover, automatic renewal, terms of termination, termination rights (with and without cause, time to cure, 30, 60, or 90 days), affiliate disclosure's, to name a few."
"Unfortunately for our industry," Cuevas continues, "there have been instances where certain management companies have been involved with wrongdoing. Should you find any signs of impropriety, you should contact your HOA's attorney to review your concerns and inquire about getting an independent auditor to to a forensic audit of your financials."
Communication
No matter what the particulars of a management contract may be, the professionals agree that communication is the crucial element to a successful board/management relationship. "They have to be able to talk to each other," says Rose. "There has to be a simple way for them to work out problems. No matter what you deal with, there must be a working relationship among the board itself."
And how you communicate, and the needs of your association are unique to your HOA – they may be very different from another community right across the hedgerow, or down the street. All the more reason to make a considered decision when it comes to your management contract.
April Austin is a freelance writer and a frequent contributor to New England Condominium magazine, a Yale Robbins' publication. David Chiu, editorial assistant of The New Jersey Cooperator, contributed to this article.