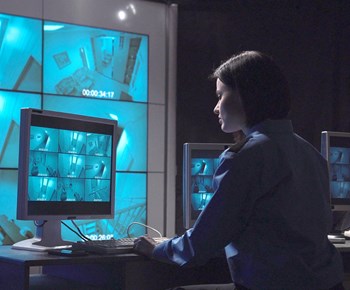 Whether it be a detached single-family house, or one unit among hundreds in a high-rise condominium, a home should be a safe haven: a place where you can seek refuge from the elements and all the other risks and cautions of the world. Given how precious that sense of security is, and how vital it is to residents' overall well-being, establishing and maintaining it is a key part of any association board's duties. Of course, the larger and more complex a community is, the more difficult it can be to monitor every dark corner – although fortunately, modern technology makes this easier.
In a community association, it falls to the board to assess the security needs of its residents, taking appropriate precautions to maintain the sanctity of not just individual dwellings, but the community at large – as well as always taking care to strike an agreeable balance between safety and resident privacy. Different communities will certainly have different needs, and intimately understanding their own community is the first step toward steering a board in the right direction.
Outside (and Inside) Risks
Before an association can implement a security protocol, it must identify its primary risks. Of course, the potential dangers present in the big city will differ from those faced in more suburban associations.
While it may seem counterintuitive, "The real challenge with security is the people in a building," says Martin Kera, a real estate attorney and President of Bren Management Corp., in New York City. "It doesn't matter what kind of locking system you have, for example. If residents are giving keys to people willy-nilly, you're in trouble. We'll typically have people calling management to say they lost their key, or they've family coming to visit, and they need three more keys. The fobs cost $50 to $60 a pop, but they're willing to pay.
"Once, we had a resident in a building who was dating someone new every month, and they kept giving these paramours key fobs, only to tell us that the fob was lost once they eventually de-coupled," Kera continues. "This person owns their apartment, so what can you do? Tell them they're a liar, and that they can't have another fob?" Clearly not – but every jilted sweetheart with access represented a potential vulnerability for the building and everyone in it.
And in a city chock-full of high-rises, the threat of a break-in doesn't necessarily stem from the front door; it can come from above. "You have HVAC equipment on the roof, so a lot of work gets done up there," Kera explains. "And a super isn't going to sit up there, monitoring the roof door all day. Sometimes they'll finish their work and leave the door open. And people will go into one building, then canvass from roof to roof, looking for access to a building they can plunder."
While roof-leaping bandits are not much of a threat in more rural areas, plenty of concerns still confront communities outside of the city – again, often from within the association itself.
"We're a 155-unit townhouse community in 24 different buildings, upper-middle-class, with a clubhouse, a fitness room, a pool… people get along pretty well," says Ken Lazarus, property manager of a condo association in Maynard, Massachusetts. "Then, about six months ago, an owner – someone who's lived here peacefully for over 15 years – went off the rails, and is causing security issues throughout the community, getting a lot of people obviously upset. We're talking vandalism, threats toward my office, toward the trustees… so we needed to look into some new solutions."
Scope of Responsibility
Before getting into security measures both proactive and reactive, it's worth exploring where a board's responsibility lies when it comes to surveillance and responses to perceived threats – not so much to give associations an excuse to do the minimum, but to help them exercise caution so they don't overstep their administrative authority. And while statutes may vary state to state, every association's governing documents should contain guidelines as to what is required, what is permitted, and what is prohibited in terms of security measures.
According to Sima Kirsch, Owner of the Law Office of Sima L. Kirsch, PC in Chicago, governing documents may mandate that a board provide security, but it's not essential that they do so as the board must act within its fiduciary duty at all times. "A board is charged to act with reasonable and/or due care when the need arises, to prevent harm from foreseeable danger and/or criminal activity," Kirsch explains. Clearly, securing a property falls within these responsibilities, and a failure to adhere to this can result in breach of duty, privacy violation claims, or even federal housing discrimination claims. If a board fails to undertake reasonable safety measures, it can also find itself on the wrong end of negligence charges. And, when internal issues between owners boil over such that grievances are filed and the police get involved, the board may be responsible, under its own governing documents, to protect those owners from one another.
When it comes to the aforementioned privacy, closed-circuit cameras can be a double-edged sword. Residents often feel ambivalent about cameras, realizing on one hand their value as witnesses to anything shady going on on the property, while on the other hand sometimes viewing them as intrusive or overly Big Brother-ish. It's important for a board to be aware of where it can and cannot install cameras in accordance with state and federal law, as well as what it can do with the recorded video and audio that respects the rights of those being surveilled.
In Illinois, for example, "cameras can be placed anywhere the association has the authority to exert control," says Kirsch. This excludes personal residences, property bathrooms, locker rooms, or anywhere else where there is "a reasonable expectation of privacy," according to Kirsch. Common areas do not offer such an expectation, so they're fair game – but, as Kirsch notes, in Illinois as in many other states, audio recording of a person cannot be made without their explicit consent, regardless as to where said recording takes place. (For state-to-state rules, see the Federal Wiretap Act). A board may want to consider sticking with cameras that solely capture video, in order to stay on the right side of these statutes.
The Tech Angle
The home security market is constantly evolving and offers a dizzying array of solutions for private residences, sprawling townhome communities, and high-rise apartment buildings alike. And of course there's a cottage industry of consultants whose job it is to screen properties of all sorts and offer professional recommendations of what protocols best suit that particular environment.
"We know of a few communities with full perimeter surveillance," says John Frazer, Owner of J.R. Frazer Inc., a reserves and insurance valuations provider in Boynton Beach, Florida. "There have also been advances in license plate recognition for auto entry. We've seen two communities that have full camera license plate recognition for every car that enters or exits. Key fobs and fingerprint identification technology has improved, and there's even talk of possible eye-recognition software entry systems. Additionally, people – the elderly, mainly – are wearing sensors to track persons who are at risk of wandering off and getting lost."
Cameras are indeed evolving at a rapid pace and adapting Wi-Fi and digital technology to make them more accessible than ever. "We recently replaced and added 4 MP IP cameras all around our building, coupled with a network video recorder," says Tom Taylor, a property manager with the Whippany based Taylor Management Company. "We also upgraded our Keyscan access control system, fobbed doors around the building, and upgraded to a Doorking remove entry/telephone entry system."
And Lazarus has embraced the latest technology to try and solve his vandalism problem. "We installed battery-operated Ring video doorbells for our clubhouse, our pool, and a shed by a tennis court out back; these were allowed via a trustee-implemented policy," he says. "Then, for our mail-house, which had been a frequent target of [the vandal's] outbursts, we looked at the latest smart camera tech, finally embracing Arlo, a product of Netgear. It goes through our mobile service, runs on data instead of wifi, and it's rechargeable. Of course, we have a set budget, and a security system can have a big impact on that. But through our service provider, it's basically like adding another mobile device at $5 per month, with the upfront cost for the camera at $400. And it's motion-detected, just like the video doorbell. It records up to 30 seconds for every motion trigger. We installed one, for now, in the mail-house. The only downside is that, as with a mobile phone, a tech-savvy individual can block the camera somehow over the data connection. We're currently trying to find ways to prevent that."
Whether it's a super-luxury development or a more modest community, it's still the duty and responsibility of your board to draft, enact and periodically assess measures to keep your residents and property as safe as possible. That can look a lot of different ways, but at the end of the day, community security comes down to being mindful, assessing risks realistically, and taking decisive steps to minimize those risks.
Mike Odenthal is a staff writer/reporter for The New Jersey Cooperator.