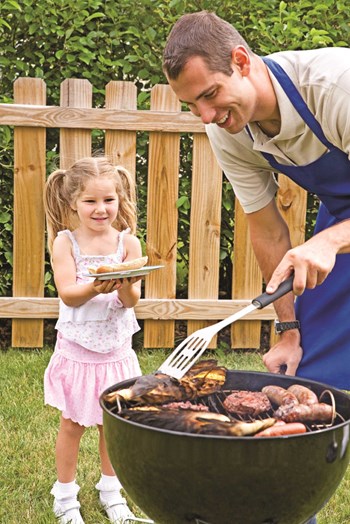 It seems that the residents of one large New Jersey HOA don't want to come out and play. The association's management cancelled their scheduled Easter egg hunt this past March because only a handful of their 700-plus families wanted to participate. Other associations are having an equally hard time getting residents to actively participate in any sort of scheduled activity, from potlucks to picnics.
Unfortunately, the symptoms that are ailing these associations can be directly related to a (completely anecdotal and unscientific) condition called "electronicitis," a growing affliction plaguing many hard-working Americans.
According to (much more empirical, and very scientific) statistics from the Entertainment Software Association, 67 percent of American heads of households now play computer and video games. And once they sit down to play, they are staying put for longer periods of time. The average adult plays more than seven hours per week, up almost two hours from a few years ago. Even the senior market is getting in on the action with 24 percent of Americans over the age of 50 playing video games, an increase of nine percent over the last eight years.
And that's just the grownups. Add into the equation that a study in the Proceedings of National Academy of Sciences found that nature recreation has fallen by 18 to 25 percent in the last decade, which means there are less Americans visiting our parks and recreation sites.
Other findings suggest that Americans are working harder and at much longer hours, and when they finally arrive home at night, they tend to turn on their computers, video games, iPods or televisions as their primary source of entertainment. They tend to like to stay put after getting home—the idea of socializing with neighbors seems like a taxing proposition. The bottom line is, homeowners associations must be more innovative and persuasive than ever before in getting residents off their couch, out the front door and participating in association events. But don't look at the residents to be the ones to make the first move.
Managing Participation
"It starts with who is managing the community," says Michael A. Mendillo, president and chief executive officer of Wentworth Property Management Corporation in West Long Branch. "If they don't see value and have passion for creating a communal type of living, then it is not going to work."
Like a winning sports team, a homeowners association needs great members too. To create a successful recreational plan for your association, Mendillo suggests selecting a handful of community residents—your team players—to form a think-tank with the management company. If, for example you have ten buildings, invite one or two residents from families in each building to commit to being community leaders.
"Then, create a vision of what the community wants," says Mendillo. "If each leader brings three families to an event, that's 30 families already that show up."
In addition, tap into the skills of your residents for possible program ideas. "If you have 800 families in your association, there's a wide range of professions that live there," says Mendillo. "A resident who is a cop or security guard can run a crime watch, an art teacher can run an art class or a writer can organize a poetry reading. The skills are right in front of you."
Not for Everybody
Be prepared, however, that for some individuals and families, nothing you do will motivate them to take part. Michelle Linke, education and recreation manager of Rossmoor in Monroe Township, a senior community with more than 3,200 residents, admits that her association is very successful, but there are a percentage of her residents that just won't join in on the festivities no matter what they are.
"There are certain percentages that are very involved and some that just won't participate," says Linke. "We get great support from our board, and we offer a lot of different events, so the residents can be busy almost every single day if they choose."
Linke does have several community volunteers whom she says are necessary to the success of events that she has offered. The most popular events, she says, are the ones that offer some form of entertainment, such as their recent St. Patrick's Day party. There are also medical seminars with guest speakers, pool parties, jazz nights, and more.
"We maintain interest lists and we ask residents to call me the next day and let me know what they thought of the program. It helps us to improve the programming," says Linke.
Associations will also try to cultivate ties with residents by hosting job fairs, wine tastings, GED classes, Bible study sessions and barbecues. Even still, not all events will work. Linke admits that the jazz night, which included a tasty chocolate fondue area and coffee bar, was not popular with her residents. She is considering removing the fondue and coffee bar and creating a stand-alone jazz performance night.
Benefits of Participation
By participating in events, both residents and associations stand to benefit. "It brings the community together and there are mental, physical and community spirit benefits," says Linke. For the association, a successful recreational program can actually benefit the building's bottom line.
"You're selling a lifestyle; it's what this community is going to be about and if you have an engaging community, it will attract more buyers," says Mendillo.
Once the event has taken place, Mendillo says, "You have to promote how much fun the event was." Do you remember the television commercial for a hair shampoo where the key phrase in the ad was… "They'll tell two friends... and they'll tell two friends... and so on, and so on..." That's called viral marketing—have the community leaders tell two families about how much fun the event was and they'll tell two families, and so on.
Successful associations also send out monthly newsletters for facilitating gatherings and keeping the community abreast of weekly happenings and a website that can be a portal for updating residents about events. Linke uses an intercommunity television station that lists current events. Shakira M. Brown, public relations and marketing consultant with www.branding 4newbies.com, a marketing advice blog for small businesses, suggests that if you want to reach the computer game users for example, get your information right in front of them, exactly where they are going to read it.
"Mainly, HOAs need to figure how they can integrate offline community initiatives online," she says. "Unfortunately, it is not as easy as saying 'Turn off your computer and hang out with us.' Instead, the HOA staff needs to engage its audience via platforms their audiences are already using, such as staging video game tournaments to engage school age kids (and perhaps adults) playing together as a community. Online communities are viable tools to promote offline activities."
Brown says HOAs should continue to conduct activities that bring families together but foster relationships with the families online via social media sites such as MySpace or Facebook. "Develop a MySpace or Facebook page and create activities online to start conversations relevant to the community," she says. "You can also use your pages to better promote offline events—such as that Easter egg hunt—and even recruit individuals to help create activities surrounding events."
However, MySpace or Facebook aren't without their share of problems. MySpace which has topped over 100 million members and Facebook are free sites that do not cost any money to start, but they are open to the public and accept advertising, which can become a nuisance to its users. In addition, if the association and its residents have online pages, there is also no centralized location for all of the pages to meet. But it is a start.
More Options
There are other more-private options for creating online communities. Matthew Goldstein, chief operating officer of LifeAt.com in Brooklyn, New York founded his online community program for multi-housing residents in October 2006, and launched it in January 2007.
"How many people are going to knock on your door and ask for eggs or a playdate if they don't know you?" says Goldstein. "On a site like ours, you get to know your neighbors before you even knock on their door."
Residents are given a username and password and can talk to other residents in the building. The program has a one-time fee of $6,000, the system can be customized, and children can be prevented from entering without permission.
So don't give up. Think out of the box and into the computer and television screen; schedule GuitarHero video game tournaments, movie nights, or even resident chats in a secure online location. Once you've hit home with the means most of us are using to communicate and entertain ourselves these days, word will spread like a computer virus.
Lisa Iannucci is a freelance writer living in Poughkeepsie, New York, who admits that while writing this article she took a break to play Guitar Hero with her 13-year-old son.