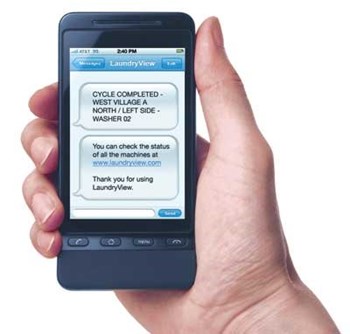 Years ago, when apartment residents wanted to do laundry, they gathered their basket and detergent, loaded up their pockets with quarters and perhaps a good book or their Walkman and trudged downstairs to the dark, dingy laundry room. A few hours later, they would traipse back to their units, only to repeat the dreaded trip the following week. Nobody looked forward to doing their laundry (okay, let's be real—that hasn't changed), but modern technologies in the industry have made it much easier for residents to get this dreaded chore done.
21st Century Clean
Ron Farmer, executive director of campus and micropayments for Heartland Payment Systems in New York City, a national payment processor, discusses how much the simple task of laundry has changed in recent years.
"The major trend in laundry rooms right now is accepting credit and debit cards directly at the washer or dryer to enhance convenience for consumers while increasing sales for the operator." Heartland has a system called WaveRider that allows cards to be accepted at laundry room machines, much to the delight of their customers.
The washers and dryers themselves have changed throughout the years too, now the machines can be part of the Internet, Farmer points out that, "With the WaveRider system, laundry operators can also offer unique services including a web-based portal customers can access to view the status of washers and dryers before making the trek out to the laundry facility."
Heartland isn't the only company offering these high-tech options, Rex Braden of the Whirlpool Corporation says tenants don't have to sit around a basement laundry room any longer, "people using the machines would rather go back to their own apartment or their own living room and be able to monitor the machines via software." Whirlpool's Laundry View gives tenants different options of monitoring their laundry remotely.
The drive to make buildings green is not limited to insulation and environmentally-friendly paints and carpets, washer and dryer design have been at the forefront of the conservation movement and are becoming far more efficient and environmentally friendly, saving both water and energy. As a result, buildings with common laundry areas are saving money. Although the exact savings vary from model to model, Sheffield J. Halsey, Jr., executive vice president of marketing for national laundry equipment company Mac-Gray Corporation, based in Waltham, MA, with a distribution center in Carlstadt, says that high tech machines have cut operating costs significantly, potentially saving thousands of dollars each year in water, sewer and energy bills.
"Most high-efficiency washers tumble the clothes in a front-loading unit, rather than submerging them in water as in top-loading units," he says. "Because less water needs to be heated, energy consumption is reduced during each washing cycle. Plus, these front-loading washers extract much more water from clothes during the spin cycle, which translates into big savings of time and energy on the drying side."
Benefits of a Laundry Room
If your building doesn't have a common laundry room and isn't receiving the financial benefits, now might be the time to consider one. According to the U.S. Department of Housing and Urban Development, converting from an in-unit laundry to a common area laundry room allows an owner or manager to reap the savings and other benefits without having to become experts in laundry services for their properties. In-unit washers and dryers use a lot more water, drive up overall utility costs, and can lead to flooding or other water damage between units. In-unit connections also require more costly plumbing, venting and electrical wiring.
To show the difference in savings with common versus in-unit machines, the Multi-housing Laundry Association in Raleigh, North Carolina, recently completed a national study of water and energy consumption in multifamily housing and found that residents with in-unit clothes washers used 3.3 times more water for laundry than residents in apartments with community area laundry rooms. The average washing machine water use on- and off-site for residents with in-unit laundry facilities was 227 gallons per unit per week, while the average washing-machine water use on- and off-site for residents with community area laundry facilities was 69 gallons per unit per week.
Not only does having a common laundry area benefit the building's bottom line, but it's an attractive amenity to current and future residents.
Barry Heller, vice president of marketing for Hercules Corp. in Hicksville, New York says, "A laundry facility is probably the number one amenity for a condominium, co-op or rental building. The first question a prospective buyer could ask is 'where is the laundry facility?' If the condominium, co-op or rental building does not permit private washers, this is the only option residents have for laundry."
How it Works
In most cases, a building with a laundry facility in-house has contracted with a laundry company in some form or other. The laundry company usually leases out the room, installs and repairs the machines, and collects and disburses the revenue back to the building. The building or condo association doesn't need to make any significant capital investment into the room, and aside from a daily check and sweep of the room, usually carried out by the building engineer or a staff member, the laundry company takes care of maintenance.
The amount of commission the building or association gets from the laundry facility can be based on such items as the number of units in the community, the cost of washing and drying and the cost of the machines themselves. In the days of coin-operated machines the revenue would be split 50/50 or 70/30, but with the development of computerized payment now a fee structure is negotiated between the building and the laundry service provider. A typical contract between a building and a laundry service provider is seven years.
According to Steve Breitman, president of SEBCO Laundry Systems in Green Brook, there are three common types of agreements: the laundry lease agreement; the license agreement; and the management agreement.
"The most popular and widely used is the laundry lease agreement," says Breitman. "It creates a basic relationship between the property and the laundry company. Typically, leases are five to 10 years in length and the term is most driven by two factors: the equipment cost and the return that the laundry company can expect from the collections. Additionally, if there is fix-up included with the agreement—painting, lighting, tile floor or other amenities—the term tends to be to the longer side."
Breitman goes on to explain that the license agreement provides similar terms to a lease agreement, but he says that in some instances laundry companies do not want to enter into license agreements because it may not afford them adequate security.
"A management agreement has limited application," says Breitman. "The revenue is directed to the property and the board receives payment from the manager. There are a number of variations to this type of agreement to fit the specific needs of the property."
Contract Considerations
So what kind of agreement suits your building's needs? Most pros agree that you need a detailed agreement written for the specific needs of your building, not a boilerplate, one-size-fits-all contract. Engaging a service provider to handle your association's laundry facility is an important process, and your contract with your chosen vendor should outline the expectations of both parties during the time period of the contract - including maintenance, service and payment.
Dawn L. Moody, an attorney at law with Illinois-based Keough & Moody PC, says the most important part of a condo community's laundry room contract is not having what's called 'the right of first refusal' clause in the contract at all. "And if an attorney hasn't reviewed a laundry room contract for an association," she says, "it's almost a certainty that it's in there."
So what's the right of first refusal? "When a contract expires and the association wants to terminate it and find another laundry company," Moody explains, "the right of first refusal stipulates that they must give the old company a look at the new company's contract, so they can see if they can meet those terms." If the old company can meet the new contract terms, the association is legally obligated to continue the contract with the old company, she continues. "If an association signs with Company B before giving Company A right of first refusal, the association is in breach of contract and may have to pay liquidated damage provisions to Company A."
Moody remembers one such case that went on for five years. "The association continued using Company B's services, but it was a very long litigation with Company A, and a lot of money was spent on attorneys' fees."
Most laundry contracts are long-term—often 7 to 10 years—and there is only a very small window of opportunity to terminate the contract before it automatically renews. "Most associations aren't on top of looking at their laundry contracts," Moody says. "And even if they are in that window, the old company still has right of first refusal if it's in the contract."
Your association's attorney can work with your board and manager to create a contract that eliminates this term or, in the case of a brand new association, make sure it's never put in. "Associations should also want a more liberal termination contract, with 60 days and no cause," says Moody, who also advises associations to keep an eye on the contracts and send a notice when they are preserving their right to cancel the contract. "Then, if they want to, they can renegotiate," she says.
When the contract is up and it's time for renegotiation, Breitman says there are three main reasons that properties elect to retool their agreements: money; modernization and updated equipment; and beautification.
According to Breitman, "Today's most requested features are card systems that allow the residents to use a laundry card, rather than coins."
Not all renegotiation leads to a resigning of the contract. Perhaps the new rates are too low for the building or too high for the vendor, or perhaps the building was not satisfied with the service they received from the vendor. As with any separation or dissolution of business, determining who owns what in the laundry room is critical.
As a rule, say the pros, the plumbing apparatus and fixtures obviously belong to the building—so the only thing most contracts allow the laundry vendor to remove is the machinery. The space should be left clean and swept, ready for the new vendor to move their equipment in with minimal disruption or inconvenience to residents.
Maintaining a laundry room that is safe, reliable and comfortable generates revenue and makes the residents happy—and that's what owners and managers want. With an eye to new technologies and a conscientious approach to contracts, you can give them that without getting taken to the cleaners.
Lisa Iannucci is a freelance writer, author and a frequent contributor to The New Jersey Cooperator. Editorial Assistant David Chiu contributed to this article.