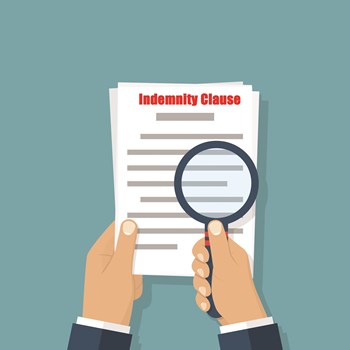 One of the unique aspects of community living, whether that community is a co-op, condo, or HOA, is the collective responsibility shareholders or association members take upon themselves when they offer to serve on their community's board of directors. With the assumption of board duties and responsibilities comes a measure of liability that might not otherwise be of concern to a resident. To protect board members and residents alike, there are contractual points of law and insurances available to mitigate these liabilities.
What Is Indemnity?
Indemnity is defined by the Merriam-Webster dictionary as "security against hurt, loss or damage," as well as "exemption from incurred penalties or liabilities." Webster's New World Law Dictionary goes a little farther. It defines indemnity as, "protection from damage, injury, financial loss or legal liability." The word indemnity itself stems from the Latin root indemnis, meaning unhurt. Legal aspects of indemnity and liability also extend to the term 'hold harmless,' which "protects against losses and liability, while 'indemnify' protects against losses alone," according to legalwritingpro.com. It should be noted that Black's Law Dictionary treats the two as near synonyms. If we haven't lost you yet, please continue reading – it does get less technical!
In the Real World
What does all this mean for the daily life of condo, HOA and co-op owners? A lot. Indemnity and liability run in more than one direction in the world of community living. Owners indemnify board members against possible liabilities, boards indemnify managing agents against the same, and managing agents indemnify boards. It's more like a five-corner intersection than a two-way street.
J. David Ramsey, an attorney who specializes in community association law with Becker & Poliakoff in Morristown, says, "Indemnification clauses, as shown above, can protect either the association, or the management company, or both. Not all attorneys seek an indemnification from the management company to the association, but we think it is important. If you are asking about relationships other than between an association and the management company, they usually protect the association. If a landscape contractor, snow removal company, or other vendor wants to do any significant work for the association, the association is usually going to look for protection from any negligence of that vendor."
Ramsey explains that there is no 'typical' language for an indemnity clause. "When we review management company contracts, of course we look carefully at the terms of the indemnification clause, and will often seek to modify it," he says.
According to the legal pros polled for this article, an example of typical indemnity clause language in condominium documents might read as follows: 'ABC agrees to indemnify, defend and hold harmless, the Association, its directors, trustees, and officers from any and all liability, costs, losses, damages, demands, actions, claims, and expenses (including, by way of example rather than limitation, reasonable attorney's fees and disbursements) sustained or incurred by any person or persons or on account of damage to property arising out of, or in consequence of, the performance of, or failure to comply with, the terms of this Agreement, where such injuries to persons or damage to property are due, or claim to be due, in whole or in part, to the grossly negligent, willful or intentional acts or omissions of the ABC, or its employees, agents, servants, representatives, subcontractors, unless said act or omission was specifically authorized by the Association. It shall be the purpose of this indemnification provision to express in unequivocal terms that the ABC shall, in such circumstance, indemnify the Association against losses resulting from the ABC's willful, intentional or gross negligent acts or omissions, or breach of this Agreement, to the fullest extent permitted by law.'
Double Indemnity
Indemnification clauses are also an integral part of contracts between boards of directors and their managing agents. In this case the indemnity runs both ways, indemnifying the managing agent against liabilities caused by the board, and the board against liabilities resulting from the actions of the managing agent. The association and the management company enter into a contract, and there's an indemnification clause where the management company is indemnified by the association. The management company will also indemnify the association.
"Essentially, the management company acts as the agent for the association," says Ramsey. "Management takes its direction from the board. Hence, it is frequently the case that when plaintiffs' attorneys sue, they take a shotgun approach and sue every possible party that could be liable. Even if someone slips and falls on an icy patch that the snow plow failed to remove, the management company is often sued. As the association's agent, virtually all management companies seek indemnification. What this means is that if the manager is sued in connection with its role as the association's manager, the association has to defend the manager or management company and if a judgment were entered against the manager the association would be responsible for paying that judgment (subject to certain exceptions discussed below). Typically, associations name the management company under the association's liability and directors and officers policies. In the vast majority of cases, lawsuits are handled by one of those two carriers and the carrier will appoint counsel to defend both the association and the management company. In addition, the association will seek from the management company indemnification for those matters where the manager was guilty of gross negligence or willful misconduct."
With indemnity clauses between associations and managing agents, the intent is to protect the board and association – as long as the managing agent has acted in good faith and vice versa. The intent is always about protecting the actions of a surrogate from the anger and wrath of those who authorized the surrogate to act on their behalf. That does not create an environment that protects negligence.
Ramsey points out that "the intent is that they cover claims – typically lawsuits – filed by owners or third parties against the indemnified party, as well as any judgments that may be entered. As you may know, sometimes the biggest impact of a lawsuit is the cost of defending it. Even if, ultimately, a party that is sued is found to have no liability, legal fees can often run into the tens of thousands of dollars – and on occasion into the hundreds of thousands of dollars. As indicated above, often these matters will be handled by the association's insurance carrier, or where the manager's indemnity in favor of the association applies, perhaps the manager's liability insurance. But occasionally a suit against the association and management company will fall outside of the terms of the insurance policies. For instance, many policies have exclusions for suits where the plaintiff is claiming property damage. In those instances, the entire cost of the defense may be on the party that is indemnifying the other party. Frequently, the cost of defense is not that much greater for two aligned parties than it would be for one, but there will be a greater cost."
Insurance in Action
Mike Merwin is the president of Merwin & Paolazzi Insurance Agency, located in Lyndhurst. As he explains, "Associations require what is usually referred to as a master insurance policy, to insure the property and common areas as defined in the master deed of the association against property and casualty loss. The master policy will cover the association's buildings, equipment, personal property, and loss of income. Included in the policy is general liability coverage to protect the association against claims of bodily injury, personal injury and property damage. The association would also need an auto policy to cover any auto owned by the association, or any non-owned or hired vehicle being used in the service of the association. This policy would provide both physical damage as well as bodily injury and property damage liability coverage.
"Workers' compensation and employers' liability policy cover the exposure for injuries to any of its employees is required, and mandatory in many states," Merwin continues. "This policy would pay for both medical costs for injuries to employees as well as a percentage of lost wages while unable to work. The association should carry this coverage whether they have employees or not, as this would also cover claims for casual employees or claims from employees of uninsured contractors who have provided a service for the association."
But coverage doesn't end there. Merwin says, "An association should also carry an umbrella/excess liability policy to provide a higher limit of liability in excess of the primary limits provided by the underlying policies. This type of policy will also cover some claims that may be made against the association, but not covered by the underlying policies, subject to a self-retention limit." Merwin also advises purchasing fidelity bond to insure against employee theft, computer and funds transfer fraud as well the loss of money and securities, adding that "Coverage is based on the required amount of funds to be protected."
Another important liability protection comes in the form of directors and officers coverage. "The association should also carry a directors and officers liability including employment practices liability to cover the association from claims filed against it and its director and officers," Merwin says. "The most common employment practices claims filed are wrongful termination; discrimination because of race, religion, and sexual harassment; and so forth."
As far as premium costs, those will vary depending on the number property value, its construction, protection, controls and location. Also cost will vary, if for residential or commercial use of the property.
Merwin also sells coverage to management companies. "They need general liability, auto liability, workers' compensation—including employers' liability, umbrella liability, and fidelity bond—including theft, computer funds transfer fraud, depositors forgery, and money and securities coverage. As far as pricing goes, the cost can vary greatly based on location, exposures. and values to be insured and of course past loss experience."
Liability is a serious issue for condominium associations, co-op corporations, and HOAs. Boards need protection from both individual unit owners and potential problems caused by management. As with most issues pertaining to the operation of your association, defer to the professionals: your attorney, and in this case your insurance agent. And remember: liability and indemnity run in multiple directions. You're not on a one-way street.
A.J. Sidransky is a staff writer and reporter for The New Jersey Cooperator.