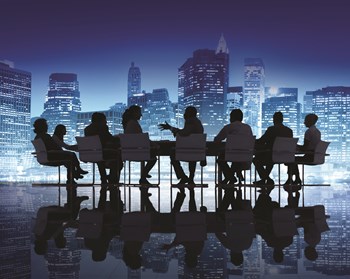 It's a grand old flag again in New Jersey. Homeowner associations can no longer prohibit the flying of flags or other patriotic displays under "flag law" legislation that Gov. James E. McGreevey signed on January 8, 2004.
Under the legislation, which was widely supported by the New Jersey chapter of the Community Associations Institute (CAI-NJ) and its members, New Jersey now has a bill which prohibits municipal ordinances, resolutions, community association bylaws and HOA rules from forbidding certain patriotic displays, except in limited circumstances. Senate Bill 2360, sponsored by Sens. Joseph A. Palaia, Peter A. Inverso, Upendra J. Chivukula, Joseph V. Egan, Neil M. Cohen, and Jeff Van Drew, prohibits municipal ordinances and homeowners' association rules from limiting displays of the American flag and also displays of yellow ribbons and signs supporting U.S. troops.
Battleground over Old Glory
In New Jersey and a handful of other states around the country, there had been much debate about the power of HOAs in restricting First Amendment rights of homeowners who wished to erect a flagpole, post signs, or fly a flag on their property.
Flag disputes between residents and HOAs have been ongoing since the early '90s but several prominent examples gained national attention during 2003. One case involved a Virginia couple who exhausted their appeals in a case that went all the way to the U.S. Supreme Court, in which they were ordered to remove a flagpole from their property and faced legal costs of nearly $150,000. The second was an ex-Marine from Jupiter, Florida, who faced foreclosure on his home and over $25,000 in legal fees because he refused to remove a flagpole from his property. Florida law permits homeowners and condo associations to fly the American flag, but it was the flagpole that the association objected to.
In a third instance, a retired Army officer from Myrtle Beach, South Carolina was fined $850 because he refused to remove a flagpole from his property after being ordered to do so by his homeowners association board.
CAI-NJ representatives Mike Pesce and Dave Ramsey were instrumental in working with the flag law sponsors on the bill and CAI-NJ executive vice president Curt Macysyn wrote to McGreevey in support. "On behalf of the New Jersey chapter of [CAI], I would like to express our support for Senate bill 2360. This legislation, as amended, strikes a balance by maintaining property rights of owners and provides community associations with the necessary authority to protect the health, safety, and welfare of the entire community."
Macysyn said that homeowners associations were originally not included in the bill, which was proposed to address a publicized incident in Fieldboro, New Jersey, a small town near Bordentown. Townspeople wanted to put up yellow ribbons in support of the troops abroad but were stopped by municipal officials.
In a second well-publicized New Jersey case last summer, a Hamilton Township couple faced a fine of $25 a day for refusing to take down a POW/MIA flag that had been flying from a flagpole on their property. The McIlvaines and another neighbor, who live in an age-restricted community called The Evergreen, were told by the association board and the architectural committee to remove the flag until they got approval by virtue of a property modification permit. American flags and state flags are permissable under the association bylaws but any other displays needed approval, according to a July 23, 2003 article in The Trentonian.
The article goes on to say that when the McIlvaines moved to Hamilton from South Brunswick in 2001, they applied and received permission to fly an American flag. But the POW/MIA flag was another matter. "There's nothing in the bylaws about flying a flag," McIlvaine said in the article. "We had thought it was all right to fly our POW/MIA flag. It's a flag that shows our freedom."
One homeowner, reported The Trentonian,remained skeptical. "We have 400 condos here. Now we're going to have 400 flag poles with 400 different flags from every country on earth?" Pointing to the American flag, flying neatly on the grass oval in front of the community center, the man said, "That's the only flag we should have. It belongs to all of us."
In response to the McIlvaines' flag flap, in which they racked up nearly $1,800 in fines and legal costs, the mayor of Hamilton enacted an ordinance prohibiting associations from denying residents from exhibiting any patriotic display, regardless of type. The McIlvaines subsequently reached a settlement agreement with the association and have permission to continue their display.
Both situations in New Jersey, Macysyn said, eventually prompted lawmakers to take action and led to the resulting legislation.
Spelling It Out
According to the text of New Jersey's newly-minted flag law for homeowners associations and municipalities, the law prohibits "municipal ordinances and resolutions and homeowner association bylaws and rules from limiting certain patriotic displays, except in limited circumstances." Under the new law, a municipality may not adopt or enforce any ordinance or resolution that limits or prohibits the display of the flag of the United States of America, yellow ribbons, and signs supporting U.S. troops. In addition, a municipality is prohibited from requiring a bond or permit fee for any such display. In the case of a homeowners association, which includes for purposes of the law any condominium association, homeowners association, and cooperative association—they are restricted from adopting any rule or bylaw that limits or prohibits patriotic displays. In addition, according to the legislation, a homeowners association may not charge a fee for any such display.
Municipalities and homeowners associations, however, may require removal of the American flag, yellow ribbons, or permitted signs "if the display threatens public safety, interferes with necessary maintenance, interferes with another person's property rights, or the flag is displayed in a manner inconsistent with the rules and customs deemed the proper manner to display the flag."
The New Jersey flag law is very confusing, especially in how it legally applies to homeowner associations, according to attorney Ira Meislik of Meislik and Levavy in Montclair. The issue is not settled yet and has become more of a political cause than anything else, he says. Meislik says that most observers are waiting to see how the bill is put into practice and what the impact of it will be.
Signing Off
According to Richard Thompson of Regenesis.net, an informational HOA Web site, displaying a flag is considered an American's patriotic right, but where homeowner associations get in trouble is trying to follow the letter of the law in regard to bylaws, covenants and restrictions and how common areas are regulated and maintained. Rules, though, should not be enforced tyrannically, but with reasonable judgment, Thompson says.
Thompson suggests compromise instead of initiating legal action. "Rather than fight flag flying, install an association flagpole and appoint a committee to maintain, raise and lower the flag in the manner prescribed by the federal flag code. Take preemptive action by approving flag flying but imposing what, when and how limitations. Old Glory need not create a flap in your community."
In addition to flag waving, posting signs on association property can also be problematic. Thompson says that "one of the bones of contention in homeowner associations is the ability to display signs. Free-speechers feel it's protected speech under the Bill of Rights and their sign rights should never be infringed while the community censors advocate 'sign free zones.' The ideal is somewhere in the middle," Thompson says.
One of the attractions of living in a homeowner association, he adds, is an ability to control the look and feel of the community, and that can only be achieved by adopting standards all residents must follow. In homeowner associations, he continues, uniformity reinforces value while extremes generally detract. "This principle applies to signs as well. When sign size, subject matter, look and location are not controlled, they detract from the community's residential character."
According to Thompson, a basic size, such as an 18-inch x 24-inch real estate sign usually passes muster. Smaller is better but bigger is not. There are several types of signs that are generally permitted, including but not limited to For Sale, For Rent and Garage Sale. But he adds where signs are placed is definitely an issue. Nailing signs to trees and fences is a no-no but requiring some type of mounting is a reasonable standard. Secondly, controlling the number of signs allowed is paramount. "In difficult to navigate communities, multiple directional signs may plot a path through the neighborhood to the goal. One directional sign with the address on a main arterial street will suffice."
Thompson notes that sign type, size and placement restriction are generally good policy for any association. While free speech has many forums, posting opinions on signs is not proper for homeowner associations, he says. "First Amendment advocates may fight the restrictions but most owners will understand and comply. Establish a reasonable compromise and deal with the rest on a case by case basis."
Debra A. Estock is Managing Editor of The New Jersey Cooperator.