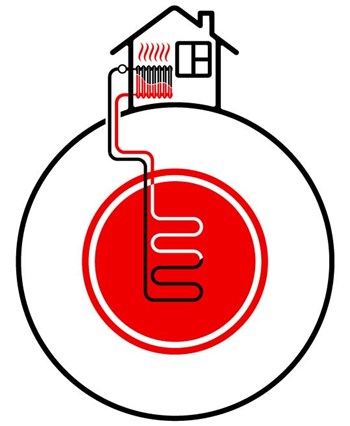 Community associations are increasingly looking toward environmentally-friendly options to heat, cool and power their properties in order to reduce their carbon footprint and save money. Wind turbines, solar panels, combined heating and power (CHP), and various other energy alternatives all provide varying degrees of efficiency and savings, while simultaneously ranging in availability and viability depending on one's area and building type.
An arguably lesser-discussed option – at least on a residential level – is geothermal heating and cooling, a method of re-allocating heat from the earth itself and utilizing it in one's dwelling. The U.S. Energy Department website lays out how this works:
"Geothermal heat pumps (GHPs), sometimes referred to as GeoExchange, earth-coupled, ground-source, or water-source heat pumps, have been in use since the late 1940s. They use the constant temperature of the earth as [an] exchange medium instead of the outside temperature.
"Although many parts of the country experience seasonal temperature extremes – from scorching heat in the summer to sub-zero cold in the winter—a few feet below the earth's surface the ground remains at a relatively constant temperature. Depending on latitude, ground temperatures range from 45°F (7°C) to 75°F (21°C). Like a cave, this ground temperature is warmer than the air above it during the winter and cooler than the air in the summer. The GHP takes advantage of this by exchanging heat with the earth through a ground heat exchanger.
"As with any heat pump, geothermal and water-source heat pumps are able to heat, cool, and, if so equipped, supply the house with hot water. Some models of geothermal systems are available with two-speed compressors and variable fans for more comfort and energy savings. Relative to air-source heat pumps, they are quieter, last longer, need little maintenance, and do not depend on the temperature of the outside air.
"A dual-source heat pump combines an air-source heat pump with a geothermal heat pump. These appliances combine the best of both systems. Dual-source heat pumps have higher efficiency ratings than air-source units, but are not as efficient as geothermal units. The main advantage of dual-source systems is that they cost much less to install than a single geothermal unit, and work almost as well."
While for the moment, geothermal may be most frequently used in settings like universities and municipal buildings, it's becoming an increasingly attractive option for residential properties as well. The New Jersey Cooperator spoke with some experts about the present and future of geothermal as pertains to multifamily residential communities.
Residential Use
Geothermal heating and cooling still has a relatively small footprint in the residential realm, so many local engineers and energy experts have only anecdotal information on how it's being applied in homes thus far.
"Obviously I have familiarity and understanding of [geothermal] technology, but unfortunately we don't have any experience as it applies to community associations utilizing it," says Robert Holdsworth, Vice President of Engineering at Evolution Energy Partners, which has locations in New Jersey, Pennsylvania, and Massachusetts. "I know that it's big in Europe – predominantly in Iceland, I believe. Here in the States it's starting to slowly catch on as planned communities are trying to go net-zero with combinations of geothermal, solar, etc. I know that there was a large community in either Kentucky or Tennessee where every home developed had its own geothermal."
There does happen to be a Kentucky community that fits the bill: Norton Commons, located in the city of Prospect. According to Energy Manager Today, the project – on which construction began in December of 2015 – aims to be the nation's largest 100 percent geothermal community, and currently includes over 1,200 residences and 60 businesses, with several schools, parks, pools, and green spaces. Individual heat pumps for each unit and an underground system of geothermal loops eliminate the need for outdoor air conditioning units, which saves space, reduces noise, and cuts down on utility bills. A geothermal development like this also stands to benefit from the federal Residential Renewable Energy Tax Credit, which currently applies to units put on the market between January 1, 2017 through 2021.
Disassociation
The reason why geothermal works better in Kentucky than, say, New York City, is that a certain amount of free, workable space is required to get a system in place.
"I have done a number of geothermal projects, mainly related to universities," says Brian Malone, Associate Principal at Elara Engineering in Hillside, Illinois. "And I worked on one geothermal field in the Chicago area as part of a new construction/major renovation project. The obvious issue with doing geothermal in the city is that it's a denser environment, and geothermal needs more land area. We were able to adjust for the aforementioned project by locating a portion of the geothermal system in the walls underneath the building. But usually, it's going to prove challenging. Especially if you're looking to augment an existing building. Any land area needs to be evaluated to ascertain whether it's even feasible to do geothermal and, if is, then you'd look to augment it most likely with a small stand-alone system that can possibly support the building's existing HVAC."
The cost of installation is another factor that limits urban associations from going geothermal. "Geothermal is pretty expensive, and in my experience, associations are usually on a shoestring budget," says Adam Boese, Owner of The Daylight Savings Company in Goshen, New York. "Oftentimes they prioritize the cheapest upfront cost and worry about utility bills later. We do see geothermal installed in a lot of municipal-type facilities, however, and I have one in my house, but unfortunately, in New York, geothermal is viable but expensive, and the state tax incentives don't apply to associations."
(Tax rebates in New York State are available to certain approved ground source heat pump (GSHP) designers and installers. More info can be found at www.nyserda.ny.gov/Contractors/Find-a-Contractor/Ground-Source-Heat-Pump-Systems.)
Suburban Potential
A more sprawling, suburban community association would potentially be unencumbered by the issues that limit geothermal accessibility in the cities and, as such, it could prove a more viable option for those properties.
"In the suburbs, I think it's very practical, and a potentially great application for geothermal," says Malone. "One of the things clients really respond to in regard to geothermal is that there's no visible outdoor HVAC component. So often you see it as a go-to solution for higher-end residents simply for that reason. And on top of that, it just really improves the energy performance of the home in terms of heating and cooling efficiencies and, in the projects we've done, we've seen some of the lowest energy use intensities (EUIs) after post-occupancy analyses."
In 2015, Anita Chmilarski of Linear Property Management in Tyngsboro, Massachusetts, had an association investigate the geothermal option for its community, eventually hitting a wall with its proposal.
"The request was denied in that instance, mostly due to issues with the septic system," Chmilarski recalls. "An owner wishing to install geothermal should be required to obtain an engineer's report at their cost regarding the impact to the common areas and building. Where there is septic involved, that also presents potential problems, as [installation] may interfere with the components, which serve the community. If a proposal is approved, the owner would be required to enter an easement agreement recordable at the Registry of Deeds to ensure they and any future owners are responsible for the [equipment] maintenance, replacement, and any associated damage/maintenance to common areas resulting from installation. Depending on the scope, geothermal may actually qualify as an improvement and require a vote of the community, or even consent of the mortgage holder if it requires a major change to any common area."
Unforgiving Terrains
In some areas, geothermal is widely impractical simply due to geographical, climate, or market factors.
"We've come across a few systems in Florida – often in older properties or clients looking to abandon their wells – and we understand the technology, but I believe that the relatively cheap cost of electricity here in the state keeps geothermal – and even solar – from becoming economically competitive," says William Pyznar, principal with The Falcon Group, an engineering, architecture and energy conservation firm that has several locations in the U.S., including New Jersey, New York, Florida, and Connecticut. "Also, the water quality here is such that wells get clogged, lose efficiency and need to be re-drilled."
"The viability of geothermal is going to be mainly climate-based," notes Malone. "What's really important for a geothermal field, in order for it to be both economical and functional is that you've a more balanced climate. You want your heating and your cooling loads to offset each other. Chicago is at the upper end of that. In Tempe or Fort Lauderdale or what-have-you, you're always cooling. For geothermal to be successful, you want to be putting heat into the ground during the winter and removing heat during the summer.
"The area in which you live will inevitably impact performance," Malone continues. "Projects in Chicago have very well-performing ground conditions, but in other areas those may vary. Out west, for example, you'd have to install more wells to get a comparable performance, which would add to the cost of your geothermal field."
Complications aside, Malone is optimistic for the future of geothermal in residential properties. "It improves the value of a house or an association," he says. "Green energy is very marketable and improves the value of the house while protecting against utility rate increases, and people are growing more cognizant of that. For anyone looking for a home that has those features, I think they'll find that geothermal is quite impactful."
Mike Odenthal is a staff writer/reporter with The New Jersey Cooperator.