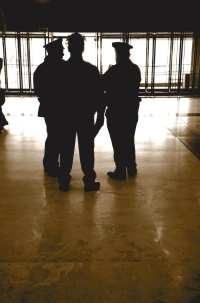 The fires this past October in southern California were a sharp reminder of the power and ferocity of this deadly element. Fire can spread quickly and without warning, often catching the people near it off-guard and vulnerable. Sometimes those people are the individuals who care for and protect the buildings and communities in which we live. For co-op and condo employees such as superintendents, janitorial crews, porters and doormen, the risk of fire can be a real one and is certainly something for which they and the board or managers of a building should be prepared, not only for their own safety but for the safety of the families around them.
Knowing the Risks
The risk of fire in a residential building can often come from seemingly mundane sources. Boilers or incinerators could malfunction. An electrical system could go haywire, sending errant sparks and creating danger. Sometimes, though, one of the biggest risks to an employee comes in the form of their own attempts to stem a fire. "The most likely place for a fire is in one of the living units," says Robert Solomon, assistant vice president for building and life safety codes at the National Fire Protection Association (NFPA). "Employees need to know their limits. If they find out one of the alarms has gone off and they get up to the unit with a portable fire extinguisher in their hand but one of the rooms is already ablaze, they need to know not to try and fight that. They might feel an obligation to try, but the consequences of trying to attack a fire can be big."
Repair work also can go awry. "If the super does any sort of welding using an acetalyne torch, there could be an issue," says Carol Tiedeman, assistant area director of the U.S. Department of Labor's Occupational Safety and Health Administration (OSHA) office in Avenel, New Jersey. Even something as inconspicuous as the fluid used to clean the lobby floor could pose a risk when exposed to heat or mixed with other solutions. "Cleaning materials might be flammable," Tiedeman says. "A person should be aware of what the substances are and what to do in the event of an emergency."
Sometimes the biggest risk is not what can start a fire, but doubt or ignorance over what to do when the fire starts. Without proper training, it's easy for an employee to panic and forget what to do either to stem the emergency or get themselves and others to safety in a quick and effective manner. Knowing how to react and knowing where to turn are key to managing a bad situation and preventing it from escalating or endangering more people. That's where organizations such as OSHA, NFPA and local fire and emergency personnel come into play.
Knowledge is Power
Arming employees with knowledge is perhaps the single best way to prevent on-the-job danger for building staff. It pays to lay the groundwork for a thoughtful and serious examination of potential problems. "One of the first things to do is reach out to local officials such as fire and police," says Gary Wilkin, president of Wilkin Management Group, based in Mahwah. "Get fire and emergency safety people to visit the building" and help determine emergency plans.
OSHA, too, helps lay out the requirements for a safe working environment, something which ultimately increases the well-being of the entire building. "There are no specific guidelines for co-ops and condos," says Steve Kaplan, acting area director of the Avenel OSHA office. "There are, however, specific standards for all employers who have employees who may be exposed to certain dangers." And while many states have their own occupational safety and health plans, in New Jersey those standards apply only to public employees. Employees of co-ops and condos would be considered private employees and would be covered under federal OSHA standards.
Understanding evacuation plans and making sure that employees are clear on what their roles and obligations are can also play a vital role in making sure a bad situation does not get worse. "What does (management) expect a building engineer or maintenance personnel to do in the event of an alarm?" Solomon says. "They might get sent up to take a look," but if they're not properly trained and they just take an elevator to the floor in question and step out, they might be walking right into a fire. Once the elevator door closes, they could be trapped. A system should be set up, perhaps one in which the employee is trained to take the elevator to the floor below, and then walk up the stairs to the floor in question, ensuring an escape route exists if needed.
Obeying the Law
The OSHA fire safety standards are intricate and extensive, covering a wide variety of scenarios. Some of the most basic requirements, though, include things that seem extraordinarily simple, but if not followed could lead to catastrophe. For example, co-op and condo buildings must ensure that exit routes are a permanent part of the workplace (for the building staff) and residents. Exit routes must be free and unobstructed and kept clear of explosives or highly flammable furnishings or decorations. Lighting and markings for exits must be adequate. Safeguards such as sprinkler systems, alarm systems and fire doors must be in proper working order at all times. Employers also must have an emergency action plan that includes procedures for reporting a fire, exit routes and procedures to account for all employees after an evacuation. Alongside the emergency action plan, there must be a fire prevention plan that includes a list of all major fire hazards, proper handling and storage procedures for hazardous materials and a listing of the type of fire protection equipment necessary to control each hazard.
The standards and regulations go on for pages, touching on everything from how to control the accumulation of flammable waste materials to procedures on how to regularly maintain the safeguards in potentially dangerous building systems such as boilers. Employees, too, must be made aware of the potential fire hazards that exist in their work area or which are inherent in their jobs.
In many buildings, "the majority of those plans are directed more toward tenants," Solomon says. Employees, though, should know "what does the building fire alarm sound like? What should the proper action be?" Usually that action involves evacuation, except in high rises where the only people asked to leave are those on the affected floor and those on the floors directly above and below. "Most of the time, the fire will be contained in that unit or close to it," Solomon says.
Properly trained employees can be a God-send if something does go wrong. "You want employees to be familiar with drills," Solomon says. "Employees can play a vital role in getting everybody out. They'll know to meet the fire crew. They'll be able to tell them where the problem is located and where all of the building's safety equipment is located. It helps even to have a little checklist."
"Management and the board have a dual role in ensuring that all staff are aware of the standards," Wilkin says. "Together, they should be able to make sure that everyone knows the regulations."
And, as the regulations spell out, safety must always, always come first, whether it's testing fire extinguishers on a regular basis or outfitting areas with first aid kits or ensuring that the people doing work within a building are qualified to do that work. A superintendent, unless he's certified, should not attempt electrical work and a doorman should not attempt to fix a boiler on a cold winter night when the fire's gone out. It's imperative to use the right people for the right jobs. "Anyone with licensing should have gone through that training," Wilkin says.
Solomon agrees. "A jack-of-all-trades can be over-involved," he says. Someone trying to lend a hand and help rewire a circuit or change a breaker "can create dangerous conditions. (Those conditions) might not start a fire right away, but it could happen hours or days later." It's the same thing, he says, with furnaces and water heaters and other potentially dangerous pieces of equipment. "Maintenance staff have a big job to do because they have to know a little bit about everything, but for jobs like these you want to have a trained technician."
Having good safety systems in work areas as well as living areas is imperative as well. "In some of the mechanical areas, we see more heat detectors than smoke detectors," Solomon says. "The heat detectors tend to be a little more robust."
Worst-Case Scenarios
So what happens if a fire does break out and an employee is injured? Or residents are injured? "In terms of liability, an OSHA investigation would go as high up the chain as necessary to see who had ultimate control over a situation," Kaplan says. He gives the following example, similar to what was mentioned above: "Say a super has to change a circuit breaker," Kaplan says. "He calls the building manager and tells them he can do the work and he can handle it." The super then gets injured on the job. "We do an investigation and discover he wasn't qualified to do the work. We find out that management authorized him to do the work, despite the fact that they never made certain he was qualified." Ultimately, though, the co-op or the homeowner's association would be responsible because they hired the management firm and the firm was the entity that made the decision.
Prudence is always the safest way to go when it comes to risks of life or limb. Erring on the side of caution will save lives, save money, save property and preserve piece of mind. Plenty of material is available both from OSHA and NFPA to ensure that boards and management can achieve a firm understanding of what must be done to protect employees. There is also substantial information available to employees themselves to learn how to keep themselves and the residents safe.
"There are booklets and our website, www.osha.gov," Tiedeman says. "Those have a lot of information. We have training programs, too, available on our website under e-tools." The NFPA has a wealth of information available on the history of fire prevention, and important standards and practices that can and should be followed. Visit www.nfpa.org for more information.
There are experts available, too, who can help in just about any fire prevention scenario, from local safety officials to the folks at OSHA. They're there. All people have to do is ask. "I tell employers, 'If you have a question, just call and we can answer it over the phone,'" Tiedeman says. "Ultimately, they are responsible for the safety of all their employees. It's better to be safe than sorry."
Liz Lent is a teacher and freelance writer living in Bloomfield Hills, Michigan.