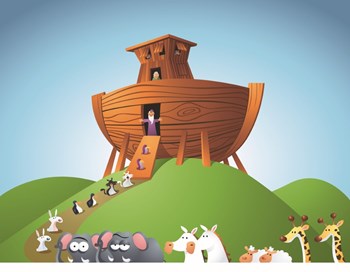 While calamities like fires, floods, and tornadoes can happen almost anywhere and impact anybody, thankfully most condo and HOA residents will never have to deal with such a major emergency. That doesn't mean that boards, managers, staff members, and unit owners shouldn't be ready, however. In fact, the unpredictability and suddenness of emergency situations make it all the more crucial that HOAs formulate clear, concise emergency plans and see to it that everyone knows them.
"We see everything here in the state of New Jersey from severe winter events all the way up to heat events," says Nicholas J. Morici, public information officer for the New Jersey Office of Emergency Management (OEM) in West Trenton. "Power outages of course, in a large building where you have multiple units there, multiple residents living there, power outages are quite common. But anything can happen."
And whatever the emergency is—fire, electrical, blackout, or even terrorism—it's vital to have a plan for coping with it and keeping residents and staff safe. Without a plan, people may panic, and that nearly always turns a bad situation worse.
Tailored Emergency Plans
Although an emergency can strike any building at any time, the reality is that an emergency plan is a not a one-size fits all solution. The professionals agree that while certain emergency protocols—such as making sure fire doors remain closed, for example—are standard regardless of the size or type of building, individual communities may have particular needs or challenges that should be addressed in a plan custom-tailored to that community.
According to Christine Messina, marketing director for allRisk Property Damage Experts in Somerdale, "The first thing is to gain an understanding of the definition of an emergency. Yes, it can be as extreme as the devastations that are felt in a Katrina or 9/11 situation that really affect day-to-day life and operations, but could be a smaller event that's much more common in community associations, like water damage."
"The next step is to make sure that the [contact] who is going to be spearheading the emergency planning program engages stakeholders at all levels," Messina continues. "So you may want to organize a meeting as an introductory Disaster Preparedness 101 where you include board members and residents, and I think, your HOA's insurance broker, because they're such a great resource on coverage issues and common losses." Messina also advises including association personnel and vendors who regularly serve the property, such as your snow removal company, plumbers, and contractors.
Along with making sure residents know the basics, such as where fire extinguishers are located and how and when to exit the building, it's vital for administrators to take into account the human side of the equation, says Thomas Drabek, Emeritus Professor at the University of Denver and author of The Human Side of Disaster.
"As part of the planning and anticipation of a potential evacuation, one should ask things like what provisions you're going to make for people who have pets," says Drabek, "or for people who have any kind of a substantial disability. Failure to do that results in people not wanting to leave, because they don't want to leave their dog, or because they're on oxygen, for example. If pre-planned, these things can be facilitated, but if not, you'll [meet] a lot of resistance. Another thing to recognize is that a substantial number of people will be concerned about leaving and who's going to protect their property. The people being encouraged to evacuate need to be assured that there will be appropriate security on-site. You have to anticipate that this is what people are going to be thinking and your planning has to reflect that element of it."
Morici agrees. "If you do have individuals in your house, in your apartment, in the building who have special needs, the building owner, supervisor, manager and even the other residents themselves should be mindful of that. That way they can address those needs at a moment's notice if disaster does strike. We have a great system here in New Jersey for people with special needs called Register Ready. Anyone can log on at www.registerready.nj.gov and fill out their contact information. It's all confidential. It's secure. We don't give that information out, other than when an emergency does happen. It enables us to locate individuals with special needs and address their needs prior to an emergency, such as an evacuation, so we can make sure that they are out of harm's way in a timely manner. That information is only shared with county offices of emergency management, so it's first responders sharing the info with other first responders for the good of an individual."
"'Special needs residents' aren't just folks who might have a mobility issue," adds Morici. "That also goes for small children, as well as senior members of the community as well. So you want to be sure that you know who is in the building. And include the residents as well. Their building is their home, so make them an active part of the process, not just the receiver."
Communication is Crucial
When crisis strikes, Morici says that communication is often what makes the difference between mere turbulence and outright tragedy—and it starts with making sure everybody in the building or association knows the plan, or at least knows where to look for it.
"Advertise your plan," he says. "Advertise if you have a weekly newsletter, or something that gets out there in the residents' hands in their mailboxes, so they see. More and more buildings are moving to communicate with their residents electronically. Some have the Reverse 911 system that dials all the units' phone numbers. Twitter or Facebook can even be a resource. If your residents are signed up there, go for it. Pull out all the stops to make sure that you're reaching the public just like we in the emergency management community try to reach them."
What it really boils down to is communication, communication, communication, says Lt. Dwane Razzetti, coordinator for Bergen County's Office of Emergency Management. "Your plan could be great," he says, "but if you put it on a shelf somewhere and nobody knows about it, it does no one any good. And conversely that could actually give people a false sense of security because 'We got a plan,' but nobody knows what it is. So look at the risk, and talk to the municipal official in charge of emergency management. Depending on the size of your association or development, you might also want to talk to the county, to anticipate some issues and deal with them before they become problems. Depending on where a community is located, many counties or municipalities use a telephone alerting system commonly known as Reverse 911."
Of course, even a rock-solid plan and crystal-clear communication on the part of association administrators and staff can sometimes be stymied by peoples' tendency to minimize and in some cases even deny the severity of the situation, says Drabek.
"When a disaster actually occurs—and we saw this recently with hurricane Earl, and with the forest fires in Denver—the typical response by the average individual is an incredible amount of inertia and denial of the threat. In thinking about disaster preparedness, you have to realize that you're not dealing with stupid people—you're dealing with people who respond like everybody else does, and generally the initial response is one of, 'Well, I don't really think we're going to be in danger. Let's wait. Let's check things out.' And the delay can sometimes be what causes people to have to be rescued or what causes people to simply be injured or killed."
"This also applies to trying to get people interested in disaster preparedness activities," Drabek continues. "So boards have to realize that the condo owners aren't going to show a high priority interest in disaster planning. And by recognizing that at the outset, you then can try to figure out strategies to get around it. And those strategies can vary from trying to incorporate some of the owners into the disaster planning process itself, to using case studies like Earl in a very straightforward, simple manner."
An Ounce of Prevention
Benjamin Franklin might have had it right when he said that an ounce of prevention is worth a pound of cure. Whether you need information on smoke detectors, staff training programs, evacuation protocols, or building codes, there are lots of good resources available to help sort out your community's needs and how best to meet them.
"The State of New Jersey has some great departments and great resources," says Morici, "and I think the best thing to do if any building owner, manager, supervisor out there about to draft their plan, first and foremost, coordinate with the municipalities that they are located in. And if they don't have certain resources they can lend you, call the New Jersey Office of Emergency Management and we'll put you in touch with the folks who can. We have a great website at www.ready.nj.gov that's really a one-stop shop for all emergency management needs. It talks about household preparedness for households that range from a small two-bedroom all the way up to multifamily dwellings."
Building workers also need training. One of the places to receive such training is the Thomas Shortman Training, Scholarship and Safety Fund, offered by the Service Employees International Union 32BJ, the building service workers' union.
SEIU Local 32BJ is the largest building service workers union in the country, representing more than 120,000 workers in New York, New Jersey, Connecticut, Pennsylvania, Maryland, Virginia and Washington, D.C. Union members include cleaners, doormen, porters, maintenance workers, window cleaners, security guards, superintendents, and theater and stadium workers. New Jersey has about 8,300 members. The union offers "Safe and Secure" training classes to most building's service workers at the union's Thomas Shortman Training Center. "As part of this training, we can come to the building and advise staff on things to be aware of," according to Linda G. Nelson, the training center's director.
Although each resident is ultimately responsible for their own evacuation, managers and staff should be the guiding force to make sure it goes smoothly. Your residents are going to want to know what's going on and where they should go. "I think it's everybody's own responsibility to be aware of what to do in an emergency," says Razzetti. "There is some personal responsibility. But if the management can be proactive and have ways to communicate potentials with their residents, that can only help."
Lisa Iannucci is a freelance writer and author living in Poughkeepsie, New York. Additional reporting by The New Jersey Cooperator's David Chiu.