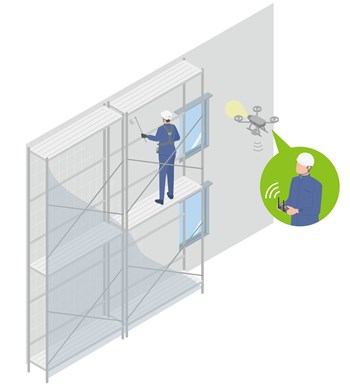 While few would argue that regular, thorough building inspections are important for the safety of both people and property, the increasing number - and rising cost - of mandatory inspections has co-op and condo boards looking for more affordable, efficient ways to meet the obligations required by banks, government agencies, and insurance companies. In response, technology companies are stepping up to offer just that.
Old Problem, New Technology
Deterioration of the physical plant over time is of course always a concern for building owners and boards. Sturdy as they are, bricks and mortar eventually wear out. That deterioration can lead to an array of problems, including leaks, cracks, and even worse, the possibility of a chunk of building falling off and striking someone below. Because of this, local laws and contracts with mortgagees and insurers have long required periodic inspections to locate, track, and repair potential problems.
Jonathan Ehrlich is the Chief Operating Officer of T2D2, a software company that uses artificial intelligence (AI) to process images captured during building facade inspections, then automatically identifies and classifies various types of conditions. The tech can be used by engineers, architects and other inspection professionals to make their workflow more efficient by cutting down the time it takes to analyze inspections and generate reports.
"While T2D2 is an analysis platform for engineering professionals," says Ehrlich, "it is designed to be a collaborative software platform where owners and contractors can also access interactive inspection data to better inform bid preparation and long-term maintenance plans. This technology is particularly helpful to [building] owners, because they can see repeated inspections over time and track the deterioration of conditions using side-by-side analysis to reduce deferred maintenance."
How Does it Work?
To complete its work, T2D2's method uses something called Computer Vision. Computer Vision is a form of artificial intelligence that uses a technology called deep learning. "Deep learning AI is the same technology that powers language models behind popular tools such as ChatGPT," says Ehrlich, "and does not only apply to images. Deep learning relies on training computer models using large quantities of data. For our purposes, this training data consists of terabytes of unique inspection images. Computer Vision is able to determine where a condition exists in a photograph, as well as what the condition is. The technology 're-learns' as it's fed more data and improves its accuracy over time. Computer Vision is also used in applications such as autonomous vehicles and medical radiology."
Because it's able to assess and identify such huge amounts of information so quickly, "AI technology can dramatically reduce the time it takes to perform an inspection while also making the inspection more effective," says Ehrlich. "Inspection time can be reduced by up to 90% in certain areas, and accuracy can be increased by over 200% for some conditions. Accuracy is much better compared to an industry-standard 'binocular inspection' done from the sidewalk."
Another piece of tech that is changing the inspection process for the better is drones. Historically, along with the human-eyed binocular inspection, costly, cumbersome, unattractive scaffolding might have to be erected on a building facade in order for a closer, more minute inspection to be carried out. By contrast, "Drones provide yet another level of both efficiency and completeness," says Ehrlich. "Whereas scaffolding may only cover 50% of the building envelope, a drone will capture 100%. This reduces any guessing when it comes to determining the extent of any damage across the entire building. It also will reduce the chance of differing conditions during the repair process. When possible, drones also reduce the need for scaffolding during inspection. They can identify areas that may need to be inspected close-up, allowing scaffolding to be used only in those areas. Drones also shorten scaffolding needs by reducing the need to return to a site to capture images that may have been missed during initial visits."
More Benefits
So using drone and AI technologies provides a less expensive, more comprehensive way to keep up with mandatory building inspections and gives buildings owners and administrators a clearer, more comprehensive picture of their property - but the perks don't end there. The same tech can be used to improve a building's energy efficiency and reduce both its carbon footprint and its energy bills. More accurate and thorough inspections can better identify structural or exterior issues that contribute to HVAC inefficiency
Improved energy efficiency in general directly reduces a building's greenhouse gas emissions by reducing demands on its energy infrastructure. Improved building envelope efficiency has the same direct impact. A better-insulated building will be cooler in the summer and warmer in the winter. This includes all building envelope materials - not just windows and roofs.
And reducing your building's emissions has even longer-term benefits; "Research shows that climate change is directly accelerating the deterioration of buildings through multiple mechanisms, including increased severe weather incidents and increased carbonation-induced corrosion," says Ehrlich. "It's estimated that corrosion will reduce rebar cover thickness below code recommendations by 2055. [The cost of] deferred maintenance generally increases by a factor of five for every 10 years of inaction."
By performing more thorough and frequent inspections, buildings can not only get a more complete picture of all envelope issues, they can monitor those issues over time, and act to correct them before they deteriorate into a full-blown crisis. Add in improved energy efficiency and lower fuel costs, and using new tech to address an age-old challenge may be an appealing option for boards.