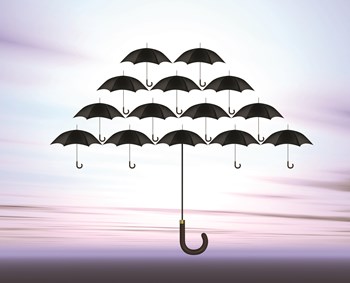 It's a fact: the survival of a condo or co-op association after an accident or injury can very well depend on its insurance coverage. Failure to obtain and maintain adequate coverage can result in financial disaster if a building suffers serious damage. By the same token, overpaying for premiums or buying insurance the association doesn't need can be wasteful.
So board members (who have to be experts on just about everything involving their association) should be aware of the different types of insurance that are available to condo and co-op associations.
It's in Your Bylaws
There are few laws regulating what insurance an association should have—one exception being workers compensation (but more on that later). Mortgage lenders will require various types of insurance, but beyond that, HOA bylaws should clearly spell out what insurance it needs to have.
According to Steve Reisler of Toms River-based Commerce Insurance Services, a subsidiary of Cherry Hill-based Commerce Bancorp, "What we do is comb through the HOA's bylaws— we'll go through the insurance section and make sure the board is in compliance with what is provided in the bylaws."
Those bylaws will also dictate what items should be covered by the association's policy versus what homeowners are responsible for in individual units.
"Everything stems back to the bylaws," Reisler says. "Sometimes the condo associations will cover just the inside walls, sometimes it covers inside and outside walls and [everything made by the builder]. Some condo associations cover everything—and that's all spelled out in the bylaws, so the bylaws dictate to the homeowner what coverage they need."
Knowing the Standard
Every association's situation is unique, but there are standard types of insurance that almost all buildings or developments have in one form of another.
One of the most important is property insurance, which according to Alex Seaman, a vice president of HUB International Northeast in Long Island, covers the common structure of the building, contents belonging to the association, and operating expenses. "If the building has a substantial fire or loss, their ongoing expenses will have to be paid—things like utilities and taxes," Seaman says.
Reisler points out that "[Property coverage] is going to cover the building value for replacement costs with like in-kind quality," meaning that the damaged areas of the building will be restored to the same level of quality it was at before the damage occurred.
If, for example, the agreed amount a property should be insured at is $20 million, and it's insured for $10 million, the insurance company will pay only a percentage of any losses. Boiler and machinery insurance is an additional protection that falls under property coverage.
"It covers sudden and accidental damage to the boiler and/or pressurized equipment," Seaman says. "It's typically part of the property package, but it has to be specified. If it's not specifically mentioned, it's not covered. You're also required to have the boiler inspected once a year, and that inspection is typically included in the insurance contract, and if you don't get the inspection, you're subject to a fine."
In addition to a regular liability policy, there are also umbrella policies and riders that should be purchased to counter any potential problems. According to Lori Long of Community Association Underwriters in Newtown, Pennsylvania, your association should carry as much insurance as it can afford.
"Ultimately, it depends on the size of the association, its assets, and the demographic living there," she says. "A lot of associations will have $2 million in underlying coverage and another $15 million in umbrella coverage. It runs the gamut, though. If you're going to procure true umbrella coverage, make sure those limits are not linked to anyone else's limits."
General Liability
Another key coverage is general liability, which protects the property from negligence-related lawsuits, most commonly slips and falls. Typically, according to Reisler, general liability provides $1 million of coverage per occurrence, with $2 million aggregate coverage. Beyond that, the association's bylaws—again—will state how much umbrella coverage is needed.
Umbrella liability increases the protection provided for slip-and-fall-type lawsuits. It's needed because in many cases, the standard $1 million coverage isn't sufficient. According to Seaman, the association can choose how much additional umbrella insurance it needs.
Reisler notes that associations can keep premium costs under control by agreeing to higher deductibles. They can choose a $1,000, $2,500, $5,000 or more per occurrence.
"The price of the insurance policy will go down as the amount of the deductible goes up, because the insured—the association—is taking on some of the risk," Reisler says.
Protecting Your People
Next are insurance lines involving board members and employees. Directors and Officers (more commonly called D&O) insurance protects boards and individual board members from lawsuits that may arise as a result of decisions they may make while carrying out their duties.
"Directors and officers are really exposing themselves by volunteering," Reisler says. "Directors and officers coverage is usually $1 million per occurrence and $2 million aggregate, but certain umbrella programs let you put the umbrella on top of the D&O, which gives them expanded coverage."
He adds that many buildings he works with take on $15 million in umbrella coverage for D&O, but again each association board or managing agent should work with a broker to determine the right amount of umbrella coverage.
Crime, or fidelity insurance covers dishonesty by employees and board members, such as theft of funds. According to Seaman, fidelity should also cover the association's managing agent.
"If it's properly written, [your policy] should have a managing agent's rider," Seaman says. "That's one of your largest exposures when it comes to fidelity."
Next is worker's compensation, which covers work-related injuries to employees and is, Seaman says, required by law.
Reisler says that even if your association doesn't have any employees, workers compensation coverage is still needed. If, for example, a contractor were to be injured while working on your property, and that contractor wasn't properly insured, the association could be on the line for some serious damages. The association needs that workers compensation policy to protect itself against such occurrences.
Another coverage available to help with worker-related issues is hired and non-owned auto insurance. Any automobile the association owns will be covered by the owner's car insurance policy. But, says Reisler, if employees or board members use their own cars for association business, or if the association doesn't own any automobiles, then hired and non-owned coverage is needed.
Flood and Other Coverages
Earlier in the summer, parts of New Jersey near Trenton experienced serious flooding and there are many areas of the Garden State that are exceptionally flood-prone. So the administrators of condo and co-op buildings may think about getting flood insurance.
Actually, you may not have a choice in the matter. If your association is located in a Federal Emergency Management Agency or FEMA-designated flood zone, your mortgage lender is going to require that you have flood insurance.
"If the building is in a flood zone, the mortgage company wants to be sure they have flood insurance," Reisler says, adding that if an association isn't in a flood zone, a building can still opt to get flood insurance.
Mold coverage is another type of insurance the pros say condos and co-ops are asking about. It's difficult to get, however—few companies offer it and it's costly.
"Mold is excluded on most policies, so you have to go on the open market," Reisler says. "There are only a few companies that write a [policy] for mold, and it's expensive.
Also, the pros point out that if your HOA has special amenities—especially a pool—extra insurance to cover them is absolutely necessary.
"Pools are a concern, but there are others," says Long. "Depending upon the clubhouse and what amenities that clubhouse has, that can be an issue. For instance, if you have areas for commercial cooking, or large parties and gatherings of people coming in, that would be a concern."
Other sports facilities should be taken into consideration as well, says Long. "Having a tennis or basketball court doesn't have to equal a bit hit from a premium standpoint—as long as it's well maintained. A lot of associations have a lot of losses on un-maintained tennis courts and basketball courts because people can trip and fall. When that happens, their premiums generally go up."
Be Proactive, Keep Current
Seaman says policies need to be reviewed and renewed every year—just signing off on the previous year's policy isn't sufficient.
"You should update building evaluations, which obviously increase over time, and address other potential issues," he says. "Also—and this is very important—is to take a proactive approach to risk management and loss control."
"If you have a poor claims experience, you'll be paying higher than average rates—potentially very significantly higher," Seaman says. "Or, it may be difficult or impossible to obtain the right insurance if your loss ratio is horrendous. By taking a proactive approach, you minimize the likelihood of claims before they occur. And this is something that's critical to brokers who are experienced in real estate."
One way to be proactive is to obtain proper certificates of insurance from people who lease out commercial spaces and contractors. "Any contractor who sets foot on the premises has to provide the proper certificate," Seaman says, "so if and when they have a loss, the responsibility is not on the association, it falls squarely on the contractor's insurance company." He adds that the certificate should be reviewed by someone who knows what to look for, and should state the name of the association as an additional insured. If work is being done in a unit, the unit owner/owners should also be named.
Maintaining a property well is another proactive approach that can keep premiums low.
"You have to have common sense concerning proper maintenance of the premises," Seaman says. "Keeping hallways clear and well-lit. Maintaining sidewalks, walking areas and stairwells to avoid slips and falls." In other words, if your sidewalk is always icy, resulting in lots of injuries, the cost of your premiums will go up.
According to Reisler, boards need to determine the amount of coverage they will be comfortable with.
"When we present things to the board, we basically ask, 'What can you live with?'" he says. "I don't like to instill fear in people, but as an insurance professional we like to show what the options are."
Anthony Stoeckert is a freelance writer and a frequent contributor to The New Jersey Cooperator.