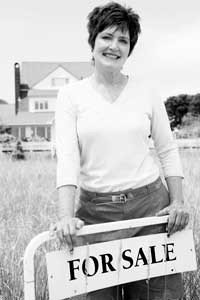 I am a woman who owns a single-family suburban home, but I came about the process of home ownership the traditional way. First, I rented an apartment during college and my early working years. Then I met my then-future husband, we got married and, in 1998, we pooled our financial resources to buy our first home. We followed that path with three beautiful children—like I said, it was the traditional way.
Today, many single women are opting not to go the traditional way. Instead, they're paving their own, more direct route to homeownership, sans man or marriage—and it's showing in the numbers. In the 2006 National Association of Realtors (NAR) study, a record 22 percent of today's homebuyers are single women—a full four percent more than in 2004, and more than double that of single male homebuyers.
So it seems that more and more single women want to enjoy the financial and emotional perks and pleasures of becoming a homeowner now—and their reasons are as individual as the home buyers themselves.
Why Wait for Mr. Right?
George Scott Glenfield, ABR, CRS, a sales associate at ERA Properties Unlimited in Princeton Junction, says that today's working women are seeing the significance in having tax shelters and the pride of home ownership versus throwing money away on rent, or living with mom and dad.
Jen Miller thought she'd be married by now, but this 26-year-old Collingswood, New Jersey resident isn't waiting for Mr. Right to help her sign on the dotted line. She's already looking for her dream home now.