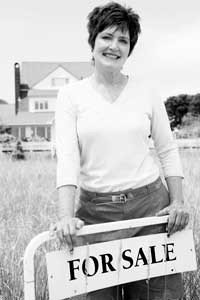 I am a woman who owns a single-family suburban home, but I came about the process of home ownership the traditional way. First, I rented an apartment during college and my early working years. Then I met my then-future husband, we got married and, in 1998, we pooled our financial resources to buy our first home. We followed that path with three beautiful children—like I said, it was the traditional way.
Today, many single women are opting not to go the traditional way. Instead, they're paving their own, more direct route to homeownership, sans man or marriage—and it's showing in the numbers. In the 2006 National Association of Realtors (NAR) study, a record 22 percent of today's homebuyers are single women—a full four percent more than in 2004, and more than double that of single male homebuyers.
So it seems that more and more single women want to enjoy the financial and emotional perks and pleasures of becoming a homeowner now—and their reasons are as individual as the home buyers themselves.
Why Wait for Mr. Right?
George Scott Glenfield, ABR, CRS, a sales associate at ERA Properties Unlimited in Princeton Junction, says that today's working women are seeing the significance in having tax shelters and the pride of home ownership versus throwing money away on rent, or living with mom and dad.
Jen Miller thought she'd be married by now, but this 26-year-old Collingswood, New Jersey resident isn't waiting for Mr. Right to help her sign on the dotted line. She's already looking for her dream home now.
"I think there's always going to be this feeling that I shouldn't be doing this on my own, but I want a home," she says. "It makes financial sense and I like having my own space—so why not?"
Darci Smith, a 36-year-old Chicago resident and a self-employed freelance writer, is currently living in the third home she's purchased solo. At 29, she utilized a first-time homebuyer governmental loan, found a family friend who was a realtor and another who was a mortgage lender to help guide her through the process, and plunked down a few thousand dollars to own her own space in the heart of Detroit, Michigan.
"With the high rents, but the affordable purchase prices there, it made sense," says Smith, who today owns a two-bedroom, one-bath condo in the Windy City. "Being self-employed, the tax breaks came in handy; it was really bad the year that I was paying taxes and renting, but now this is my home."
Going Condo
According to the NAR report, many single women homebuyers are looking for maintenance-free living. The study shows that 40 percent of all condo and cooperative purchases are single women, and 17 percent of all townhome purchases are made by single women. And, among all condo buyers, the percentage of first-time buyers is highest among single-female households (59 percent, compared to 48 percent among all condo buyers).
"One of the challenges in buying a home is the maintenance, so many women go after the condo community and that takes away a lot of the concern," says Glenfield. "There are also many home buying women who are very handy—and they learn as they go about maintenance upkeep, filter changing, and so forth."
Some single women are building their dream home too. Tahira Stalberte, 32, purchased her townhome in August of 2006.
"I bought the home on my own because I could afford to do so, and I felt it was a wise investment," says the Charlotte, North Carolina resident. "I found a subdivision that suited my needs—great neighborhood, cost, incentives and growth, but I found negotiating somewhat difficult. If I did it again, I would do just a bit more research on assistance for singles and finding the right mortgage rate."
Before 1974, when Congress amended the Fair Housing Act to stop sex discrimination, it was hard for single women to get a mortgage—or even a credit card—in their own name. Now, the pendulum for single women homebuyers has been swinging upwards for at least the last decade, says Carolyn Weiss of RE/Max Properties Unlimited in Morristown.
"A lot of women have managed to get themselves in very good financial positions with good jobs and security and they are now looking for maintenance-free living in condos and co-ops," says Weiss. "We've seen this for a long time."
The NAR study shows that the 2005, the median income of single women homebuyers is $47,300, and the average age of a single woman homebuyer is 42—the study did not take into account whether participants were divorced, widowed, or never married.
In addition to an increase in income, there have also been noticeable changes in other important economic areas as well.
"You can see the trends over time where, in the 1970s, women had difficulty getting credit cards, but in the 1980s they were starting to be taken more seriously by mortgage companies," says Walter Molony, a spokesman with NAR Public Affairs.
Show Me the Money
Denyse Dabrowski wonders if her sellers took her as seriously as they would've taken a male buyer, or even a couple.
"I bought during the peak of the market, when multiple bidders competed with over-list offers just hours after homes were listed," explains Dabrowski. "While my financial portfolio was strong, it obviously would have been stronger were I purchasing with another individual. I think many homeowners were reluctant to accept an offer from a single mother rather than a dual-income family. When I would express interest in bidding on a home, numerous realtors suggested I go home and bring my husband back to take a look."
Dabrowski stayed focused and ultimately purchased a three-bedroom, one-bath, single family home in Nutley, New Jersey.
"My parents were very helpful in numerous ways," she says."They not only assisted me with strengthening my profile by loaning me a down payment, but provided the real estate knowledge, emotional guidance necessary to navigate an often overwhelming process."
Gina Hudson's biggest obstacle in the house hunt was price. "It is much, much harder to find a decent house on a single income," says Hudson, who lives in a single-family home in St. Louis."I would have been able to get a much bigger house if I had someone to share expenses with, but for right now being just me and the cat, my house is just right."
Truth be told, however, when buying a home, the vast majority of sellers don't care whether the buyer is male, female or a couple. And, according to the real estate experts interviewed for this article, as far as they're concerned, there are no differences when it comes to working with a male or female buyer.
"They just want to know if the person is qualified to buy the home," says Glenfield. "Does she have the down payment and is she offering the right price? That's what they care about. It's all based on credit score; the better the credit score, the more anyone can do."
For women who are interested in home ownership and in need of advice or assistance, there are government-sponsored programs to help get started, as well as first-time home buying programs such as Ameridream. Real estate pros recommend that anybody looking at a prospective home should bring a friend when they visit each property to help see things you might not have seen on your own. Ask friends for mortgage lender and realtor recommendations, and go through the mortgage pre-approval process to save time and avoid disappointed surprises later on in the process.
With single women such a force in the home buying industry, realtors have taken notice and even created seminars designed specifically for women who are thinking about selling their current home.
Twenty-five-year-old Nicole Lester was very fortunate to have a family who could assist her in getting her dream home. After moving out at 22 and renting an apartment in Bayonne for two years, Lester came to the shocking realization that she had thrown almost $16,000 away on rent - with no tax benefits to show for it. It was time to make a move, but she needed some financial aid to do so.
"I explained to my parents that with a little help from them (which they will be reimbursed for when I resell) I could afford my own place," says Lester, who used graduation money from her uncle and money from her father on the deposit to purchase a one-bedroom condo in a 1930's building. She loves the property, but wishes she had been more prepared for the stressful closing process.
"I had a month-to-month lease in Bayonne and I had no idea that I wouldn't have an exact date for my closing—so I had to time it perfectly so that I wasn't homeless and I didn't have to move all my stuff again and again," says Lester. Still, she says she would do it all over again.
Lisa Iannucci is a freelance writer—and homeowner—in Poughkeepsie, New York.