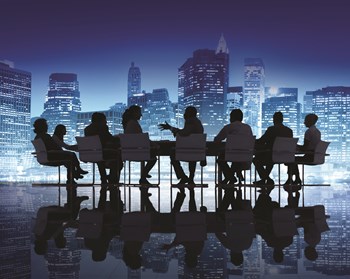 It takes a lot to run a successful building—there are employees to hire, services to contract, boards to elect, new residents to review, general technical maintenance to take care of, and all the rest on that ever-present "to do" list with which both managers and board members are certainly familiar.
With all the responsibilities that come with living within a homeowners association, it only makes sense that some of the tasks would be split up among its members. Wise boards and management understand the value of delegation and put their heads together to either appoint or elect special committees to handle certain responsibilities and improve their community's quality of life.
Delegating Tasks
According to Jim Quinn, former president of North Shore Towers, a massive 1,844-unit co-op development on Long Island in New York, choosing or appointing people to serve on decision-making committees is one of the board president's most important responsibilities.
"We set up committees and assign committee chairs," says Quinn. "I don't think it changes if you're 50 units or 500. There might not be many committees—there might only be one—and I think you might do all these things a little more or a little less formally, but you still do them." In other words, says Quinn, responsibility must be delegated so that the business of the condominium or co-op development is conducted in a proper manner.
And it's important that committee members be the right people for the job. In HOA communities, committees handle everything from what kinds of mailboxes residents may choose, how the association should invest its reserve funds, or how to establish rules to determine when to take action on various improvements, additions and repairs.
"Usually the developer puts together a covenant and bylaws for the building or community," says George Lerner, the president of Society Hill Townhouse Association, Inc., an HOA community in Old Bridge, "and these laws spell out what kinds of committees there will be. The homeowners get paperwork when they purchase their units explaining all this—they're the people who make up the committees, and there are usually between four and eight people on a committee at one time."
Enforcing the Rules
There is anywhere from a couple to a dozen different kinds of committees in any kind of HOA. The number and nature of committees depends greatly on the size of the building or community. There are at least two committees, however, that can always be found within any HOA. These are the covenant committee and the architecture/landscaping committee. Both of these groups are essential to the upkeep of the buildings on the property and the "upkeep" of residents as well.
The covenant committee serves as the rule enforcement branch of the HOA board, and if you desire to work on this committee, get ready to be busy—this group's work is never done. Some of the jobs that the covenant committee takes on include finding outside counsel for preliminary work on issues like nonpayment of assessments or violation of association rules. The covenant committee acts as the judiciary for cases involving violations or infractions of rules and makes recommendations to the board; it can also issue fines.
Lerner says that his HOA's covenant committee is essential to the community's well-being. "All planned unit committees have rules and regulations that have to be followed for the good of everyone," he says. "There are fines for broken rules—a common one being the 'pickup law' for pets. The fine for breaking that law is $100, and it's up to the covenant committee to enforce it and levy fines for other rule-breakers."
According to minutes that were posted online from one condo's covenant committee meeting, the group fields on average over 70 calls and 250 e-mails per week from owners, vendors, attorneys, banks and mortgage companies. They send out letters to residents who violate the HOA's bylaws regarding trash removal or parking on the grass.
The Tastemakers
If you'd rather plant flowers than help enforce rules, perhaps your association's landscaping/architecture committee is more your style. This committee is one that most HOAs can't do without. Choices need to be made about the appearance and subsequent maintenance of any common area in a community or building, and such areas need to be kept looking nice. Association members serving on this kind of committee have a lot to do. From shrub planting and flower selection to contracting landscaping services, there's a never-ending list of tasks.
But architecture committees aren't always strictly concerned with whether to put daisies or mums in the flower boxes in front of the clubhouse. In October of 2003, wildfires in San Diego destroyed 232 homes in one development. According to Common Ground magazine, the HOA's five-member architecture committee put together building guidelines for total fire recovery, working closely with the city's zoning department. One member created a contact information sheet with email addresses and phone numbers for all displaced owners so everyone could stay in touch. The committee emailed guidelines and approval process instructions for victims of the fire and posted all the information on the association's website. In just three weeks, the entire community was well on the way toward recovery from what had been a catastrophic event.
Clearly, not every landscape/architecture committee will be faced with these kinds of duties on a daily basis, but it does show how vital committees can be to the good of all the community's homeowners.
For the Good of All
There are other committees, of course, depending on the nature and needs of a given association. Most HOAs have a welcome committee to help new homeowners get acclimated to their new community, and some have playground and social/recreation committees, or even communication committees that help distribute information among shareholders. Playground and social/recreation committees concern themselves with equipment placement and purchase, organizing activities and social events and parties, like New Year's galas, or Easter egg hunts for the kids, and accept responsibility for the cleanup, too.
Communication committees keep everyone informed of all business within the association—including reports about what the other committees have been up to—usually through a newsletter and/or website. When a new resident moves in, when new planters are purchased for the lawn, when fees increase or when a board meeting is approaching, the communication committee lets members know about it. More and more HOAs are utilizing the Web for the dissemination of information as well, since the information can be updated constantly for a fraction of the price of having something printed.
There are more benefits to an array of well appointed, involved committees, of course; some of which are less tangible than a party or a newsletter. Involvement in community affairs strengthens the bonds that hold an association together, and make for a friendlier, more close-knit community.
But according to property manager Carol Paul, author of a Community Associations Institute (CAI) report titled, Revitalizing Apathetic Communities, it's important to get some things worked out first. She cautions that committees "must separate projects into manageable portions that can be completed in relatively short periods of time." Every committee must have a charter, which clearly specifies the committee's name, purpose, responsibilities, term, number of members, selection of members, committee organization, relationship to the board of directors and relationship to management. "The term is a very important factor," Paul says. "There must be a specific termination point by which the group should have met its objectives."
And, says Paul, "Getting some residents involved may be as easy as simply asking them. I've heard people complain that the reason they don't get involved is because nobody ever invited them."
Though often overlooked as a reason for the lack of involvement, many association members may not be taking an active role simply because they have never been approached by anyone. "You need a hook," says Paul. "If you're planning on renovating a common area, ask members for ideas. Because it concerns their home, you're more likely to get suggestions, and residents will appreciate being able to provide input."
Welcome Aboard
Reiterating the positive impression made by a gracious welcoming committee, Paul says the most important time to make contact with residents is when they're first moving in. "Have a group of owners reach out to new owners. That's when they're the most anxious to feel a part of their community. That's the best time to tap them for involvement. Give them a positive first impression of the board. A welcome committee is a great way to achieve that."
Paul says some welcome committees present new association members with a care package containing fresh fruit or home-baked treats, helpful money-saving coupon books, and lots of good information about the area, like where the nearest stores are, important contact numbers, and so forth.
CAI also has some suggestions for making initial contact with newcomers. Along with welcome packages, committees can let new members know what projects the board is working on and ask what most interests them. Offering an array of options to people is another way to inspire involvement. CAI recommends looking for ways to expand committees to include new faces and new ideas. "Most people get involved when they first move in," says Paul. "Although lots of people initially shudder at the idea of a committee, it's really the best way to get them involved."
"When a community is brand new, there are lots of volunteers," adds Lerner. "People take interest and want to play an active role. As it ages, however, assuming the board is doing a good job, volunteers drop, which is too bad—when we formed over 23 years ago, you had to bring your own chair to a board meeting. Now we get only a couple of people each time."
Going to board meetings and getting involved in a committee makes sense on many levels. Not only does it reward the individual with the knowledge that one is making life better for many, it has its "political" value, as well. If you are looking to serve on a board of directors or run for office one day, a long-standing committee position can't hurt. "It shows you have an interest in your community," says Lerner, "and that you're an active volunteer. You're also more valuable to the board, since you've worked your way up the ranks."
So whether you're new to your association and just want to meet people and get involved, or you've got your eye on a seat on the board, take a look at your association's committee structure and see how you can get involved. Everyone benefits from the work of these groups, and their work makes communities stronger.
Mary Fons is a freelance writer and a frequent contributor to the New Jersey Cooperator.