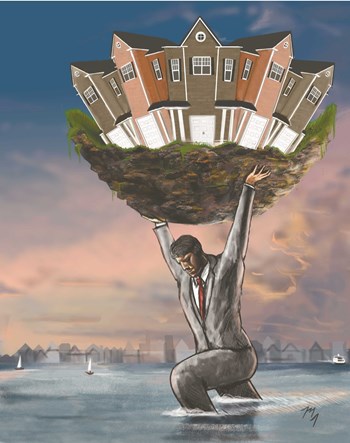 Remember those old TV variety shows from the 1950s where someone spins a dozen plates while juggling and riding a unicycle? Sometimes being a property manager can be a bit like that, especially when handling multiple clients and dealing with the myriad tasks that come with handling those multiple clients.
How do property managers work? What kind of support do they get from their management companies and how do they work smoothly and easily with the boards which they serve?
It's a delicate balancing act—like managing all those spinning plates—and it's not for the faint of heart. Everything from personalities to unexpected maintenance emergencies to just a sheer inability to be in a half dozen places at one time can wreak havoc with a property manager's caseload. So how does it work on a good day?
The average portfolio for any given property manager in New Jersey varies by individual and by company. "It basically depends on the type of property—whether it's a condo building or a homeowner's association or how many units there are," says Michael Pogorzhelsky, president of United Property Management in East Brunswick. At his firm, there's usually "one manager per three or four sites" with each maybe having up to 150 units.
Managers at MAMCO Property Management in Mount Laurel usually oversee between six and eight properties, which seems to be close to the general average. "It does vary by company," says Nancy Hastings, MAMCO's vice president and CEO. "We have a total of 14 managers here. More than half are dedicated to particular sites while the others are doing portfolio work."
Other firms take a team approach to management, such as T.W. Finnerty Property Management, based in Staten Island. The five-person team, consisting of an administrative assistant, a bookkeeper, a bookkeeper's assistant, a clerical staffer and a site person, together manages 50 associations. "This way, everybody knows something about what's going on in each job," says owner and president T.W. Finnerty. "And everyone has some training in each of the different areas." Not only does the approach provide for a safety net of sorts, it also allows the firm to keep costs down, Finnerty says.
Spread Too Thin?
All managers, no matter how many properties they are handling, have to deal with the same sorts of tasks—from handling preventative maintenance issues to attending board meetings and assisting with board elections to collecting dues and paying the monthly bills. It takes a keen mind, a good memory and a brave soul to tackle so many different tasks for so many different people, all of whom are looking to you to keep their home safe, secure and well-maintained.
While handling multiple properties is no doubt good for the bottom line and also a good way to learn and get out into the community, it can also create pressure and high-stress situations for managers. That's why most management firms work hard to ensure that their managers only take on as many properties as they can safely and easily handle. "There is a risk to overextending yourself," says Pogorzhelsky. "And if you are overextending yourself, you're risking overlooking certain things that should not be overlooked. If that happens, you'll end up doing risk management, not property management."
Caseloads for property managers have increased in recent years, says Hastings. "I think it's because it's difficult to find experienced personnel in this field. People might give more properties to an experienced person rather than take a risk on a newer manager."
Making it Work
One way to alleviate problems of overextension is to make sure that the proper support staff is in place for all managers. "Every one of our managers has at least one administrator supporting them," says Hastings. "We also have customer support personnel who handle the incoming e-mails and phone calls and a maintenance dispatcher to handle those types of calls. This way, the manager can handle all of the things they need to."
Finnerty's team approach also works to spread responsibility and alleviate as much pressure as possible from a high-intensity job. "Our administrative person takes servicing calls," he says. "Our bookkeeper handles budgeting and payments." Their site person attends board meetings and meets face to face with each client while the clerical staffer might cover correspondence or other office needs.
Software is another vital tool that not only frees up personnel, it has become absolutely imperative to running a successful property management business. "We have very sophisticated software that complements our team approach," says Finnerty. This software does everything from tracking service calls, to creating invoices, to providing communications to tracking overdue invoices. It also allows residents to log on and pay their common charges online or examine other details of their building or residence.
Hastings agrees that a good, solid software program is imperative for a successful operation. "You need to have really good software so that your managers can file their reports easily and handle their paperwork easily."
It also helps to have legal and accounting managers either on staff or readily accessible by the managers. "We provide administrative and financial support," says Pogorzhelsky. "We also provide property contract support (in the form of attorneys)." That option eliminates one more area of concern for managers, providing a strong system of backup and support on tough contractual or financial questions.
Hastings also encourages managers to examine their approach to time management. "I can't emphasize enough the importance of action lists and annual management plans," she says. An annual management plan allows the property manager to lay out a full year's worth of activities, prepping the board for what's coming, whether it's the annual audit in January, or preparations for board elections in April, or going after bids for new roofing in July. It helps to establish expectations and shows where the manager's efforts are going to be expended over the coming days and months.
On a more short-term basis, action lists provide the board with a good understanding of the smaller tasks involved in managing a building or community. "Articulate the action list after each board meeting so that they know you've got 50 things on the list and if they add 30 more, they'll know that some of the things on the list won't get done. Now your board knows what's going on."
Finnerty agrees that communication between board and manager can mean the difference between good experiences and bad. "It helps to educate the clientele" as to what goes into management, he says. He recommends the Community Associations Institute (CAI) as an organization that can not only provide valuable training for managers, but can also help boards and others understand what managers can and perhaps cannot do and why, at times, they may be stretched thin.
"Board and management must be on the same page or they will never achieve their goals," says Pogorzhelsky. "It's important to sit down with the board and talk about what their expectations are." It's also important, he says, to talk about the operating budget and what it can handle. "A lot of times a board may expect one thing, but they don't realize that their operating budget can't handle it." Establishing guidelines and parameters early on can prevent trouble later.
Hastings suggests another solution to avoiding undue stress and burnout in managers: diversifying their portfolios. "(Managers) definitely can risk spreading themselves too thin," she says. "You want to give them a balanced portfolio so they aren't limited to just one kind of facility—all high-rises or all older communities. It might be more than they can handle if you only give them one type of property, especially if it's a high-demand property." Hastings also offers enough new construction properties in each manager's portfolio that they will be able to expand and grow if they choose. "That way, the opportunity is there."
For managers, then, perhaps the best way to handle all those spinning plates is just to take it one step at a time. Look at all of the possible stumbling blocks and do everything possible ahead of time to eliminate them. Plan time wisely, create schedules, take advantage of the support staff and management team at your disposal, talk to the board, build solid, realistic expectations and make sure to add a little property-related spice to the daily management menu by taking on a variety of different clients. With a little planning, foresight and fortitude, all that juggling will soon seem like second nature.
Liz Lent is a teacher and freelance writer living in Bloomfield Hills, Michigan.