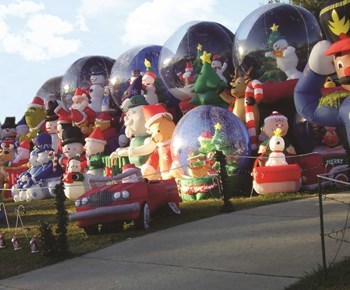 Holiday decorations are an easy way for an association to spread some seasonal cheer and add a cozy, communal vibe to the neighborhood. But what was once a practice limited to a couple of lights, ornaments and a menorah or two has migrated toward a decorating empire complete with 10-foot tall blow-up Santas, multi-color lights that pulsate and twinkle and even moving reindeer and elves, synchronized to holiday music.
While not all associations choose to outfit their buildings with such elaborate décor (or want the supersized energy bill that comes along with it), navigating the community decorating scene can be tricky at times. For co-op and condo residents, potential arguments about religious decorations can make the season a lot less festive.
This holiday, the biggest of them all, tends to create the most fuss among condo residents as childhood memories and religious intentions collide with the "rules." So before you hang those stockings and plug in those lights you may want to check house rules and bylaws first.
Decorating 101
Whether it's with simple lights or elaborate displays, each community differs in the type and quantity of decorations it allows. There are associations that prefer modest touches and others that sponsor full-on contests between neighbors. Regardless of the decorating preferences, guidelines can be found in the governing documents.
"Most buildings and boards have formal decorating policies. It would be very prudent to come up with a policy and apply it in a uniform manner," says attorney Hubert Cutolo, Esq., a partner with the law firm of Cutolo Mandel LLC in Manalapan. "It's important because you have to treat all of the members or occupants in a uniform manner. You want to make sure the policy is not discriminatory, and you want guidelines in which to enforce those. If you don't have a policy, which doesn't articulate what's too much or too little in terms of decorations, you'll obviously run into a lot of issues. A lot of associations will put standard policies in place allowing for a certain number of lights or decorations."