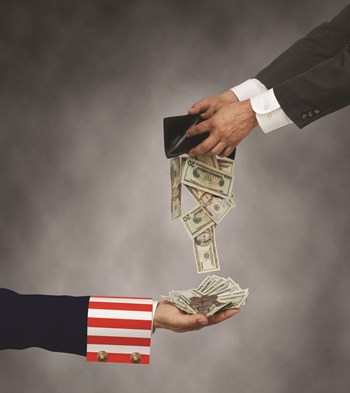 There is no doubting the wisdom of one of America's founding fathers, Benjamin Franklin, who wisely said, "In this world nothing can be said to be certain, except death and taxes."
While Father Time can take care of your mortality, the federal, state and local municipal governments handle your respective tax burden. And, it's not a surprise that few subjects get people more riled up than paying their taxes. Whether its sales tax, income tax, estate tax or property tax, the thought of mere taxation can infuriate most of the local citizenry, nobility or peasant alike. If not for taxes, after all, we would likely be speaking with British accents, and swearing fealty to the Queen.
A Taxing Situation
The issue of property taxes is a long-standing debate in the Garden State, where residents consistently have one of the highest tax burdens in the nation. New Jersey has been at or near the top of the list when it comes to how much individual residents pay in local and state taxes each year and according to the Tax Foundation's recent survey, they currently rank third behind New York State and Connecticut.
New Jersey residents pay a lot of taxes, that's a given. But when you take residential property taxes as a whole, New Jerseyans take the prize paying a whopping $8,354 in average taxes: the highest tax burden in the nation, according to some studies.
According to the Asbury Park Press study, property taxes rose approximately 8 percent in Asbury Park and Eatontown; 7 percent in Lakewood; 6 percent in Toms River; 4 percent in Freehold Township and Marlboro; and 3 percent in Long Branch, Middletown and Stafford. Other notable increases included 12.5 percent in Seaside Heights; 11 percent in Mantoloking; and 8.5 percent in Deal. The state Department of Community Affairs (DCA) came out with its own study in February and its results mirrored the newspaper's.