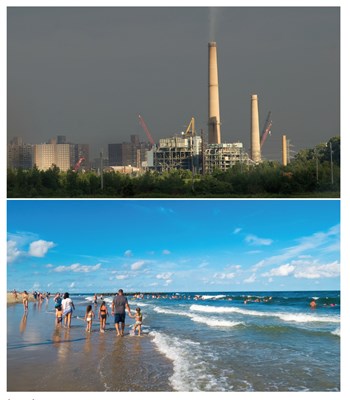 The Garden State is home to Bruce Springsteen, Jon Bon Jovi, Frankie Valli, and a large and colorful cast of reality TV personalities. Are residents called New Jerseyites...or New Jerseyans? Whatever you call them, residents take great pride in their state and all it has to offer, from the renowned Jersey Shore to skiing in Mountain Creek to gambling in Atlantic City. Great sports teams, culture, industry and accessibility to not only New York and Philadelphia, but to the many small towns and exciting natural beauty within the state, such as the Shore and the Pine Barrens. It also offers top-notch universities and medical facilities, and is a great place to raise a family.
From old slogans like "New Jersey and You," to the current "New Jersey – Come See for Yourself," New Jersey is above all a welcoming place. Nestled between New York City at its northern edge and Philadelphia at its southwestern extreme, the Garden State derived its most long-lasting nickname from Abraham Browning of Camden, the state's attorney general from 1845 to 1850. He was quoted by Alfred M. Heston in his two-volume work, Jersey Wagon Jaunts, published in 1926, as saying, "New Jersey is an immense barrel filled with good things to eat and open at both ends, with Pennsylvanians grabbing from one end and New Yorkers from the other. New Jersey is the Garden State." (Alternative sources date this image of a barrel tapped at both ends back to Benjamin Franklin, so clearly everyone loves those Jersey tomatoes.)
Of course, no place is without its drawbacks. As fiercely loyal as they are, Jersey residents also have a love/hate relationship with their state, decrying the traffic and congestion on their roads, as well as the evergreen abuse New Jersey takes from comics and pundits of all stripes. It's hot in the summer and cold in the winter. It's expansive, but expensive. It's convenient but crowded, sometimes to the point of frustration. Think of those summer weekends 'down-the-shore' when the locals have to compete for sand space with the 'Bennys,' (local parlance for people from outside of New Jersey). The state is crisscrossed with highways, but they're often at a standstill. Living in New Jersey can be both enchanting and infuriating at the same time.
Access to Everything
It seems the single thing most residents of New Jersey love the most is the access the state affords them to everything. "Having grown up in New Jersey," says Janet Proscia, a mortgage banker with Cronheim Mortgage, located in Chatham, New Jersey, "I find that everything you could want is right here. From the beaches to the mountains to the beautiful countryside, there is something for everyone, no matter what your interests. Also, being so close to other major cities like New York and Philadelphia, if you have not found what you want in your own backyard, you are just a short ride away from the city where you can get access to theater, fine dining – not that New Jersey doesn't have its own top restaurants, museums, etc."
Judy Clickner, the community life director at Somerset Run, a large over-55 retirement community located in Somerset, concurs. "The location between New York and Philadelphia is a big attraction," she says. "We also have beaches and mountains nearby. There is so much to do. It is very diversified." A lifelong resident of the state, she says, "It's a great place to raise a family." She also observes that for residents of the community where she works, New Jersey is appealing for different reasons to different people. "Many of our residents come to us from private homes within an hour of the community. They want to remain close to their families who often live in the state. We also have people who move here from other locales, from New York and New England. They love the proximity they get to New York and everything it has to offer while still living in a suburban environment."