CooperatorNews New Jersey Summer 2021
P. 1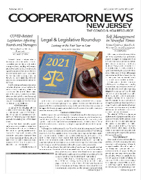 NEW JERSEY 
THE CONDO & HOA RESOURCE 
COOPERATORNEWS Summer 2021  
NJ.COOPERATORNEWS.COM 
continued on page 13 
Legal & Legislative Roundup 
Looking at the Past Year in Law 
BY DARCEY GERSTEIN 
COVID-Related  
Legislation Affecting  
Boards and Managers   
When the Law Meets a  
Pandemic 
BY DARCEY GERSTEIN 
Self-Management  
in Stressful Times 
Some Communities Go It  
Alone—Others Outsource 
BY A J SIDRANSKY 
205 Lexington Avenue, NY, NY 10016 • CHANGE SERVICE REQUESTED 
continued on page 16  
continued on page 15 
does, in fact, turn over control [of the board] to the unit owners— 
that will hopefully enable unit owners, if there is a problem, to be able  
to recover something from the developer for that problem." 
Attorney David Ramsey of the Morristown office of law firm  
Becker & Poliakoff tells  
CooperatorNews 
 that a similar bill is being  
proposed in the Garden State. Senate Bill 3649 would adjust the  
statute of limitations on damage claims for construction defects in  
a condominium, cooperative, or other planned community devel- 
As the nation starts to regain a semblance of normalcy with COVID-19 vaccinations  
on the rise and restrictions beginning to ease, legislative dockets have filled with bills and  
proposals that have ramifications for the co-op, condo, and HOA sector. Here are some of  
the biggies that boards, managers, and residents should be aware of, no matter where your  
particular community is located. 
Construction Defect Claims 
Matthew Gaines, attorney with Braintree, Massachusetts-based law firm Marcus, Errico,  
Emmer, and Brooks, P.C. and co-chair of the Community Associations Institute's New Eng- 
land Chapter's (CAI-NE's) Legislative Action Committee, explains that January began the  
legislative session for Massachusetts' two-year legislative cycle; all bills have been filed and  
referred to their respective committee, awaiting hearings that will take place in the upcom- 
ing year or so.  
With respect to condominiums, he says, "One of the more interesting ones is House Bill  
1501, 'An act relative to construction defect claims by condominium owners,'"—a bill being  
proposed by CAI-NE's Legislative Action Committee. Gaines explains that Massachusetts  
has a statute of limitations for defect claims against a developer, giving unit owners a certain  
number of years to sue for any construction problems. However, what ends up happening is  
that the statute of limitations expires either before completion of the project—especially if it  
is one that is phased out over many years—or before the developer has ceded control of the  
board, leaving no remedy for unit owners who suffer original construction defects. 
"So this bill would kind of deal with that problem," says Gaines, "and basically says that,  
for condominiums, the statute of limitations doesn't even start to run until the developer  
Even as businesses, schools, and even en- 
tire economies shut down at the start of the  
coronavirus pandemic last year, the task of  
running residential buildings and commu- 
nities never ceased. In fact, it could even be  
argued that as people were more or less con- 
fined to their homes for weeks and months,  
the  decisions made  by co-op,  condo,  and  
HOA boards and managers had even more  
impact on their communities than in the Be- 
fore Times. 
Now that widespread vaccine distribution  
and a federal administration that takes the  
matter seriously is beginning to flatten and  
even ebb transmission of the virus in many  
parts of the country, lawmakers (who them- 
selves were sidelined for a time last spring)  
are starting to put legislation on the books re- 
lating to—or motivated by—COVID-19 and  
its effects on lives and livelihoods.  
COVID Immunity 
In addition to the Herculean effort to  
achieve COVID immunity through mass  
vaccination, another type of COVID immu- 
nity is being sought by state legislatures in the  
interest of community association leaders:  
immunity from liability for COVID-related  
claims.  
In the New Jersey Assembly, accord- 
ing to community association lawyers from  
the Morristown office of law firm Becker &  
Poliakoff, there is pending legislation in the  
Garden State "that would, essentially, offer  
community associations immunity from  
legal action regarding any illness, injury, or  
death from or related to exposure to or trans- 
mission of COVID-19 on the premises of a  
planned real estate development."  
While many condominium associations  
and co-op corporations hire professional  
property managers or management firms  
to handle the routine (and not-so-routine)  
tasks involved in running a multifamily  
building or HOA, a significant number take  
the opposite route, eschewing formal man- 
agement and running their properties them- 
selves. While most of these self-managed  
communities tend to be on the smaller side,  
self-management can be successful at any  
size, from a handful of units to hundreds.  
Self-management involves numerous  
skills, however; everything from accounting  
to minor home repairs may need to be han- 
dled directly by the board, rather than being  
delegated by a manager or firm. Obviously,  
anyone with a plumbing problem can call a  
plumber; you don't have to be a professional  
manager to intervene when a leak rears its  
head. But that said, the most successful self- 
managed properties are those that do have a  
range of practical skills distributed between  
owners, and a positive, community-oriented  
view from members. It's a 'pitch-in' sort of at- 
mosphere, and it's not for everyone. 
The arrival of COVID-19 has had major  
implications for all properties and their man- 
agement, of course, but the pandemic-relat- 
ed restrictions on close personal contact has  
had a particularly personal effect on smaller,  
self-managed communities.  
CooperatorNews 
spoke with several self-managed community  
leaders to understand how the global health  
crisis has changed the way they live and how  
they manage themselves. 
Why Self-Manage? 
Even outside of crisis situations like the  
pandemic, it's worth examining why some  
associations and corporations choose to  
manage themselves. Often, it's a matter of  
cost. Management agents generally have a  
minimum monthly charge per building or  
per unit, and that charge can be more than  
the individual owners can handle. For the  
sake of argument, consider a building or  
association for which the minimum charge  
for management services is $500 per month.  
That's $6,000 per year. In a 50-unit property,  
that would come to $10 per month per unit.